Famous Monsters Ack-Ives #2 (Frankenstein!)
Now on Pre-Order - Due in This Week!
This Hammer Horror special features: Vintage writeups of Curse of the Werewolf, Return of Frankenstein, Dracula AD 1972, The Vampire Lovers and more. Forry's RIP tribute to director Terence Fisher. Previews of more recent films Let Me In and The Woman in Black. Exclusive content on Hammer's future plans. Commentary and Famous Monsters Fun Facts.
120 pages
Hemlock Price:
£16.95
Add to Basket
FM #251 (CS)
ONE ONLY!
128 pages!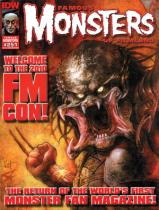 Buyers from outside the UK should first email info@hemlockbooks.com with their purchase requirements to obtain
a PayPal invoice with the correct postage rates.