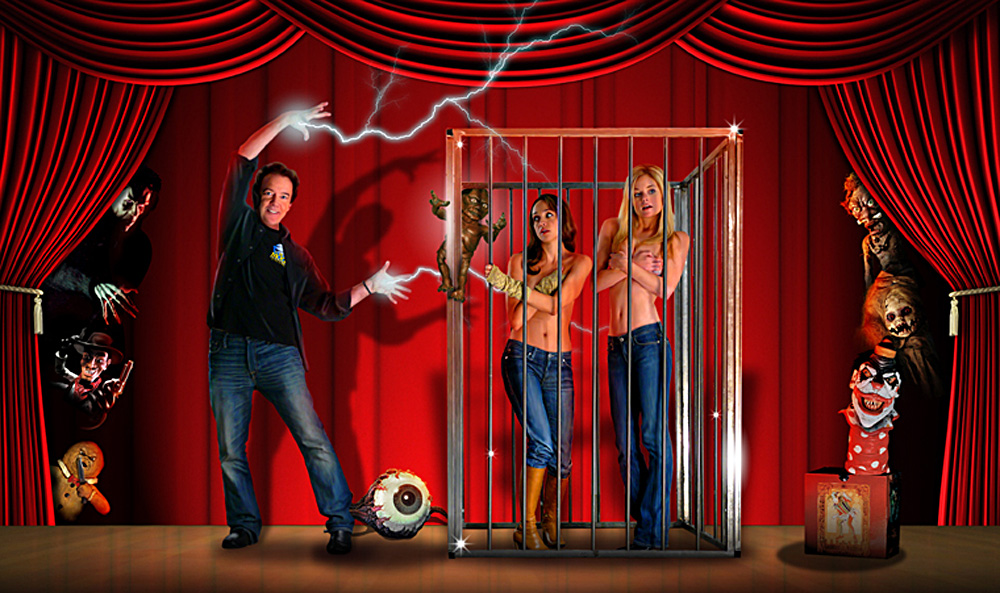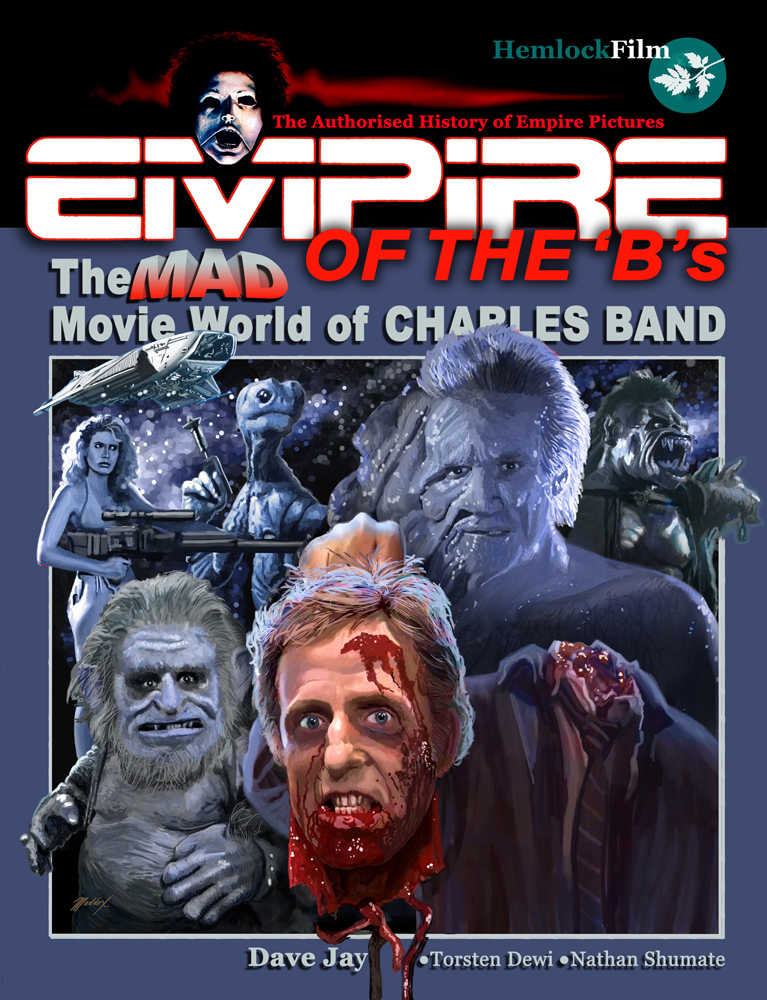 New this month from the printing goblins at Hemlock Hall is the first book on one of the most important and fascinating (and prolific) film-makers of recent decades. A director/producer whose glory years pretty much defined the great straight-to-video era of the 1980s, who has never shown any signs of stopping and whose IMDb listing (not that you can really trust these things) runs to more than 250 features. Ladies and gentlemen, give it up for the only and only Charles Band.
Band was born to be a filmmaker. His father Albert Band worked in Italy on spaghetti westerns and 'peplum' muscle-man epics (and directed Zoltan, Hound of Dracula). Or if not a filmmaker, maybe a musician; the Band family also includes brother Richard, who has scored many of Charlie's films, and son Alex, lead singer with The Calling.
Strictly speaking, Band's first film was a long-lost 1973 spoof called Last Foxtrot in Burbank, but effectively his career started in 1976 when he produced The Eyes of Dr Chaney, which was retitled Mansion of the Doomed by its US distributor and The Terror of Dr Chaney by its UK distributor. Then re-retitled Massacre Mansion for the UK video release. Like Roger Corman two decades earlier, Band showed an uncanny knack for picking up talented people at the start of their careers. In this film, the eye-gouge make-up on a young actor named Lance Henriksen was applied by a lad called Stanley Winston.
In his early days, Band mixed fantasy and sci-fi with softcore sex pictures such as Fairy Tales (Linnea Quigley's debut) and Cinderella, an opportune cash-in on Al Adamson's surprisingly successful Cinderella 2000. But it was clear that his true talent - and his prime market - lay in the SF/fantasy/horror field. Killer-car movie Crash, starring 127-year-old John Carradine, was his directorial debut but mostly he stuck to producing and occasionally writing. Sci-fi revenge tale Laserblast pointed the way forward and featured stop-motion aliens by David Allen, the start of a profitable collaboration that was cut short a few years later by the animator's untimely death.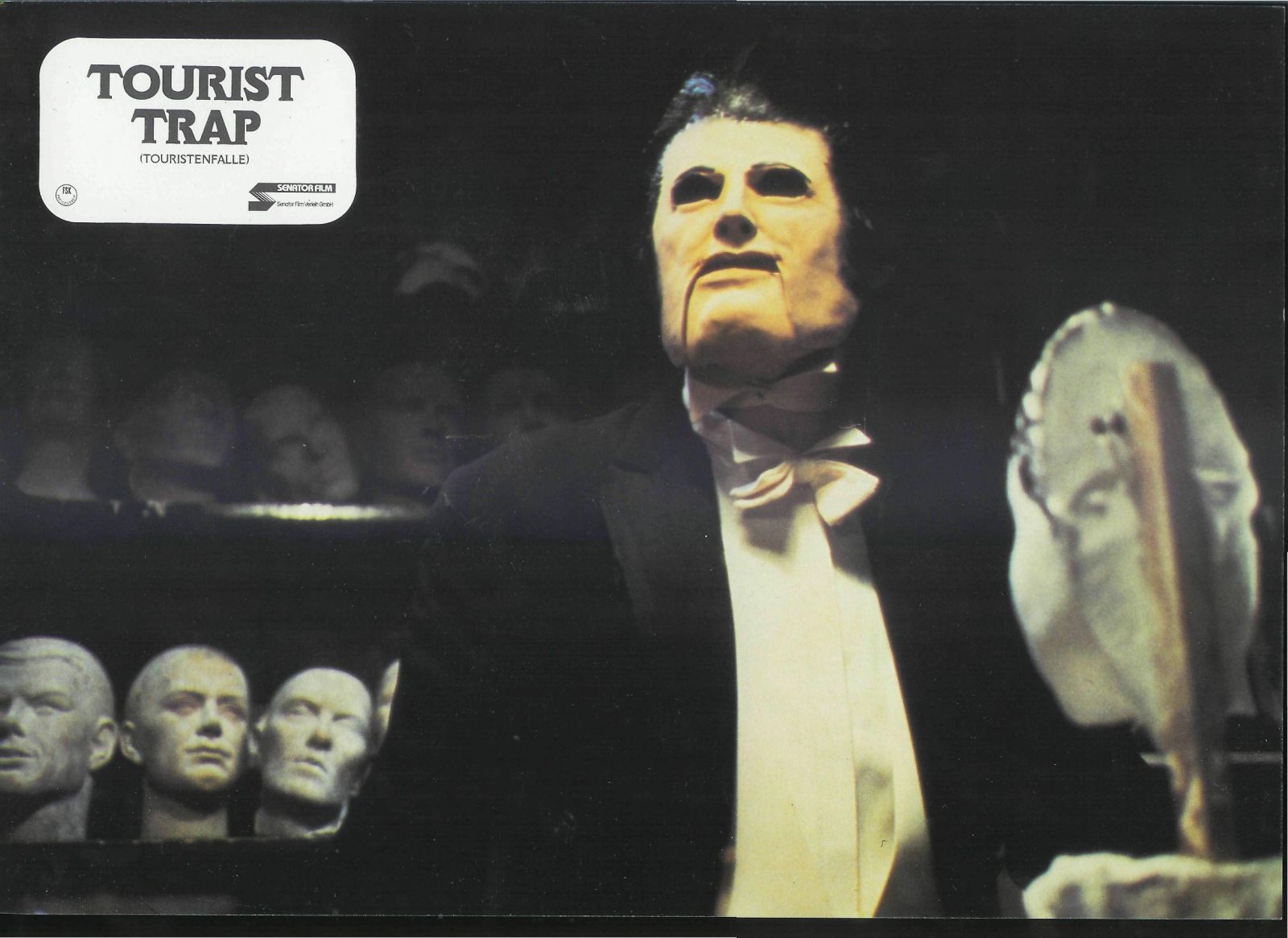 Undoubtedly Band's finest film of the 1970s was Tourist Trap, shot simultaneously with - and just a couple of blocks down from - John Carpenter's Halloween. An eerie spin on House of Wax with elements of Texas Chainsaw Massacre and Carrie (apparently it's Stephen King's favourite film!), the crew was packed with future directors of note: editor Ted Nicolaou went on to shoot Subspecies and its sequels, first assistant director Ron Underwood made the first Tremors film and even stills photographer Robert Harmon subsequently made his mark with The Hitcher!
The 1980s saw a huge boom in the home video market and Charles Band rode the wave like a pro surfer, producing and sometimes directing a succession of cheap-but-cheerful movies which fed the public's insatiable appetite for imaginative sci-fi and fantasy nonsense. There was Parasite, an early role for Demi Moore, which was right on the money when the early 1980s 3D boom hit - as was Metalstorm: The Destruction of Jared-Syn, a slice of sci-fi hoopla primarily notable because it contains no metalstorms and Jared-Syn doesn't get destroyed.
Like many film-makers before him, Band became unhappy with the distribution of his films and so established Empire Pictures to release his own titles as well as pick-ups from elsewhere. He bought a studio in Rome and brought in top Euro-talent such as cinematographer Sergio Salvati. Ghoulies, From Beyond, Creepozoids and Rawhead Rex were among the titles released by Empire but arguably its greatest title - certainly Band's best film as director - was Trancers. This hugely enjoyable sci-fi/police movie (released in some territories as Future Cop) spawned five sequels, all but the last of which starred the great Tim Thomerson as time-travelling grizzled cop Jack Deth. A young Frank Darabont worked in the art department on the original.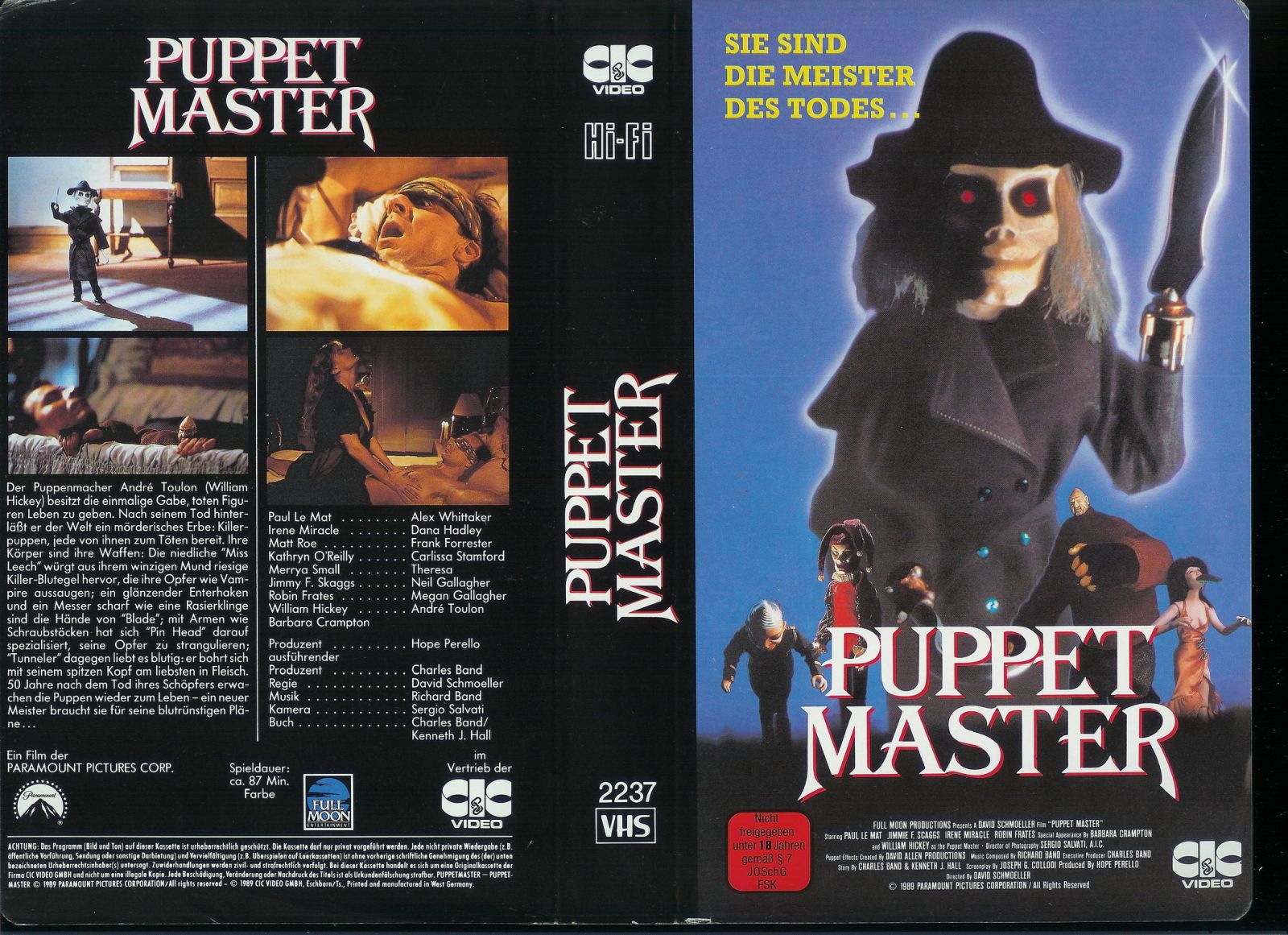 Sequelised franchises are the lifeblood of Band's career and his most enduring creations, the living wooden figurines of Puppet Master, appeared in 1991 in what was the first picture under the Full Moon banner (Empire having collapsed in 1989). Four sequels followed over the years with stop-motion animation by David Allen who also directed Part II, then another four assorted prequels and spin-offs and cash-ins (including one made without Band's involvement, which he doesn't consider canonical). In recent years, Band has revived the franchise with two decent sequels which return the saga to its WW2-era origins.
Among the many directors who worked for Empire and/or Full Moon were David DeCoteau, FX-meister John Carl Buechler, Stuart Gordon, Renny Harlin and future X-Files helmer David Nutter. In the early 1990s, Full Moon franchises proliferated. As Trancers and Puppet Master reached their third instalments, Band also launched the vampire saga Subspecies - which eventually ran to four or five movies - and another range of miniature creeps, Demonic Toys, who subsequently met Dollman in one of Band's occasional franchise crossovers.
For my money, Dollman is one of Band's best films and it is certainly my personal favourite. Tim Thomerson is another grizzled cop, Brick Bardo, who chases his alien quarry across the universe to Earth where, due to a terrible miscalculation of scale, he turns out to be only 12 inches tall. It's a vastly entertaining slice of sci-fi hokum almost entirely shot using forced perspective and Band himself told me that it's the franchise he would most like to return to if he could find a way. But to date, apart from Dollman vs Demonic Toys and a cameo at the end of the excruciatingly-awful Bad Channels, Brick Bardo remains on the shelf.
By the middle of the 1990s, Full Moon was on a roll and spawned two spin-off sub-labels. Torchlight specialised in softcore sex films, albeit with a typical Full Moon sci-fi twist. Beach Babes from Beyond and Test Tube Teens from the Year 2000 were among the more memorable (and memorably-titled). In direct contrast was Moonbeam, an extraordinarily successful venture into children's films. Prehysteria, the first of three movies about inexplicably miniature dinosaurs, became one of the best-selling home videos of the decade, feeding kids' fantasies about their toy dinos coming to life. It led to a slew of other kidflicks, mostly shot in Europe, such as Leapin' Leprechauns and Magic in the Mirror.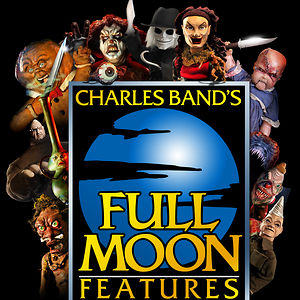 Despite the name change, Full Moon really did seem like an empire. There was Josh Kirby: Time Traveller - not just a film with five sequels but conceived as a six-part series (a hexology?). Charlie even turned his hand to Godzilla-style giant monsters with Zarkorr! The Invader and Kraa! The Sea Monster. Movies like Robot Jox and Crash and Burn pitted fabulous stop-motion giant robots against each other. If there were some missteps, like the ghastly Invisible: The Chronicles of Benjamin Knight, they were more than compensated for by gems like Stuart Gordon's superb Castle Freak.
While all six Josh Kirbys got made, the 13-part Filmonsters series only made it as far as two stories: Frankenstein Reborn! and The Werewolf Reborn! Made for a one-hour TV slot (so running abut 45 minutes each), the two were subsequently edited together into a feature. Charlie Band never wastes anything. But in a sense that was his problem - he became too successful and put out too much product. Somewhere around the millennium, it all fell apart. The IMDb lists 16 features 'executive produced' by Band for 1998, 28 for 1999, 20 for 2000.
Charles Band is undoubtedly a very good producer but that's not what he wants to do. He wants to direct. Or at least be a hands-on producer, not an executive producer whose only contribution is to sign a few contracts and approve the sleeve artwork. In the early years of this century, the whole thing was turning ridiculous with more and more films being pumped out, many of them simply edited highlights of existing films (When Puppets and Dolls Attack! - no seriously). So in 2004, Charlie drew a line under all that and started again. In his fifties, he was looking to make the films he wanted rather than simply buying and commissioning stuff to satisfy the requirements of distributors and overseas buyers.
First out of the trap was Decadent Evil, a vampire film starring an unpleasant puppet named 'Harry the Horny Homunculus', followed by Doll Graveyard. You might have spotted by now that dolls and puppets are something of a recurring theme in the man's filmography. Dangerous Worry Dolls followed a couple of years later. (In the UK, a tuppeny-ha'penny DVD label retitled this Dangerous Chucky Dolls, presumably in the hope of luring in unwitting Child's Play fans, and Decadent Evil became Decadent Evil Dead!)
While Harry the Horny Homunculus didn't really catch on, there was definite interest in The Gingerdead Man, a completely bonkers tale in which notorious Hollywood wild man Gary Busey played a murderer reincarnated as a biscuit. This spawned two sequels: Gingerdead Man 2: The Passion of the Crust and Gingerdead Man 3: Saturday Night Cleaver. A series about a possessed item of drug paraphernalia, Evil Bong, likewise had three outings (would you believe: King Bong and The Wrath of Bong) before the inevitable Gingerdead Man vs Evil Bong hit DVD last year.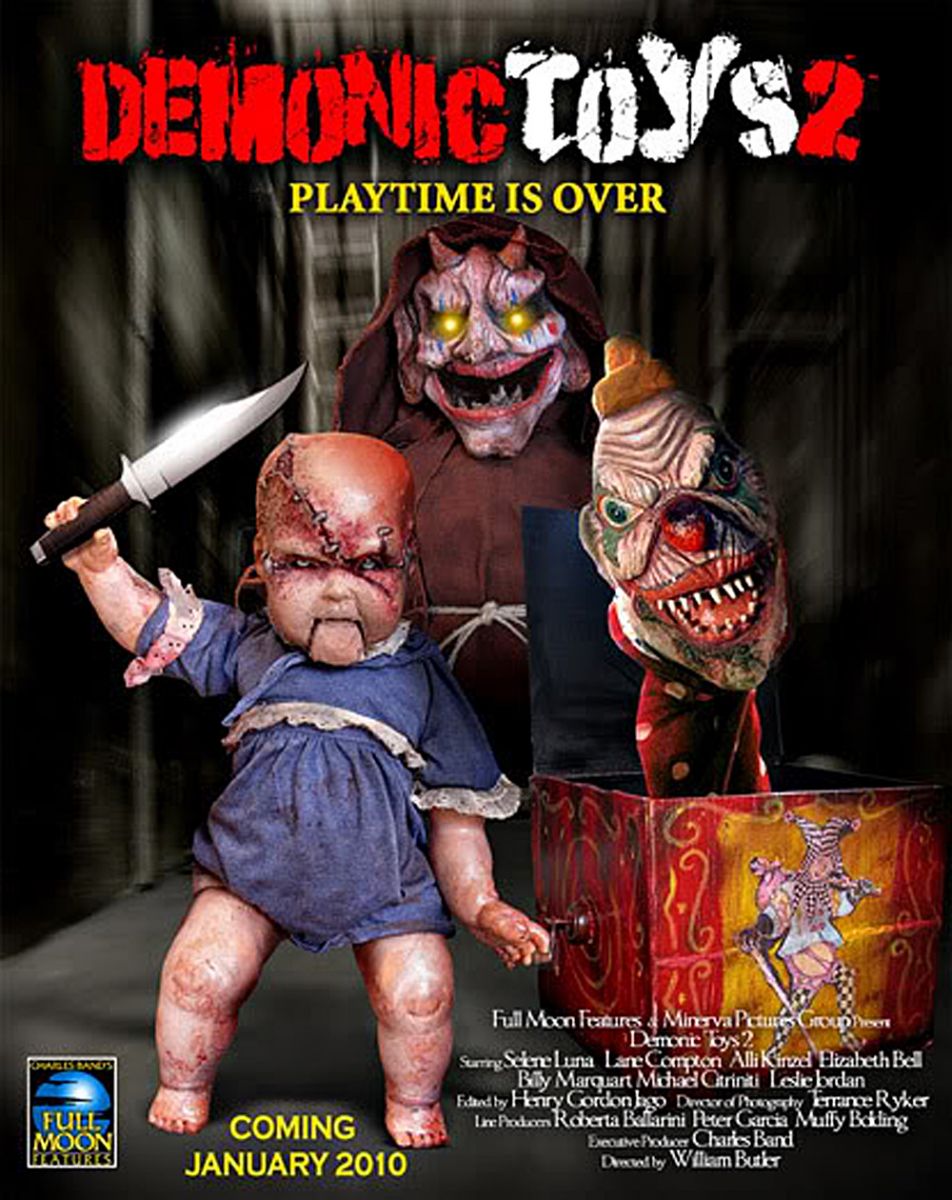 Demonic Toys: Personal Demons revived one of Band's most popular old franchises after eleven years while Killjoy 3 and Killjoy Goes to Hell built on a pair of psycho clown films from the immediate post-millennial period when Band was working with JR Bookwalter. (While the Bookwalter-Band team-up ended acrimoniously, it did produce some enjoyable films such as DeathBed and Hell Asylum). Finally, Band gave in to fan pressure (or more likely, spotted an opportunity) and made a return to the Puppet Master franchise with Axis of Evil and Axis Rising. Bizarrely, Axis of Evil and Killjoy 3 were both filmed in China which was, by all accounts, a somewhat strained process - but Band is a businessman and will make his films wherever is cheapest and offers him the best bang for his buck.
More than a businessman however, Charles Band is a showman. He doesn't just love making movies, he loves showing people how he makes movies. One of the distinctive elements of Full Moon videos was that at the end of the VHS tape there would be a 'Videozone' featurette, 15 minutes of behind-the-scenes stuff and plugs for other Full Moon product. Today, every film made everywhere has its own Making Of but back in the day this idea was truly innovative. Plus it gave Band a training ground for his neophyte directors, many of whom cut their teeth on Videozones before being given their own feature to direct.
In recent years, Band has taken a Roadshow across America, holding court before his fans, interviewing special guests from his extensive address book and auctioning off props and models. For Puppet Master: Axis of Evil, he posted seven minutes of edited-together Making Of footage to YouTube every day, hosting the first few himself before flying back to LA. You can always spot a Charlie Band YouTube video because it will invariably start with a cry of 'Doooods!'
Now his career, or at least the first part of it, has been lovingly documented and celebrated in Dave Jay's marvellous tome Empire of the B's: The Mad Movie World of Charles Band. With detailed reviews of 65 films, plus 20 in-depth interviews, it's the last word on the Empire years. That just leaves another 200 films to cover in Vol.II!
Band himself, fully aware that often the stories behind his old films are more entertaining than the final product (and the pre-production artwork invariably more impressive!) is moving into print with his own magazine Delirium, exclusively distributed in the UK through Hemlock's network of Satanic paper-boys. And still he's banging out pictures. As I type this, he is shooting Trophy Heads with lofty Carel Struycken and petite Linnea Quigley (heads are another recurring motif in Band's movies: Shrunken Heads and Head of the Family are among his personal favourites).
You've got to love Charles Band (even if it's hard to love every single one of his films). The man has carved a distinctive niche for himself, turned himself into a brand and created an army of salivating fanboys who will lap up every new film eagerly even as they are invariably complaining about how poor the last one was and why can't he make them like he used to in the old days. You know what? - I don't think Charlie really cares. He's having the time of his life.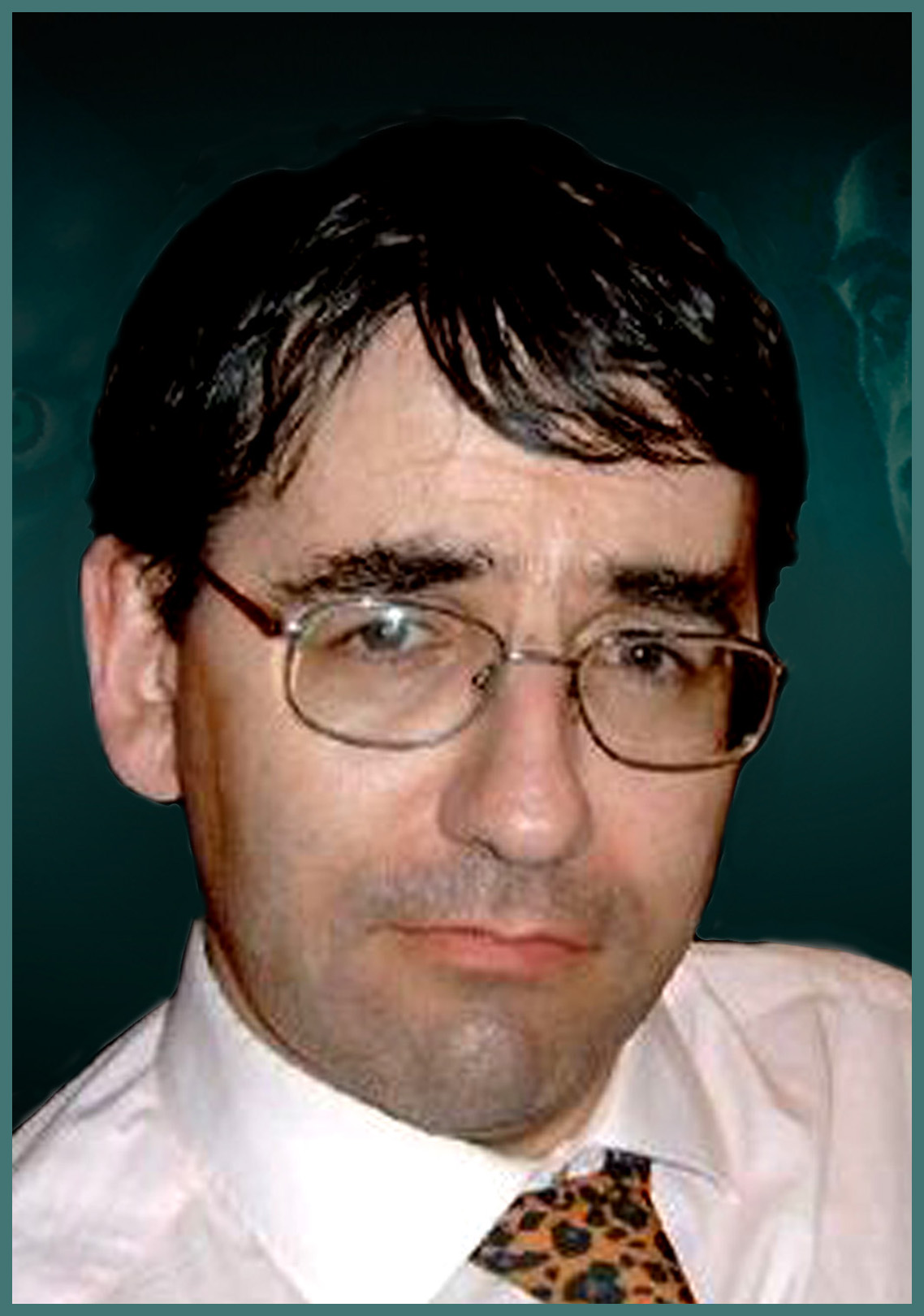 MJ Simpson has been writing since he found out which end of a pencil makes a mark. After editing sci-fan club mags he spent three years on the staff of SFX and helped to launch Total Film before switching to freelance work for Fangoria, Shivers, Video Watchdog, DeathRay and other cult movie magazines. He has a number of scripts in development and has been working on his third book, a biography of 'Bride of Frankenstein' Elsa Lanchester, for a very long time, but he promises to have it finished soon (-ish). Mike lives in Leicester with his wife, Mrs S, and his young son, TF Simpson. By day he edits the university's website and in the evenings he edits MJSimpson.co.uk. He should probably get out more.