Fantasm Presents #3
(Night of the Living Dead!)
In Stock NOW!

Fifty years ago, a small, tight-knit group of Pittsburgh area filmmakers changed cinema forever. Led by director George A Romero, they created one of the most important American films of all time. This very special issue includes brand new exclusive interviews with cast and crew such as John Russo, Judith O'Dea, Russ Streiner, Marilyn Eastman, Gary Streiner, Richard Ricci, Ella Mae Smith, and so much more! Plus: Justin Beahm, Lawrence DeVincentz, Jerry Smith and Christian Stavrakis. Cover Design by Brian Steward.
52 pages.
Hemlock Price:
£12.95
Add to Basket
Fantasm Presents #1
(George Romero!)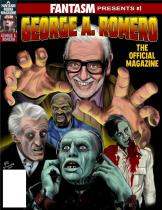 Buyers from outside the UK should first email info@hemlockbooks.com with their purchase requirements to obtain
a PayPal invoice with the correct postage rates.