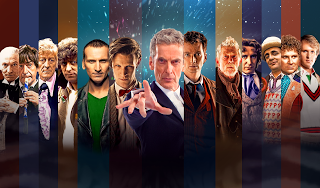 With Doctor Who back on our screens, I thought it might be fun to have a gander through the horror film credits of the 13 actors who have played the role on TV. I'm going to ignore the two 1960s film because (a) they're not canonical, and (b) I think we're all already pretty familiar with Mr Cushing's horror work, thank you very much.
When William Hartnell was cast as the first Doctor in 1963, he was known primarily for comedies and for playing soldiers, two typecastings which were combined in The Army Game in 1957 and a year later in Carry On Sergeant. But way back in 1936, young 'Billy Hartnell' was a comic relief journalist in an early British sound picture, Midnight at Madame Tussaud's. It's really a thriller about plans to grab an inheritance by murdering a young woman's father, but the murder opportunity arises when the old guy accepts a bet to spend the night alone in a wax museum chamber of horrors. There are no monster figures but there are some infamous murderers including Dr Crippen and George 'Brides in the Bath' Smith. More disturbing in retrospect are waxworks of Hitler, Mussolini and Stalin when all three were just national leaders.
When Patrick Troughton took over from Hartnell in 1966, he already had a number of horror credits including several roles for Hammer. He's a bodysnatcher in The Curse of Frankenstein, a rat-catcher in 1962's The Phantom of the Opera and Inspector Kanoff in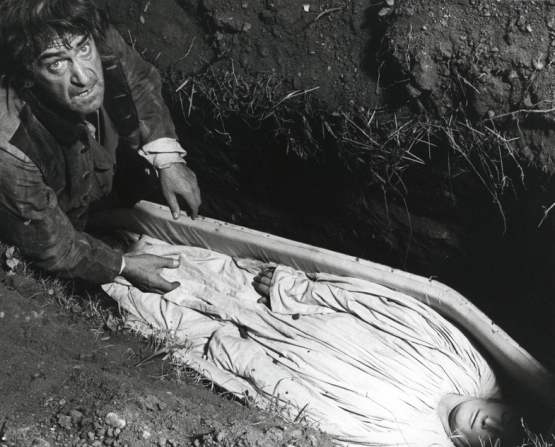 the The Gorgon, between which he essayed a memorial role as blind Phineas in Jason and the Argonauts. A busy character actor, he could be spotted in Robert Hartford-Davis's unjustly obscure 1964 gothic feature The Black Torment. It was while he was working another Hammer gig, shooting The Viking Queen, that Troughton allegedly got the call asking him to become a Time Lord. After three years in the Tardis, he returned to Hammer to play Christopher Lee's servant Klove in Scars of Dracula and then another bodysnatcher in Frankenstein and the Monster from Hell. But his most memorable role has to be in The Omen as the priest who, seeking sanctuary in a locked church amid a cacophony of storm sound effects and Latin chanting, is impaled by a falling lightning conductor.
Jon Pertwee was a more flamboyant Doctor and his three big-screen horror roles were also more flamboyant. I'm sure you remember him in Carry On Screaming as the scientist whose investigation of a severed finger accidentally leads to the creation of Odbod Junior. (He was also in Carry On Cowboy, …Cleo and, to his regret, …Columbus.) In the final story of the 1971 Amicus anthology The House that Dripped Blood, Pertwee got the opportunity to ham it up as an actor starring in a vampire film and way back in 1959, he did his obligatory stint at Hammer. Ironically, his performance as Henry Jekyll's brother Victor is lost to us because that film was The Ugly Duckling, the Bernard Bresslaw horror comedy which seems somehow to have vanished off the face of the Earth.
Tom Baker never drew a Hammer pay-cheque but he did appear in an Amicus anthology. In Vault of Evil, he stars in the final segment as a painter who invokes a voodoo curse through his artwork and is eventually undone when a self-portrait is damaged. In 1973's Frankenstein: The True Story (technically a two-part mini-series but re-edited and shown theatrically on this side of the Atlantic as a feature), Baker plays a sea captain whose wild stare and bushy beard unfortunately now put one distractingly in mind of his subsequent classic turn in Blackadder II. But if you only see one Tom Baker horror movie, it has to be the enjoyably bizarre 1974 shocker The Mutations aka The Freakmaker. Barely recognisable under Elephant Man-style make-up, a just pre-Who Baker is the hulking henchman of mad scientist Donald Pleasence, who is trying to cross humans with plants (as one does) and discarding his rejected experiments into a circus. One scene is a direct lift from Tod Browning's Freaks with a bunch of midgets proclaiming of Baker, 'We accept him – one of us'.
To the best of my knowledge, Peter Davison has never actually appeared in a horror film. The closest thing in his CV is playing a police inspector on the trail of a serial killer in 1998 TV movie The Stalker's Apprentice. Colin Baker did actually make one horror picture but you've probably never seen it and he's probably happy about that. The Asylum is a pile of utter tosh from 2000 in which Baker no.2 stars alongside Ingrid Pitt and her daughter, plus Robin Askwith, Patrick Mower, Jean Boht from Bread and Chloe Annett from Red Dwarf – an oddball cast-list of token names and has-beens that wouldn't disgrace a Richard Driscoll picture. The plot is some rubbish about a serial killer in an abandoned asylum where Pitt Jr grew up. Reassuringly obscure is the kindest thing we can say about that one.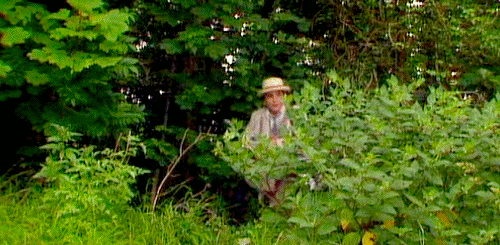 Still, at least it only sounds like a Richard Driscoll film – poor old Sylvester McCoy actually appeared in one. At the start of Eldorado (and indeed its re-edited version Highway to Hell), Tricky Dicky Risk-all plays half of a Blues Brothers tribute act called the Jews Brothers who, due to incompetence by their agent, are booked to play a neo-Nazi social. McCoy, complete with Hitler moustache, is the head Nazi who orders his followers to chase the fleeing musicians across the 'American' desert in a fleet of right-hand drive cars. Eldorado was released the same year as the first Hobbit film. How's that for karma? And to be fair, McCoy does have one solidly respectable horror credit to his, er, credit. Under the screen name 'Sylveste' McCoy (his real name is actually Percy), the young actor can be seen briefly as an asylum staff member in the 1979 Dracula. That's the one with Laurence Olivier and Frank Langella and, say what you like, it's one of my favourite versions. I saw it on the big screen in Nottingham in the late 1980s and it looked great.
So much for the classic series. What of the revival? Well, the attempted revival. For some years the Paul McGann telemovie was arguably not even canonical (the Doctor is half–human? WTF?) but it's now very solidly part of the saga and McGann, a proper Hollywood actor, has seen his take on the Time Lord rehabilitated. Yes, proper Hollywood. McGann is in Alien3 and 2002 Anne Rice adaptation Queen of the Damned (a film now largely remembered, if at all, for starring tragic R&B star Aaliyah who died before it was released). McGann made a couple of other horror pictures in the early 1990s, around the same time that he was in Alien3. Afraid of the Dark is a curious two-stroke horror described by the New York Times as 'exquisitely myopic', though I'm not sure they put that on the poster. McGann is an evil, razor-wielding photographer who attacks and slashes a blind woman – except that he's not. The film's clever conceit is that the first half is the distorted view of the pre-pubescent protagonist; for spoilers' sake, I won't reveal who McGann's character actually turns out to be.
He also played the lead role in The Monk aka The Final Temptation, a fairly lavish Anglo-Spanish adaptation of Matthew Lewis's classic gothic potboiler (which has been adapted three times, at 20-year intervals, meaning the next one is due in about 2031). And then there's Downtime, Bharat Nalluri's unfairly obscure 1997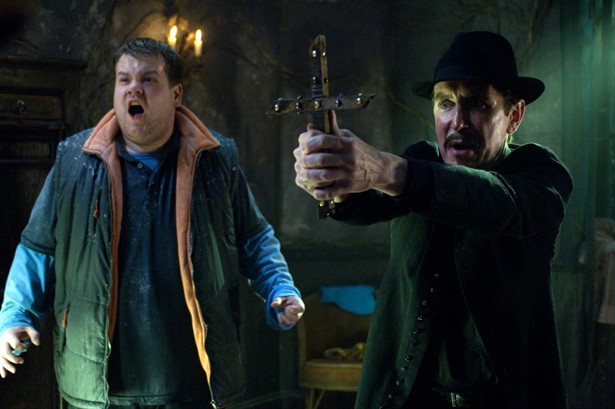 horror-thriller set in a vandalised lift stuck in an almost empty inner city tower block ruled by teenage thugs. A lot of themes explored in subsequent British horror films were done first (if, admittedly, not necessarily better) in this forgotten feature. Paul McGann was also in Lesbian Vampire Killers. As my old Nan always said: if you can't say anything nice, don't say anything at all. Moving on…
If this blog had been written a year ago, we would have jumped straight to Christopher Eccleston but of course we now know that there was another incarnation of the Doctor inbetween those two, played by John Hurt. Well now, John Hurt. Where to start? Kane in Alien? Winston Smith in the inevitable 1984 version of Orwell's 1984? The lead role in Frankenstein Unbound (a film notable as [a] Roger Corman's last ever gig as director and [b] one of only three adaptations of the work of Brian Aldiss – can you name the other two without a trip to the IMDb?). Perhaps, to you, John Hurt is wand shop proprietor Garrick Olivander in the first, and last two, Harry Potter films. Or maybe he's Professor Broom, Director of the Bureau of Paranormal Research and Defence in Hellboy (Hurt also appears briefly as Broom in Hellboy 2 and voices the character in one of the animated spin-off features). You might think of Profesor Oxley in Indiana Jones and the Kingdom of the Crystal Skull, although if you do, what's wrong with you? Seriously, there's no reason why anyone should ever think of that film except maybe when changing a bin-liner.
Way back in the 1970s, even before he set off aboard the Nostromo, Hurt starred alongside Peter Cushing in Freddie Francis's The Ghoul and was also in Spectre, an oddball supernatural horror starring Robert Culp and produced by Gene Roddenberry of all people. Plus he was the voice of Aragorn in Ralph Bakshi's animated version of The Lord of the Rings. But if you want something really off-beat, you can't go wrong with The Shout. Hurt plays an avant-garde composer of electronic music whose experiments with sound take an interesting twist when he meets Alan Bates, who claims to have learned how to kill somebody with just his voice. Backed up by an eclectic cast (Susannah York, Tim Curry, Jim Broadbent), this is one of those once-seen, never-forgotten movies. Other genre credits for young Mr Hurt include Winona Ryder shocker Lost Souls, New Orleans-set fright-flick The Skeleton Key, Alan Moore adaptation V for Vendetta, Vikings-vs-aliens nonsense Outlander and the 2010 BBC version of MR James's Whistle and I'll Come to You, in the role taken 42 years earlier by Michael Hordern.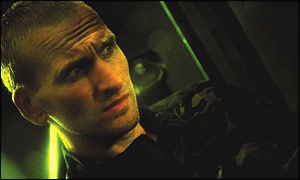 Christopher Eccleston is the only Doctor Who actor I ever interviewed, although I did meet Peter Davison and Jon Pertwee at the SFX magazine launch party (the former was wearing a 'Hard Rock Café, Gallifrey' T-shirt; the latter stole my pen). I did a phoner with Eccleston as part of a bunch of interviews with the cast of The Others, Alejandro Amenabar's stylish and atmospheric but oh-so-bloody-obvious 'twist' ghost story. Typically, this was before the actor was cast as the Doctor and, indeed, before he was in 28 Days Later as the obsessive, untrustworthy leader of a small band of surviving soldiers, both of which would have been great subjects to talk about. I did however get to ask him about working with Cronenberg on eXistenZ and he waxed enthusiastic about his role in Alex Cox's post-Apocalyptic version of The Revengers Tragedy. More recently, Ecclestone popped up in Thor: The Dark World. It's a pay-cheque, I suppose.
Running out of space here. David Tennant starred in the remake of Fright Night of course and is also in Goblet of Fire, while Matt Smith was in a weird German sci-fi/horror thing variously known as either Womb or Clone, as an anti-cloning activist who gets cloned. And he's in the next Terminator film, apparently. Which brings us up to date with Peter Capaldi, a respected and experienced actor whose horror credits include Ken Russell's The Lair of the White Worm, Scottish werewolf tosh Wild Country and UK-shot Dennis Hopper-starrer House of 9. His last feature role before the announcement that he was taking over the Tardis was in World War Z, where he plays a medico working for the World Health Organisation. His credit? 'WHO Doctor'. What are the chances?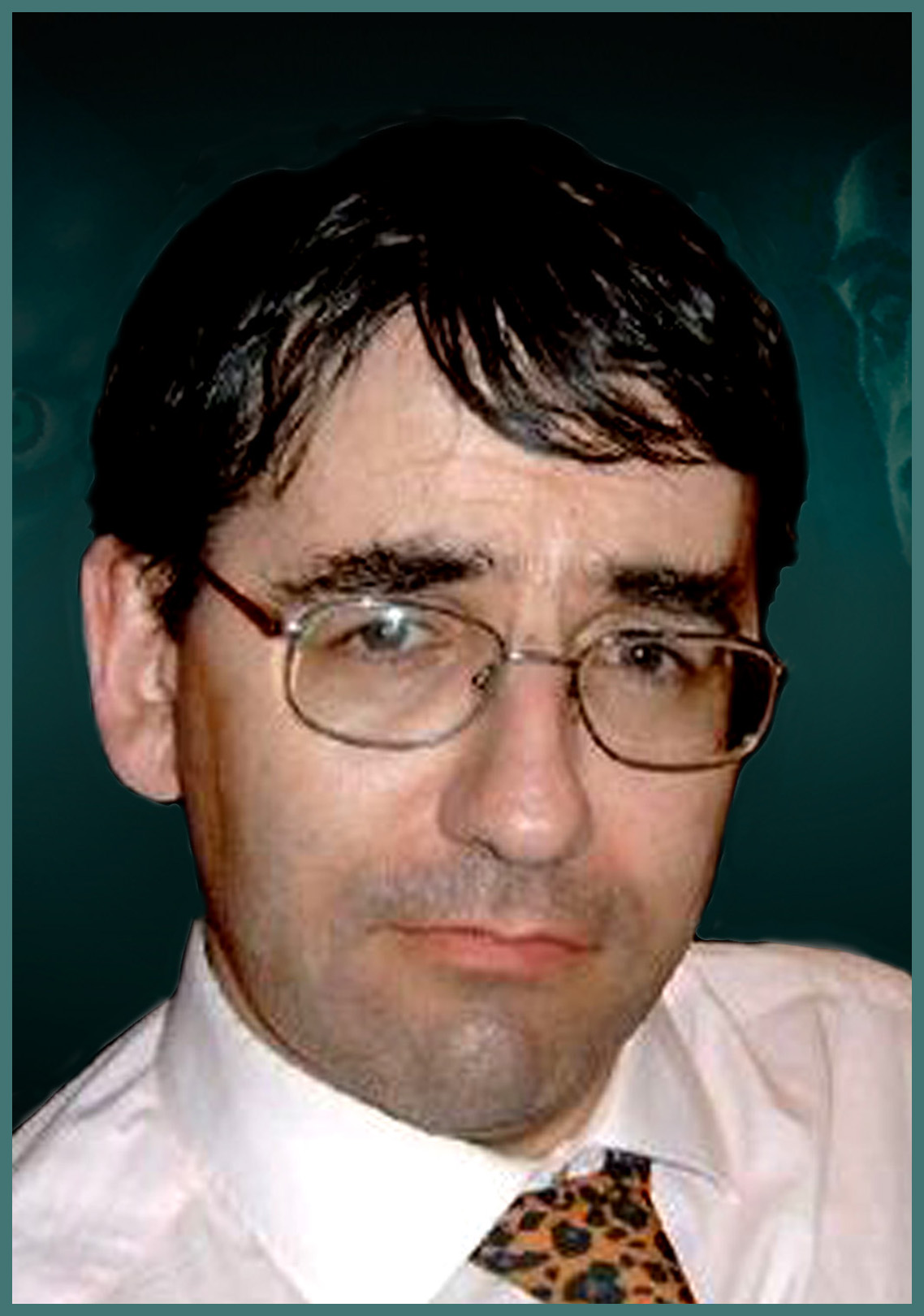 MJ Simpson has been writing since he found out which end of a pencil makes a mark. After editing sci-fan club mags he spent three years on the staff of SFX and helped to launch Total Film before switching to freelance work for Fangoria, Shivers, Video Watchdog, DeathRay and other cult movie magazines. He has a number of scripts in development and has been working on his third book, a biography of 'Bride of Frankenstein' Elsa Lanchester, for a very long time, but he promises to have it finished soon (-ish). Mike lives in Leicester with his wife, Mrs S, and his young son, TF Simpson. By day he edits the university's website and in the evenings he edits MJSimpson.co.uk. He should probably get out more.