You know what no one makes science fiction movies about any more? Transatlantic travel. Probably because travelling across the Atlantic is pretty damn easy nowadays and fairly cheap. I recall, when I was a (mature) student in the early 1990s, blowing a large portion of that term's grant on jetting over to LA for the weekend to attend a
Fangoria
convention. That's how easy it has become.
But there was a time - let's be specific, it was the 1930s - when the idea of fast, convenient travel between Europe and North America was seen as just the other side of the cutting edge. No one was sure quite what technology would be involved, but it would be fabulous and it would, of course, only be available to very rich people. Because everyone else just went to Blackpool for factories week. And from this came a trio of films. Well, actually it's seven films. Or four, depending on how you look at it. And, in fact, I have now identified a fourth/eighth/fifth (delete as applicable). Each of which posits a different technological breakthrough that could make travelling between North America and Europe as simple as crossing the channel..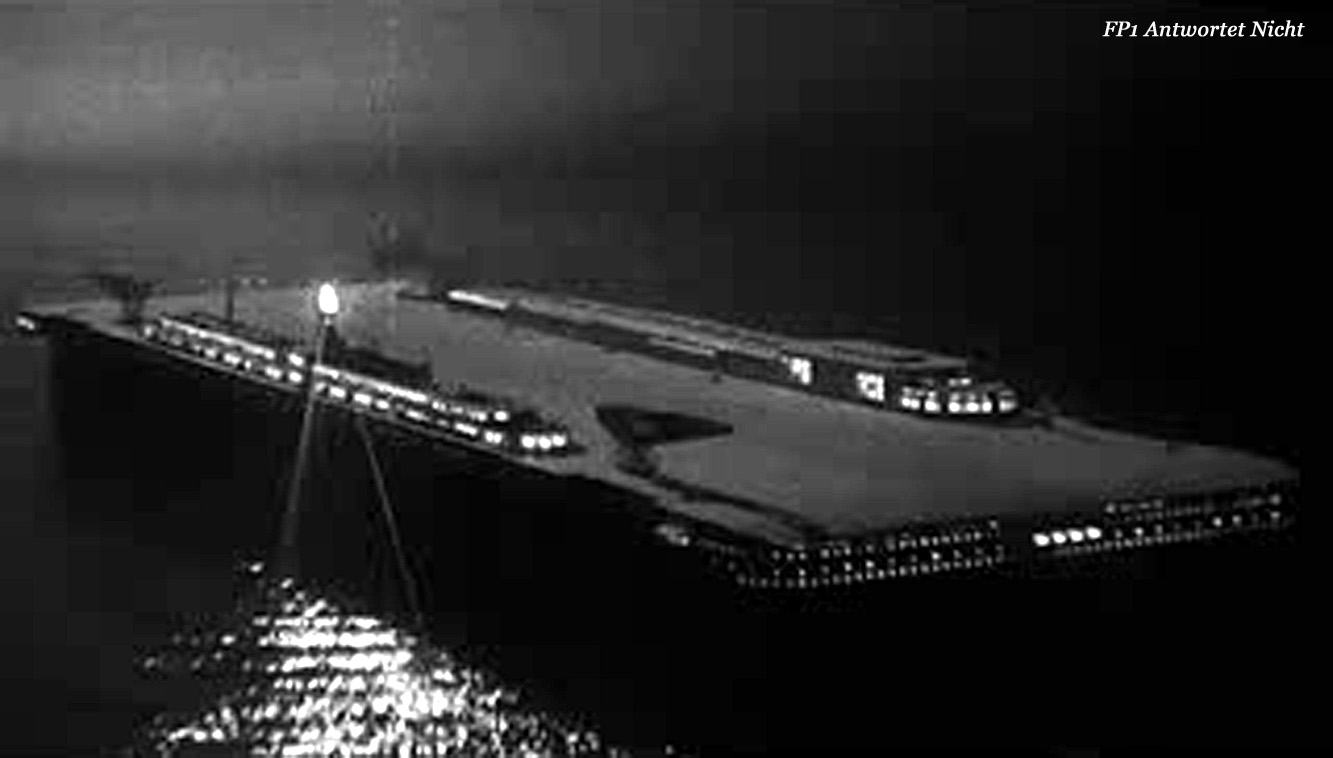 The reason for the appearance of this fascinating film sub-genre was the advent of scheduled passenger services... by airship. From 1931, the Graf Zeppelin carried passengers - wealthy passengers - on regular flights between Germany and Brazil. The reason why the route went to South America, apart from all the economic opportunities offered by ex-pat Germans down there, was simply that the weather was better. Flying to New York or Newfoundland involved passing through stormy, North Atlantic skies which could be just as dangerous to airships as the stormy seas below were to boats. So the prospect of fast, convenient trips between London and Manhattan remained tantalisingly out of reach.
Of course, the first actual flight across the Atlantic was made by Alcock and Brown in 1919 (though, being British, their achievement tends to be overlooked by American history, which concentrates instead on the far less significant solo flight by Charles Lindbergh eight years later). In fact right at the end of the 1930s, Pan-American instigated a high-speed, scheduled route via fixed-wing aircraft, which could have been enormously successful if it hadn't launched less than three months before World War 2 broke out.
But everyone could see that convenient Transatlantic travel was on the way.
It wouldn't necessarily be that much faster: by the 1930s, liners were competing with some fervour for the Blue Riband and the journey which used to take weeks was only a few days. Airships took about the same time. Nor would it be cheaper necessarily. Travel across 'the Pond' was basically limited to the very well-off, unless you fancied a one-way ticket and an interior cabin.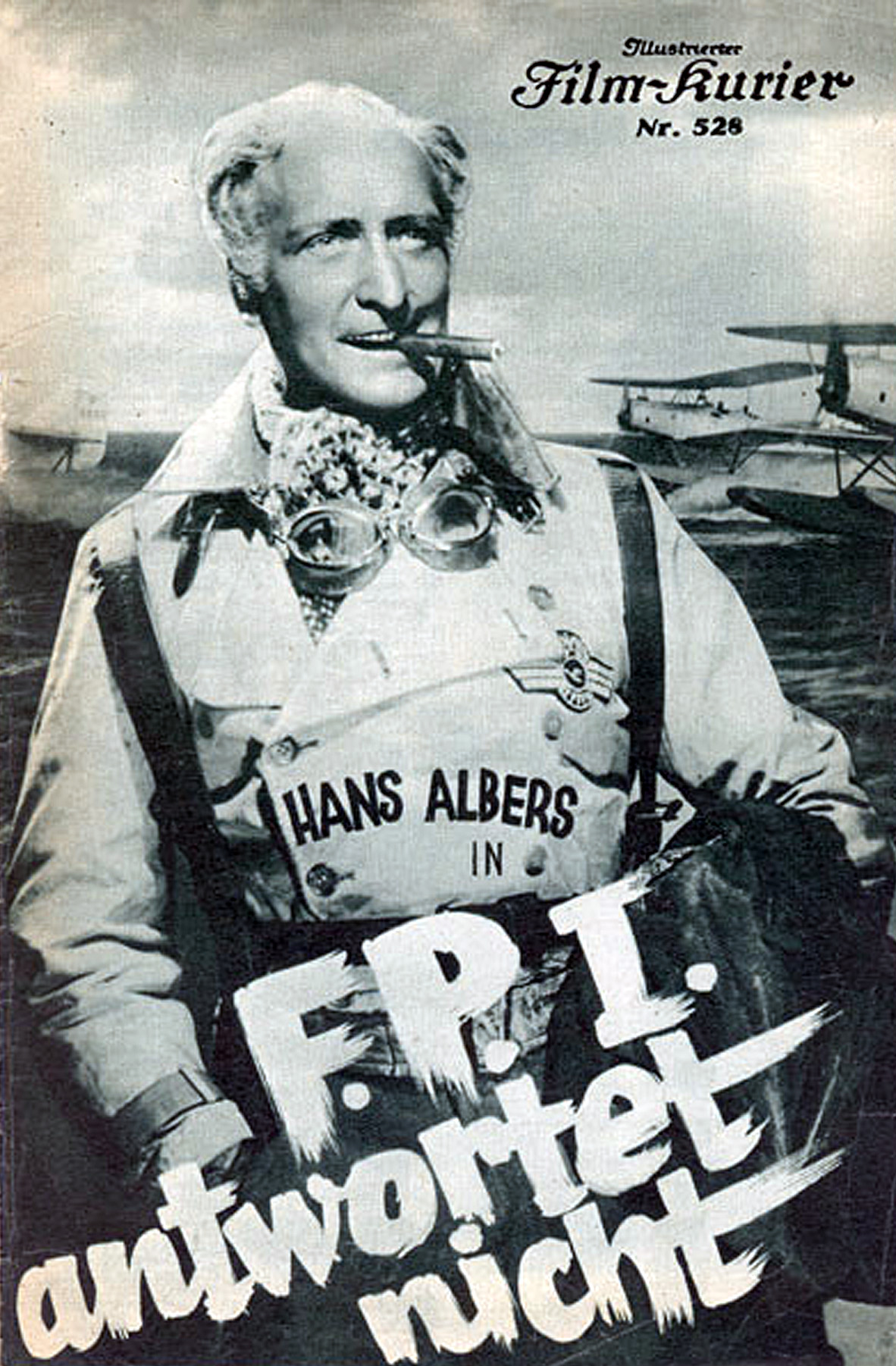 In 1932, the first near-future transatlantic technology film appeared, a German picture adapted from Curt Siodmak's recently published novel
FP1 Antwortet Nicht
(published in the UK as
FP Fails to Reply
). The technological breakthrough here is an enormous floating platform, FP1, situated at the approximate midway-point between Europe, Africa and North and South America. The sort of place where it would be great to have an island, only there isn't one. This would give a flying time of about 12 hours in each direction meaning that London to New York would take only 24 hours, with one change of planes mid-ocean.
Hans Albers starred in this tale of corporate skulduggery and espionage as an ace flier who sets off round the world, disappears over Alaska and is presumed dead. Eventually making it back to civilisation, he swears off flying, but then there's trouble aboard FP1. Saboteurs have knocked out the radio (which is why the platform
antwortet nicht
) and the thing is sinking. Can the ex-flyer be persuaded to make one last journey for help?
I haven't seen
FP1 Antwortet Nicht
but I believe it to be a rollicking adventure with some remarkably good miniature special effects. And the reason that I believe this is because I have seen the simultaneously produced English language version, which uses the same script, sets and special effects. In those immediate post-
Jazz Singer
days, no-one was quite sure about the best way to market films in a foreign language. With a silent, it's easy. You snip out the intertitles and splice in some new ones: job done. But talkies presented a new problem and one solution was simply to make the film twice. (The most famous example of this is the Spanish language version of the 1931
Dracula
, made at the same Universal Studios during the hours of darkness while Lugosi, Browning
et al
were getting some much needed kip.) The English and German versions of
FP1
must have been shot sequentially, rather than simultaneously, as they share a director, Karl Hartl.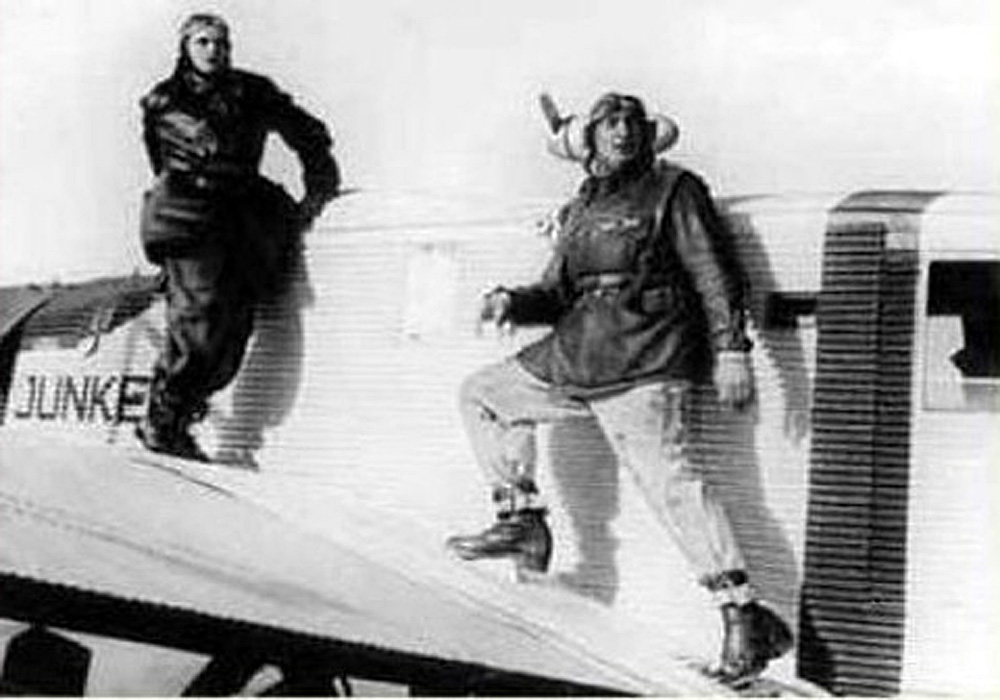 They premiered four months apart at the start of 1933 and, in fact, Hartl made a French version, too (
IF1 Ne Repond Plus
).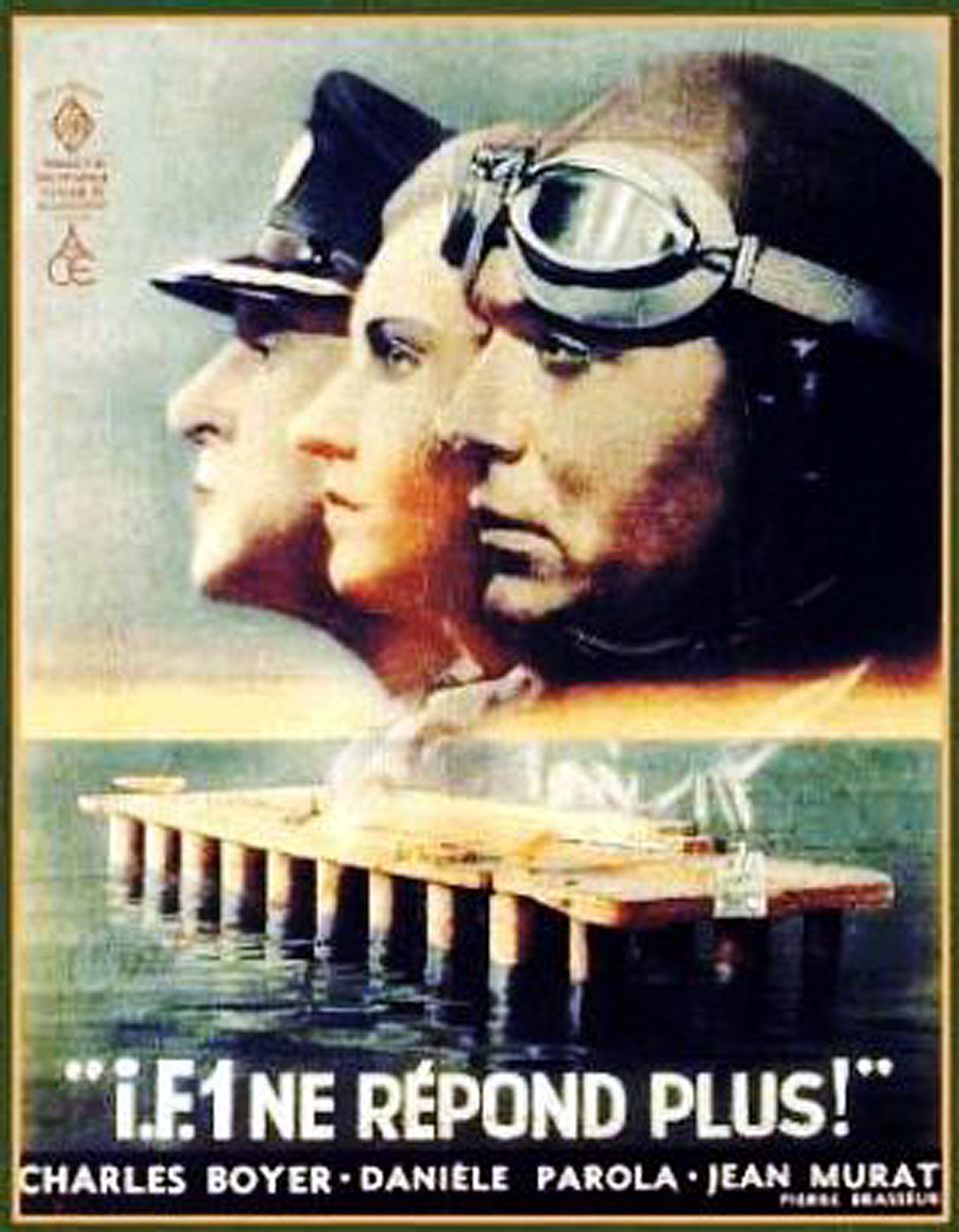 Hans Albers and
M
's Peter Lorre starred in the Deutsche film, Charles Boyer was in the Francais version and Conrad Veidt and Leslie Fenton graced the English picture, which was produced by Gaumont in collaboration with UFA.
Most sources list the English language film as
FP Doesn't Reply
or just
FP1
but, in fact, when it had a rare TV screening in 1994, the on-screen title was
Secrets of FP1
. I know this because I recorded it on one of the busiest evenings of the year. Back in the days when the TV channels showed interesting old films, the vagaries of scheduling enabled me to tape this, Jean Cocteau's lyrical
Orphee
and stop-motion silliness
Mad Monster Party
in a single, memorable evening. Now there's a triple bill you'll never see on the big screen!
A few months later, UFA produced
Der Tunnel
/
Le Tunnel
, German and French versions of Bernhard Kellerman's best-selling saga of subterranean strife
Der Tunnel
. Allegedly there was a silent version of the story in 1915, but that seems to be one of those movies listed in reference works without any solid evidence beyond hearsay. If it ever did exist, it is long since lost.
On this occasion, there was no English language version so when one did turn up two years later from Gaumont it was a remake rather than a, um, simulmake. (I don't think there's a word for these duplicate movies.) In the UK, it was simply called
The Tunnel
while the Yanks retitled it
Transatlantic Tunnel
just to be completely clear. By all accounts, the German version is a belter, a sweeping epic of corporate power games and personal tragedy as an engineer becomes obsessed with the construction of a giant tunnel connecting continental Europe and the United States.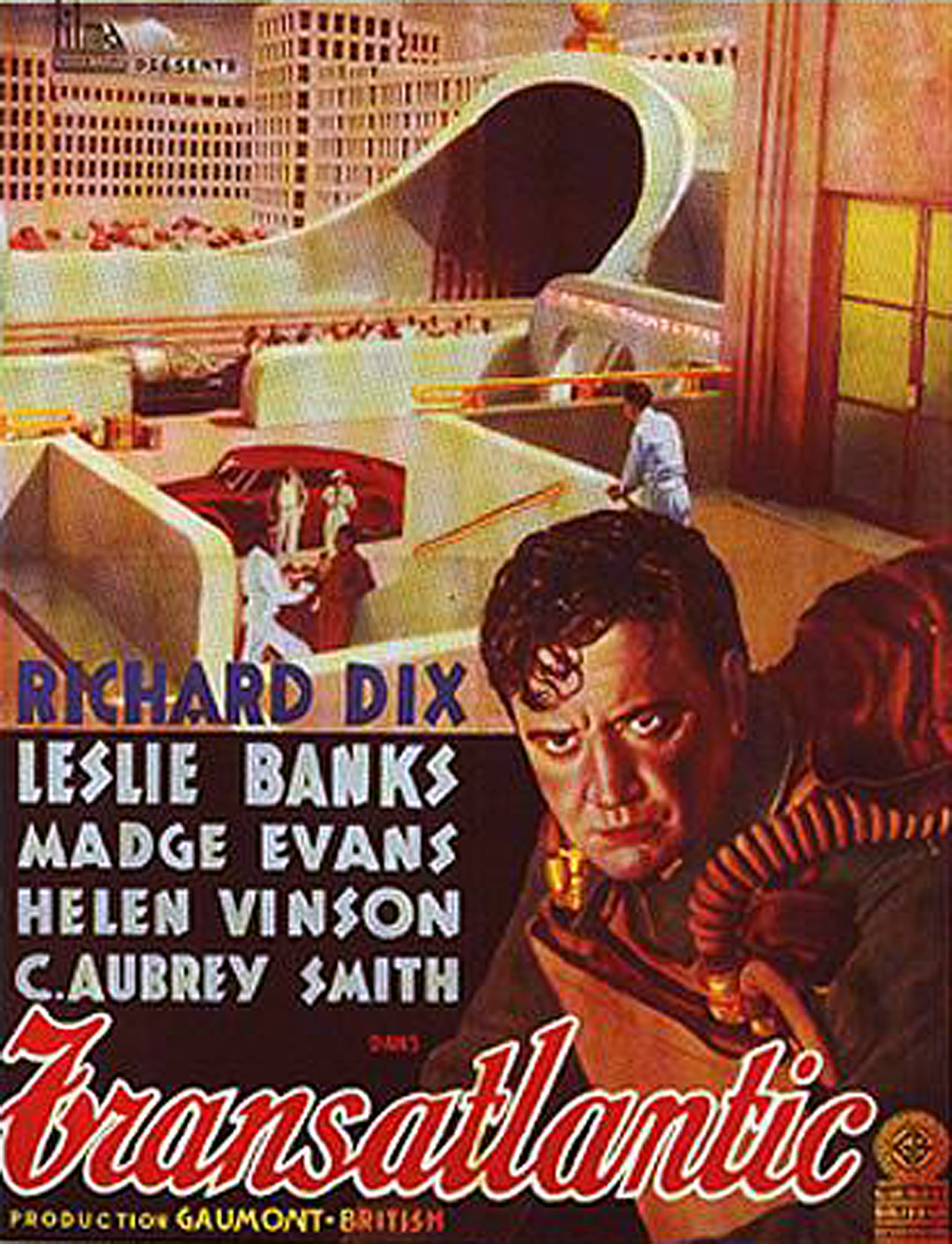 The English version - which is the one I've seen (from a 1997 VHS release) - is, on the other hand, dull as dishwater and a crushing disappointment. Richard Dix is Mack, the monomaniacal engineer who devotes years of his life to the gargantuan project. His wife, feeling herself a 'tunnel widow', secretly takes a job as a nurse on the project but is soon stricken with a tunnel-specific ailment that causes blindness. Mack doesn't care. His son, who starts the film as an irritating, blond, upper class moppet, becomes an irritating, blond, upper class teen and insists on taking a job among the working class blokes at the rockface. When an undersea volcano causes some sort of unspecified (but very hot and smoky) disaster in 'Section K', Mack is forced to close a system of giant safety doors, sentencing all the workers within - including Mack Junior - to death, in order to protect the greater project and all of the other workers along the tunnel. This should be an agonising decision that tears our heart-strings - but it's just as dull as the rest of the film.
Frankly, the tunnel concept is irrelevant in this version and all this bland soap opera about blind Mrs Mack and blond mini-Mack would function just as well if Mr Mack were simply running a big factory. The film's only saving grace is the special effects of the tunnel itself, with a set of sleek art deco railcars that whizz up and down the completed section. It's a superb piece of miniature effects work and is complemented by obviously Metropolis-influenced shots of nameless, faceless, sweaty workers trudging uncomplainingly to another eight hours of backbreaking labour.
Curt Siodmak wrote the script once again and thought the whole thing was such nonsense that he included, for a joke, a sequence where Mack has to fly over to the USA, communicating en route via a videophone. Siodmak assumed that somebody would spot this glaring inconsistency - why build a tunnel if Transatlantic flight is that easy? - and remove it, but no-one did and it was filmed and it's still there on screen.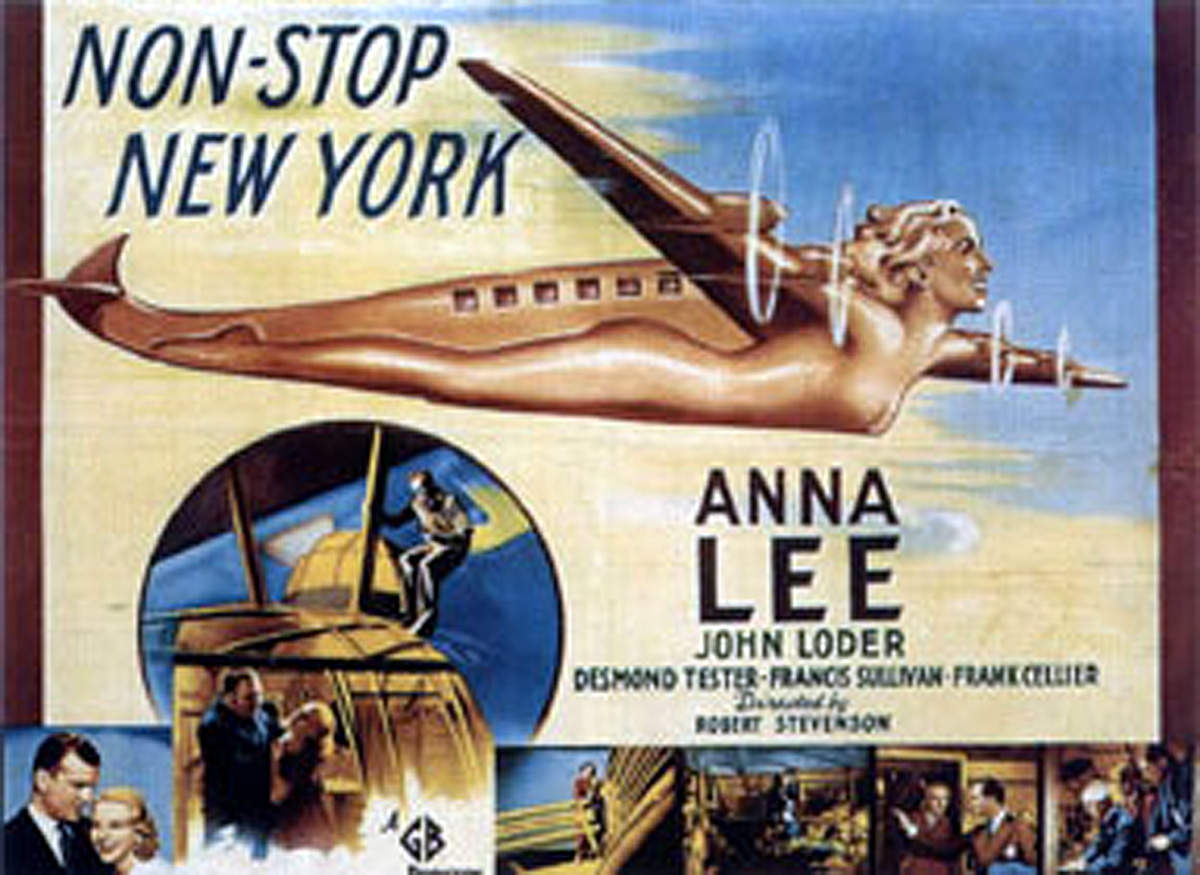 The best of this 'trilogy' is the third,
Non-Stop New York
, not least because it was directed by one of my favourite film-makers, Robert Stevenson. Buxton-born Stevenson made some excellent British pictures, including a corking
King Solomon's Mines
, before decamping to America where he directed almost all of the live-action Disney pictures in the 1960s and 1970s. I'll probably write a whole column about him at some point.
Non-Stop New York
presents the most practical means of transatlantic travel - aeroplane. But not just any old plane, this is a super-whizzo giant flying boat with an interior level of luxury comparable to the finest luxury liner or Zeppelin. It even has, in defiance of basic physics, external viewing balconies where passengers can pop out for a cigarette. The plot is a thriller, about a chorus girl who witnesses a murder in New York, flies to London and is wrongly convicted for smuggling, a situation arranged by the crooks who bumped off the old man and designed to keep her out of circulation while the authorities search for a witness. When released, she discovers that an innocent man has been framed for the murder, whose life can only be saved if she gets back to the States within 24 hours. Hence the big plane. Anna Lee (later Mrs Robert Stevenson) is a sympathetic lead, John Loder is great as the cop investigating all this, and the supporting cast includes such reliable British character actors as Peter Bull and the gloriously eccentric Athene Seyler (Karswell's mother in
Night of the Demon
).
The whole thing is played with a straight face but directed with a wry sense of humour, resulting in a tremendously enjoyable picture. If you only watch one 1930s near-future transatlantic travel film in your life, this is the one to go for. Plus there are no German or French versions to confuse matters.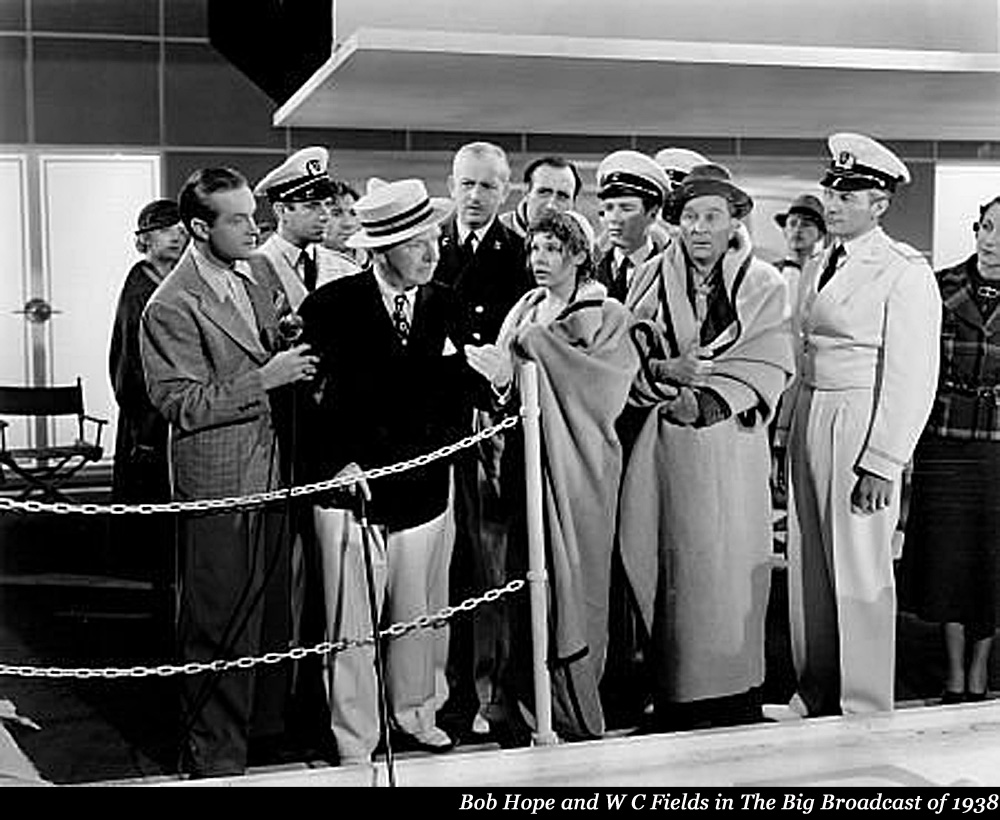 I thought that was the last for the sub-genre until I sat down last month to watch one of the discs in my W C Fields box set. And blow me down if the central premise of
The Big Broadcast of 1938
(also starring Bob Hope in his feature debut) isn't a transatlantic race between two liners, the Colossal and the Gigantic. While the former is a regular ship of that era, the latter - where the action takes place - is an amazingly designed, ultra-streamlined vessel with futuristic engines which can receive a turbo-boost of extra power transmitted by radio waves. That piece of hi-tech alone makes it a science fiction picture through-and-through, and just to add another sci-fi element of near-future fantastic technology, Fields has a golf cart which converts into a light aircraft.
I wish I could claim a great discovery, but editor Phil Hardy's of-its-time-definitive Aurum Science Fiction Encyclopaedia includes
The Big Broadcast of 1938
, so I'm not the first to realise that W C Fields made an SF movie. Actually, come to think of it, he made at least two - but maybe that's a subject for another month...







MJ Simpson has been writing since he found out which end of a pencil makes a mark. After editing sci-fi fan club mags he spent three years on the staff of SFX and helped to launch Total Film before switching to freelance work for Fangoria, Shivers, Video Watchdog, DeathRay and numerous other cult movie magazines. He has a number of scripts in development and has been working on his third book, a biography of Elsa Lanchester, for a very long time but promises to have it finished very soon (-ish). Mike lives in Leicester with his wife, Mrs S, and his young son, TF Simpson. By day he edits the university's website and in the evenings he edits MJSimpson.co.uk. He should probably get out more.