It's that time of year again. The time when we take a look back at the state of British horror cinema over the past 12 months. It's the Fourth Annual Devil's Porridge British Horror Revival Round-Up. Or the 4th DPBHRRU for short. Oh, that's not good, is it? Sounds like a raspberry. Or worse.
The ongoing problem is that there are so many distribution channels now that it can take a year or more to discover that something has been released. Thus we find that in January 2011 I listed 32 films released in 2010 but my current checklist actually runs to 64 for that year. So I was half-right. Twelve months later I listed 41 titles for 2011, now expanded to 54. By the end of 2012 I had 58 titles listed, now a whopping 75! Which means that, in addition to the 59 films I'm about to tell you about, there were probably a dozen other British horror features of one sort or another made available in one way or another in 2013 that I have missed. Just in the past couple of weeks I have added five titles to this list (and removed two).
Just to remind you: my definitions of 'British' and 'horror' are fairly conservative and are outlined in more detail in my book Urban Terrors: New British Horror Cinema (why not buy it from this website with the Christmas money your auntie gave you?). And 'release' for me means the first chance for people to see the film, not including one-off screenings. Indeed, our first title is a perfect example of how oddities can pop up anywhere. Belinda Greensmith's For One Night Only is a generic teen slasher from 2009 which appeared in January on the YouTube channel of an 'online film market', meaning we can legitimately watch it. Shame it's a bit crap.
A more standard release was Stuart (Revelation) Urban's darkly comic psycho cop film May I Kill U? which was bang-on contemporary with its plot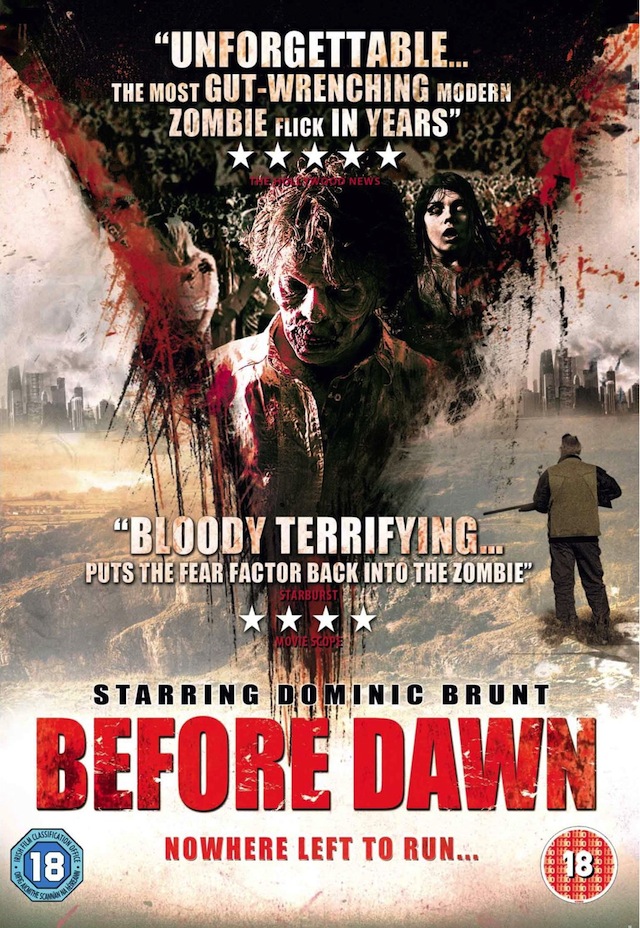 incorporating social media and the 2011 riots. That played UK cinemas in January while February saw a limited theatrical release for Before Dawn, a brilliantly harrowing zombie picture directed by and starring Dominic (Paddy off Emmerdale) Brunt. February discs included Nicholas David Lean's Dead End (aka Hard Shoulder), in which a squabbling family are trussed up and tortured, and Jason Ford's impressive Community (aka Final Project) in which two film students intrude into a sink estate detached from normality, plus American DVDs of James Sharpe's 'dark romcom' about shared dreams Temporary Spirits and Michael Axelgaard's found-footage haunted tree opus Hollow. Also, Northern Ireland's most prolific horror film-maker George Clarke released his fourth feature to VOD in February - the Halloween-set, clown-packed Splash Area. However VOD releases can be difficult to date (unless someone flags them up on Twitter) so when I say that Tuyet Le's hospital chiller Patient 17 came out in February, consider that an educated guess.
March brought a long-awaited release for a superb film which I originally reviewed four years ago - Leigh Dovey's The Fallow Field. A powerful 'lost memory' horror with a startling supernatural premise, this one comes thoroughly recommended. Menhaj Juda's towerblock nastiness Comedown, touted as 'Kidulthood meets Saw', had been slated for January release but eventually hit shelves in March, the same month as the VOD release of Andrew Spencer's The Casebook of Eddie Brewer, in which a documentary crew tail a paranormal investigator. And then there was David Woods' Till Sunset which achieved two distinctions: the first British horror film released on Blu-ray but not DVD (apparently) and the least comprehensible film I have seen for some time. It starts with three people waking up in a wood and after that, seriously, I have not a clue what is happening.
It's two years now since Aidan Belizaire wrapped his voodoo-gone-wrong horror comedy The Zombie King starring Edward Furlong and Corey Feldman. British horror fans are eager to see it but so far the only DVDs have been a German one in April and a Japanese one in May. While that film was low-budget, Michael Booth's promising debut Kuru, posted to Vimeo in April, was shot for a total of 250 quid which wouldn't have paid for Corey Feldman's airline ticket. Also in April, MJ Dixon (not to be confused with MJ Simpson) saw his second feature Slasher House released in the UK while his first Creepsville remains stuck in post. An enjoyable romp about psychos being killed, shot in arty red and green, Slasher House was one of the last films made by now-retired British horror starlet Eleanor James.
Byzantium, directed by Neil Jordan, was a proper film, reviewed by the mainstream media in May. It's sobering to think that, despite this being the 16th British horror film released in 2013, most people will have been completely unaware of the previous 15. Nor will they have noticed Dominic Holmes' The Clown, a 2007 slasher which popped up unexpectedly on YouTube that same month; or movie-machine Philip Gardiner's cheap'n'cheerless Awesome Killer Audition which was for some bizarre reason packaged by US label Chemical Burn as a sequel to his unrelated 2012 picture One Hour to Die. And they certainly won't have spotted Josh Bagnall's curiously punctuated band-takes-drugs nightmare Rock and Roll Fuck 'n' Lovely which was released online. Compilers of 'pop stars in British horror movies' lists should note a cameo by Pete Doherty in that one. The other film released in May which caught mainstream attention was Ian Clark's medical horror The Facility (aka Guinea Pigs), a DTV release but with name actors including Aneurin Barnard and Olivia Coleman.
June's highlight was undoubtedly the DVD of The Seasoning House, directorial debut of BHR effects legend Paul Hyett (and with a cracking cast including Anna Walton, Kevin Howarth and the ubiquitous Mr Pertwee). Harrowing, powerful, thought-provoking: Mike says watch it. Ricky Wood's gory Scottish cannibal chiller Sawney: Flesh of Man debuted across the Pond in June where it was given the meaningless title Lord of Darkness, with the UK disc following in August. Nottingham-shot undead outing Zombie Hood premiered as a VOD title on Indiereign this month (the DVD was in August) while Gav Chuckie Steel's zero-budget slasher comedy The Shadow of Death took the YouTube route and Will Hutchinson's 'social realist Straw Dogs' feature Overhill plumped for Vimeo.
Fans of retro anthologies could buy a DVD of Don Fearney's Grave Tales from this here very boutique and there were also UK discs of Neil (The Reverend) Jones' Spanish-shot bloodfest Deranged and Steve Stone's semi-found-footage, Russian-set The Entity starring Dervla Kirwan as a psychic investigating historical mass murder for a TV show.
Philip Gardiner makes his second appearance in this list with the July release of Exorcist Chronicles, a typically overlong, incoherent would-be epic about two Vatican agents combating a global possession epidemic which also involves Babylonian idols. Or something. One of Gardiner's regular cast Melanie Denholm made her own debut as writer/director the same month with Anna: Scream Queen Killer, a feature-length solo piece in which Denholm plays a wannabe actress. July's eclectic range of other BHR titles included the Brain Damage DVD of Zombie Lover (aka The Turning) - Jason Impey and Eileen Daly, together at last! - and Beast in the Basement (aka Conquering Heroes), Robbie Moffat's remake of dodgy old Tigon creaker Beast in the Cellar. Plus on the big screen there was The World's End, in which Simon Pegg and Edgar Wright once again failed to find the magic that made Shaun of the Dead a classic. Finally, much hoopla was generated by A Field in England, an arty historical psychotronic slice of bollocks by over-rated media darling Ben Wheatley. Critics peed themselves at the idea of a film released through multiple channels simultaneously, ignorant of the fact that the infinitely superior Mum and Dad did this five years ago.
Robbie Moffat also released Seven Crosses around this time (see previous note on the problems of accurately dating VOD films) about a brother and sister whose B&B business takes a murderous turn. Moffat is an old hand whereas Andrew Elliot is a young Turk making his debut with The Maniac Project, an August VOD film which describes itself as "an ultra low budget comedy, grindhouse film [with] gore, swearing, boobs and explosions". Something called Helsing: A Monster of a Documentary popped up on YouTube this month which proved to be a feature-length edit of comedy web-serial I am Tim about the last descendant of the famous vampire-hunter. The month's most interesting premiere however was a US disc of Gallowwalkers, the Wesley Snipes-starring African-set zombie western which disappeared back in 2006 in the fallout from its star's tax returns. Andrew (Cold and Dark) Goth is the credited director but he has disowned this released version which has been mucked about by the producers.
September gave us Luke Brady's jolly-sounding but surprisingly grim Young, High and Dead in which a quintet of teens smoking dope in the woods fall afoul of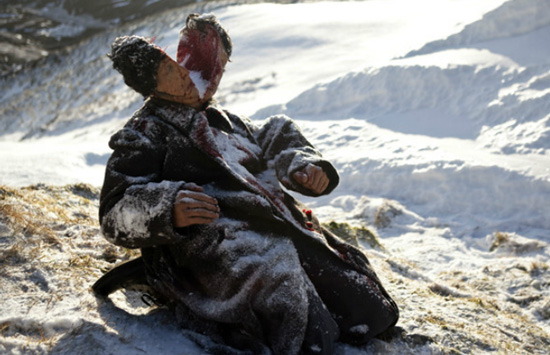 a psycho. Plus a US disc of Martin Rutley's Amnesiac (aka Wyke Wreake) which did something new and different with the tired ouija board subgenre. With so many films having title changes, it's ironic that Anthony Woodley's steampunk horror romp was released unchanged as Outpost 11, despite the obvious confusion this causes with last year's Nazi zombie sequel Outpost II!
And so to October, always the busiest month, when 13 British horror films saw a release. Eyes down for a full house. Kevin Gates and Michael Bartlett's The Paranormal Diaries: Clophill was the guys who made The Zombie Diaries turning their attention to a fictional ghost-hunting TV show. Paranormal investigators also featured in Haunted, the latest movie from Steven M (Time of Her Life) Smith. Harrison Wall's feature debut Weaverfish has a group of teens unwisely partying in an abandoned industrial facility where icky infection is lurking. Clive (The Bunker) Dawson adapted Sydney J Bounds' 1975 story 'The Animators' into Anglo-Irish SF-horror feature The Last Days on Mars, directed by Ruairi Robinson. James Plumb's Silent Night, Bloody Night: The Homecoming was a remake of a dodgy 1970s festive slasher. Andrew Gilbert's The Dead Inside was yet another low budget zombie apocalypse. Lawrie Brewster's Lord of Tears garnered critical praise for being an intelligent and unsettling horror and introduced the truly creepy 'Owlman'.
The 'found footage' subgenre rattled ever on with Timothy and Paul Fielding's File Box, in which idiot teenagers explore an abandoned military facility, and Shaun Troke's Welsh haunted cottage picture which is titled, erm 'untitled'. An unwary jogger incurred the wrath of local yokels in Mumtaz Yildirimlar's Crosslands. Chris Silver's ghostly debut Inside Shadows has been described as a cross between Mike Leigh and Edgar Allan Poe. And Richard Mansfield's Wolfskin is yet another feature-length shadow puppet fairy tale about humans giving birth to wolves - haven't we had enough of them? How many October releases is that? Twelve? Then we just need to add the US theatrical/VOD release of Stalled, directed by Christian James, written by and starring Dan Palmer. Those are the guys who made Freak Out, back with an uproarious zombie comedy, set entirely in a ladies loo, which sets a new benchmark for British horror funny.
After the traditional Halloween overkill, the year wrapped up with a theatrical release for Jeremy Lovering's In Fear; a German DVD debut for Steve Laurence's Art of Darkness (aka Art House Massacre) as The Painter; and a VOD release for Ethan Race's folk-horror saga Temple Wood. Finally, if you live in Shoreditch, Peckham, Romford, Hull, Burnley or Mablethorpe you have just missed a chance to catch Peter Handford's religious horror Heretic on the big screen in the last week of the year, ahead of its January 2014 DVD. And so the cycle begins again. (Films of the year for me were The Seasoning House, Before Dawn and Stalled with honourable mentions for The Fallow Field and Community.)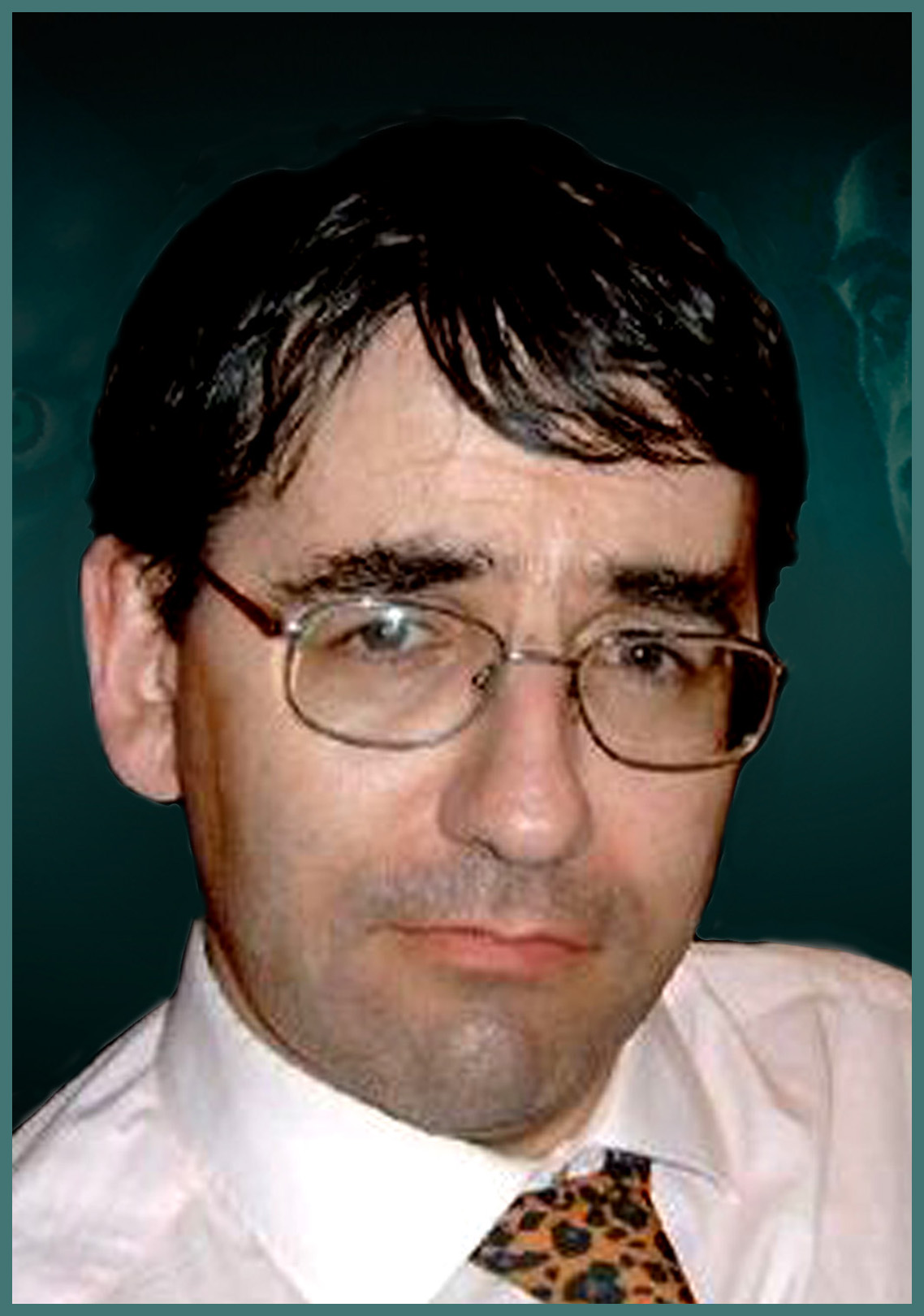 MJ Simpson has been writing since he found out which end of a pencil makes a mark. After editing sci-fan club mags he spent three years on the staff of SFX and helped to launch Total Film before switching to freelance work for Fangoria, Shivers, Video Watchdog, DeathRay and other cult movie magazines. He has a number of scripts in development and has been working on his third book, a biography of 'Bride of Frankenstein' Elsa Lanchester, for a very long time, but he promises to have it finished soon (-ish). Mike lives in Leicester with his wife, Mrs S, and his young son, TF Simpson. By day he edits the university's website and in the evenings he edits MJSimpson.co.uk. He should probably get out more.