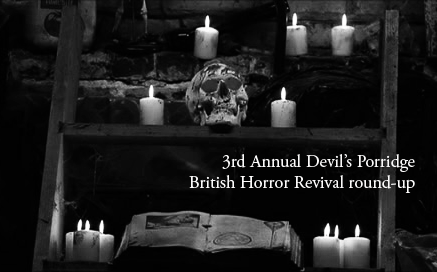 Welcome to the third annual Devil's Porridge British Horror Revival round-up. This is where I take a canter through all UK horror features which debuted in 2012 - wherever that was and in whatever format. Some of these films played festivals before 2012, and some films which played festivals in 2012 will be released later. But I go by first commercial release. Also I have a fairly conservative definition of 'British' and 'horror', as explained in my book (Urban Terrors: New British Horror Cinema, RRP £17.95 - makes a great gift!). My aim is to illuminate the current state of the UK horror film sector, rather than try and make as long a list as possible by shoehorning in all sorts of borderline stuff.
Two years ago, when I rounded up 2010's output, I listed 32 films. In January 2012, before getting down to listing 41 features released in 2011, I amended the 2010 list by including another 16 movies I had discovered, bring the total to 48. As it stands, my master list currently shows a whopping 59 titles for 2010 and 49 for 2011 but if I try to list the updates we'll be here all night. Instead, let's get down to seeing what came our way in 2012.
The year began with a DVD release for Bordello Death Tales, a terrific anthology of hugely entertaining stories by Pat (HellBride) Higgins, Jim (Bane) Eaves and Al (Jesus vs the Messiah) Ronald. Robin Hardy's long-in-development sequel The Wicker Tree played US cinemas briefly in January but didn't exactly set the world alight. And then there was Eldorado, an all-star 3D comedy-musical-horror-western from Richard (Kannibal) Driscoll which, after numerous typically hollow threats, finally hit DVD (in 2D) in January. And was almost immediately withdrawn, resurfacing again a few months later in a heavily-cut version retitled Highway to Hell.
February was rather dominated by The Woman in Black,which I have already analysed in some detail in a previous blog. There was a theatrical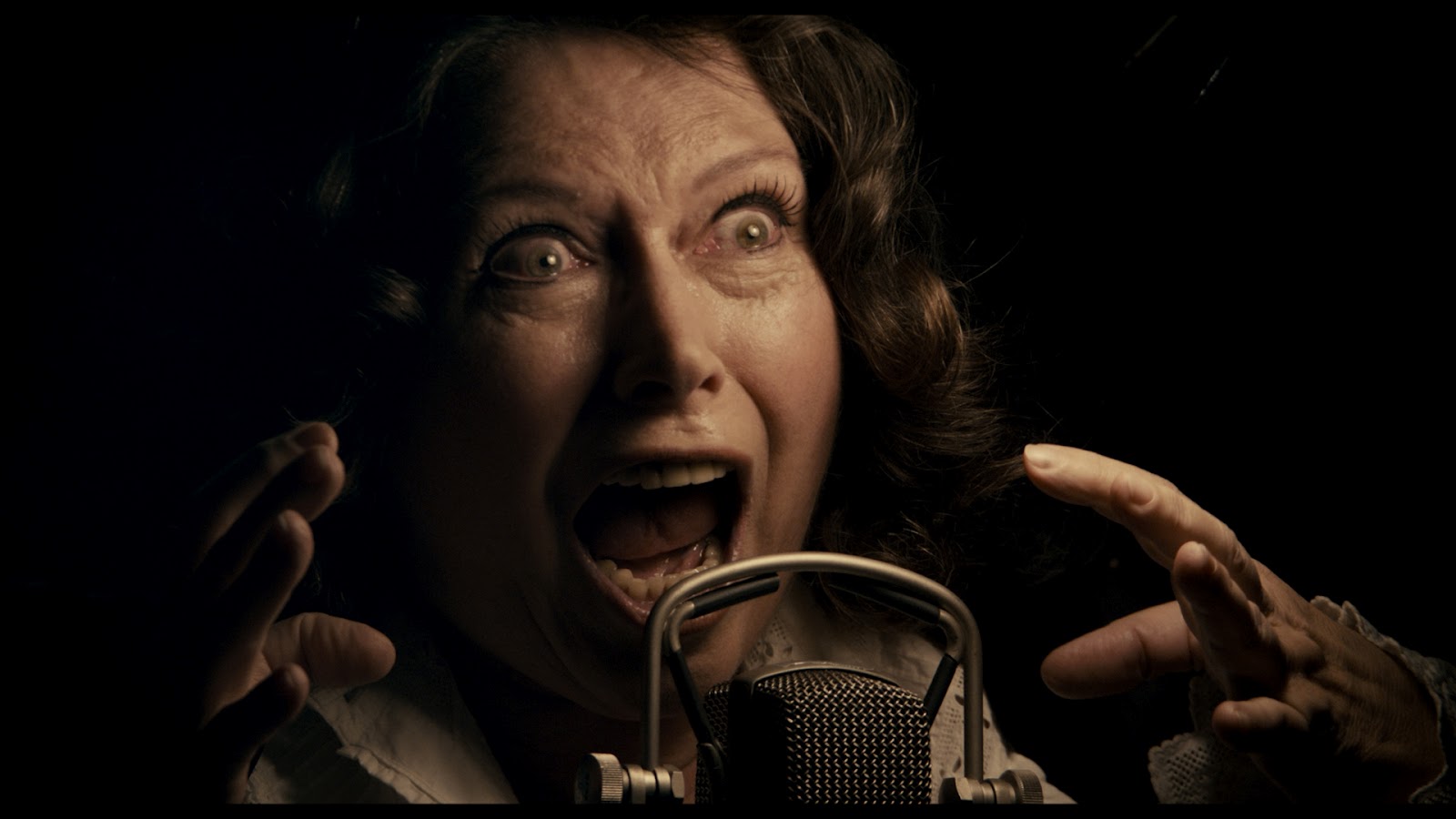 release for JK Amalou's two-hander Deviation, in which a woman is carjacked by a psychopath; Danny Dyer proving once again that he can do more than jack-the-lad geezers. Also in Feb, Dan (Experiment) Turner's second feature Stormhouse, scripted by Kerrang staffer-turned-Doctor Who scribbler Jason Arnopp, saw squaddies facing off against a supernatural creature. That was a DVD release while Jason Croot's comedy Le Fear, about a disastrous attempt to make a horror film, was made available online.
The astoundingly prolific Philip Gardiner makes the first of three appearances in this list in March. Filmed as Men in Black: The Dark Watchers (which was never going to fly), Gardiner adroitly circumnavigated copyright laws by retitling his sci-fi/horror feature The Dark Watchers: Women in Black. As with all Gardiner's films, this was released in the States by Chemical Burn Entertainment, who also co-produced. The other British horror released this month was a UK DVD of Chris Crow's rural shocker Devil's Bridge which is described on the IMDb as a 'Heart Of Darkness spree of pointless violence and revenge'.
Dapper producer Jonathan Sothcott released two films to British cinemas in April. The self-descriptive Strippers vs Werewolves was written by Pat Higgins, directed by Jonathan (13hrs) Glendenning and starred Robert Englund, while teen cannibalism exposé lark Elfie Hopkins (originally announced as a 3D production but released flat) was directed by Ryan Andrews, starred Jaime Winstone and featured her dad Ray for good measure. Stefan Smith's Unwelcome, a tale of unwanted guests gone loco starring British horror stalwarts Eleanor James and Marysia Kay, appeared on US disc this month retitled Aggressive Behavior.
Paul TT Easter is one of the new breed of prolific British directors of whom almost nothing is known. The first of his brace of 2012 DVD releases was challenging mockumentary U Mugs, although there seems to be some debate over its horror credentials. 'Jackass meets Blair Witch' says Amazon, unhelpfully. Rising Tide, co-directed by Philip Shotton and Dawn Furness, was another film about townies out of their depth, in this case a group of A-level students on a camping trip to Lindisfarne. A haunting soundtrack by Kathryn Tickell helped this one when it was released online through Vodo in April. Finally this month, Nazi killer-ghost (sort of zombie) sequel Outpost II: Black Sun made its DVD debut (in Germany!) four months ahead of its Frightfest premiere.

Philip Gardiner was back in May with the awesomely titled Lady of the Dark: Genesis of the Serpent Vampire. There was a UK DVD release for Kieron Hawkes's violent revenge thriller Piggy and also for Toni Jopia's rock'n'roll slasher Deadtime, which counted Leslie Grantham and Terry Christian among its cast. Rob Ager is a new name to horror movie fans, unless you've previously bought one of his self-produced DVDs of Rob discussing classic films. His debut feature, self-released on uncertificated DVD through his website, is Turn in Your Grave, about a group of strangers who wake up together and don't know how they got there. With some sort of clown monster, or something.
June brought three theatrical releases, two of which were worth catching. Johannes (F) Roberts teamed up with Noel Clarke for Storage 24, an enjoyably formulaic alien clone set in a self-storage facility. If you wanted something a bit less 'action-packed' and a bit more thoughtful, Oliver Milburn's The Harsh Light of Day was an impressive and original vampire feature with strong performances from Dan Richardson and BHR regular Giles Alderson. On the other hand, if you wanted something pointless that many critics considered the worst film of the year, you could try A Fantastic Fear of Everything, a lacklustre comedy about paranoia starring Simon Pegg, directed by the bloke from Kula Shaker, and watched by no-one. Paul TT Easter returned with Black Shuck, based on the English legend of a demonic hound, while Kevin (Lycanthropy) McDonagh's archaeological/satanic horror Tied in Blood surfaced in the USA. And over here there was a DVD release for David Ryan Keith's impressive-looking Scottish comedy Attack of the Herbals, in which a well-meaning attempt to save the village with 'special tea' turns the locals into hungry zombies. Flashback Nazis in this one too!
After a one-off screening in January, zero-budget supernatural chiller Echoes was released online in July; this was jointly directed by Craig Kendrick, Ivan Meredith and David Wilson. Ryan L Driscoll'sAxed (aka Deadly Departed) hit DVD that month; a dark, disturbing, contemporary tale of a father whose financial problems lead him to consider murdering his family. And Mark Hamill made his British horror debut in Airborne, the next title from Jonathan Sothcott's movie factory, directed by Dominic (Cut) Burns and scripted by Paul Chronnel who is (like me) a former gag-writer for Russ Abbott.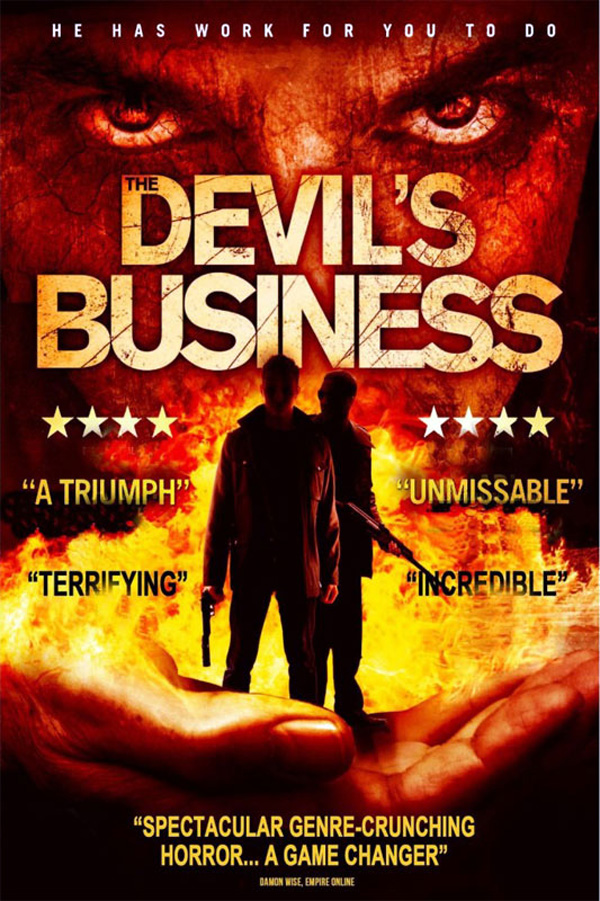 August was a busy month full of familiar names, including Battlefield Death Tales, the second anthology from the Higgins-Eaves-Ronald triumvirate. The UK distributor briefly retitled it Zombie Death Tales before settling on Nazi Zombie Death Tales, cashing in on the current vogue for such things, even though there aren't, strictly speaking, any Nazi zombies in it. Philip Gardiner popped up yet again with a real-time horror, One Hour to Die, and Sean (Lie Still) Hogan saw a theatrical release for his second feature, The Devil's Business, a hit-men/satanism mash-up which had everything the awful Kill List was missing. Like a plot. Director Neil Jones and producer Stuart Brennan brought us The Reverend, an all-star slice of vampire action in which, unexpectedly, the likes of Rutger Hauer, Doug Bradley and Giovanni Lombardo Radice were all outclassed by Shane Richie's turn as a psychotic pimp.Robert Heath's slasher debut Truth or Dare (retitled Truth or Die in the states) had a limited theatrical release in August, as did Alastair Siddons' unjustly ignored, stylish debut In the Dark Half, which was described as combining 'rural mythological horror and kitchen sink, social realism'. Matthias (Beyond the Rave) Hoene and James (Severance) Moran teamed up for the self-explanatory Cockneys vs Zombies. But the year's most important film looks like being Peter Strickland's Berberian Sound Studio - weird goings-on in an Italian 1970s foley studio - which stunned audiences at Frightfest and went on to win four of the seven BIFA categories in which it was nominated.
Robert Heath's slasher debut Truth or Dare (retitled Truth or Die in the states) had a limited theatrical release in August, as did Alastair Siddons' unjustly ignored, stylish debut In the Dark Half, which was described as combining 'rural mythological horror and kitchen sink, social realism'. Matthias (Beyond the Rave) Hoene and James (Severance) Moran teamed up for the self-explanatory Cockneys vs Zombies. But the year's most important film looks like being Peter Strickland's Berberian Sound Studio - weird goings-on in an Italian 1970s foley studio - which stunned audiences at Frightfest and went on to win four of the seven BIFA categories in which it was nominated.
James Moran was back in September with Tower Block, directed by James Nunn and Ronnie Thompson, in which a sniper terrorises high-rise residents. Pat Holden's based-on-a-true-story poltergeist feature When the Lights Went Out (filmed as Speak No Evil) was also released this month. The countryside proved, as ever, a fertile place for horror with a couple of supernatural rural shockers, Michael Axelgaard's Hollow on US DVD and Richard Parry's found-footage picture A Night in the Woods on UK disc. But as we all know, the biggest threat in any rural location is the locals; after wowing festival audiences, Alex Chandon's uproarious Inbred was finally released, a mere decade after Cradle of Fear. And Keith Wright's age-gap zombie love story Harold's Going Stuff was another festival fave which saw a commercial release in September. A self-released disc of Brummie wunderkind Thomas Lee Rutter's The Forbidden Four rounded off another busy month.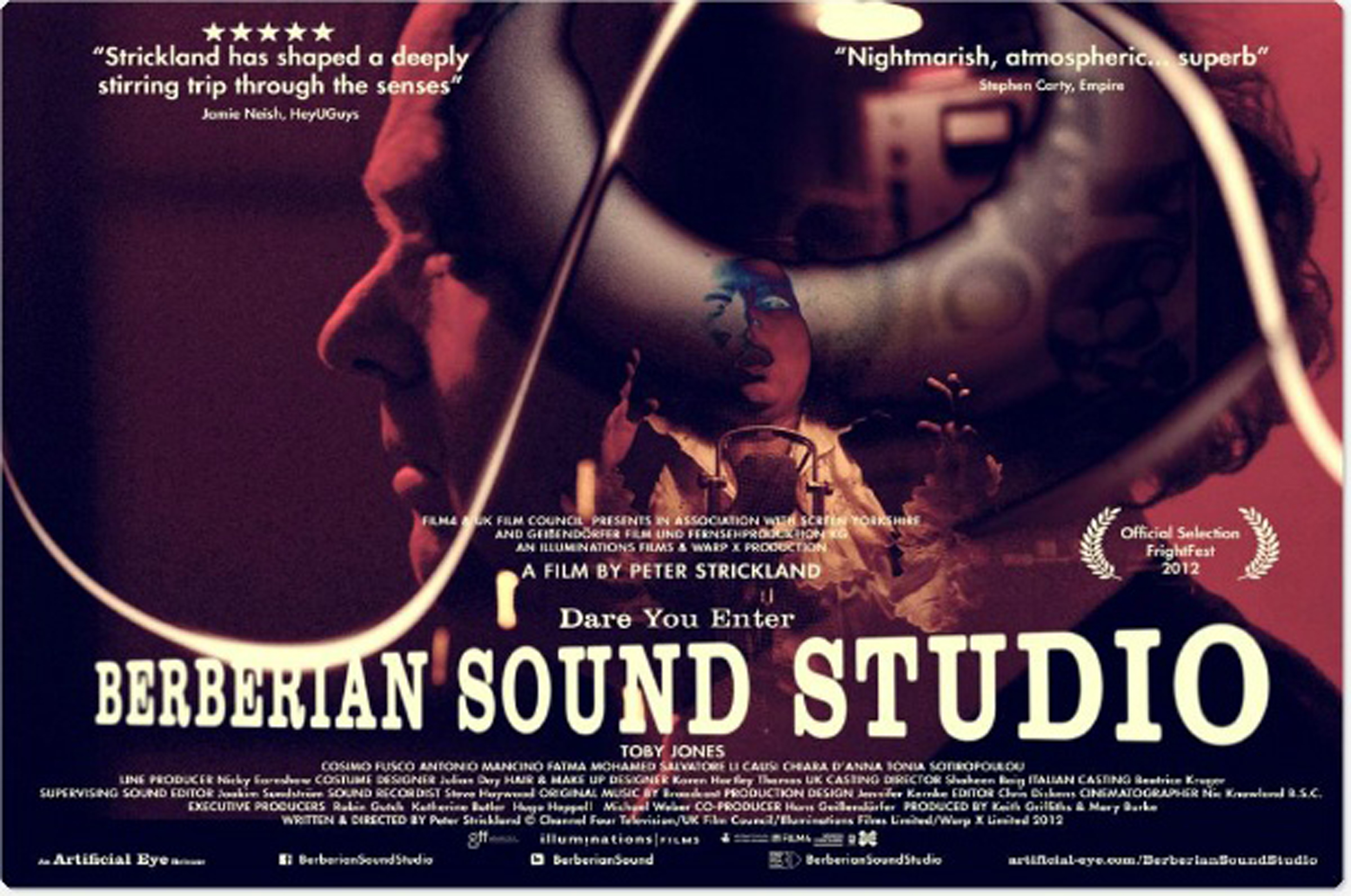 Anybody wanting to see a British vampire feature edited together from webisodes had a choice of viewing in October. Chris Stone's Blood and Bone China was a gothic Victorian tale set (as the title suggests) in Stoke-on-Trent, while Vampires: Brighter in Darkness was a sort of gay, British Twilight. Which, whatever one's orientation, has got to be better than actually watching Twilight. No-one seems to know who Twit Twoo Films are but they've uploaded several feature-length, home-made horror movies to YouTube of which the latest is Blood and Straw: Terror in Crowspass (apparently shot in 2007-08). And for anyone who thought titles like Strippers vs Werewolves and Cockneys vs Zombies were too ambiguous, how about demonic possession found footage cheapie Sex Tape Horror Film? Released online through Distrify, that one.
Speaking of ambiguity, the precise release date of Chemical Burn Entertainment discs can often be difficult to identify but it seems reasonably certain that Chris Lumb's British horror comedy Tuck Bushman and the Legend of Piddledown Dale was released in October. As was Matt Mitchell's hilarious romp Gangsters, Guns and Zombies, which made its debut (for some reason) on French DVD, ahead of its US and UK releases. Craig Griffith's enigmatic psychological ghost story Through the Looking Glass was actually shot a full ten years ago and premiered in 2007 but it was only this year that Griffith got fed up with waiting and released the movie himself. Or if you want something really different, how about Kirk Watson's South of Sanity (released online and on DVD after a premiere at Aviemore): the first Antarctic horror to actually be shot in Antarctica. Take that, The Thing!
November brought us four very different theatrical releases: Andy De Emmony's teenage werewolf comedy Love Bite; Ciaran Foy's agoraphobic hoodie horror Citadel, Ben Wheatley's Natural Born Killers-in-a-caravan comedy Sightseers (written by and starring the actress who played Liz Asher in Garth Marenghi's Darkplace); and James Plumb's Night of the Living Dead: Resurrection- the first ever British entry in that most malleable of public domain franchises. Plus an American DVD of Tim Cowles' Backslasher, an enjoyable little flick starring home grown horror queen Eleanor James and prolific indie auteur Jason Impey.
In the past month, another brace of British horrors have clawed their way out of the grave. Dominic Burns makes his second entry in this list with UFO, his epic horror/sci-fi tale of extraterrestrials invading Derby, notable for a cast that includes not only BHR legend Sean Pertwee (who wrote the foreword to my book - copies are still available..) but also Jean-Claude Van Damme. And finally (for now), an online release for Decay: shot by British physics postgrads, inbetween their PhD projects, in and around the Large Hadron Collider at CERN!
I make that 58 British horror films released in 2012. And who knows how many others we've missed...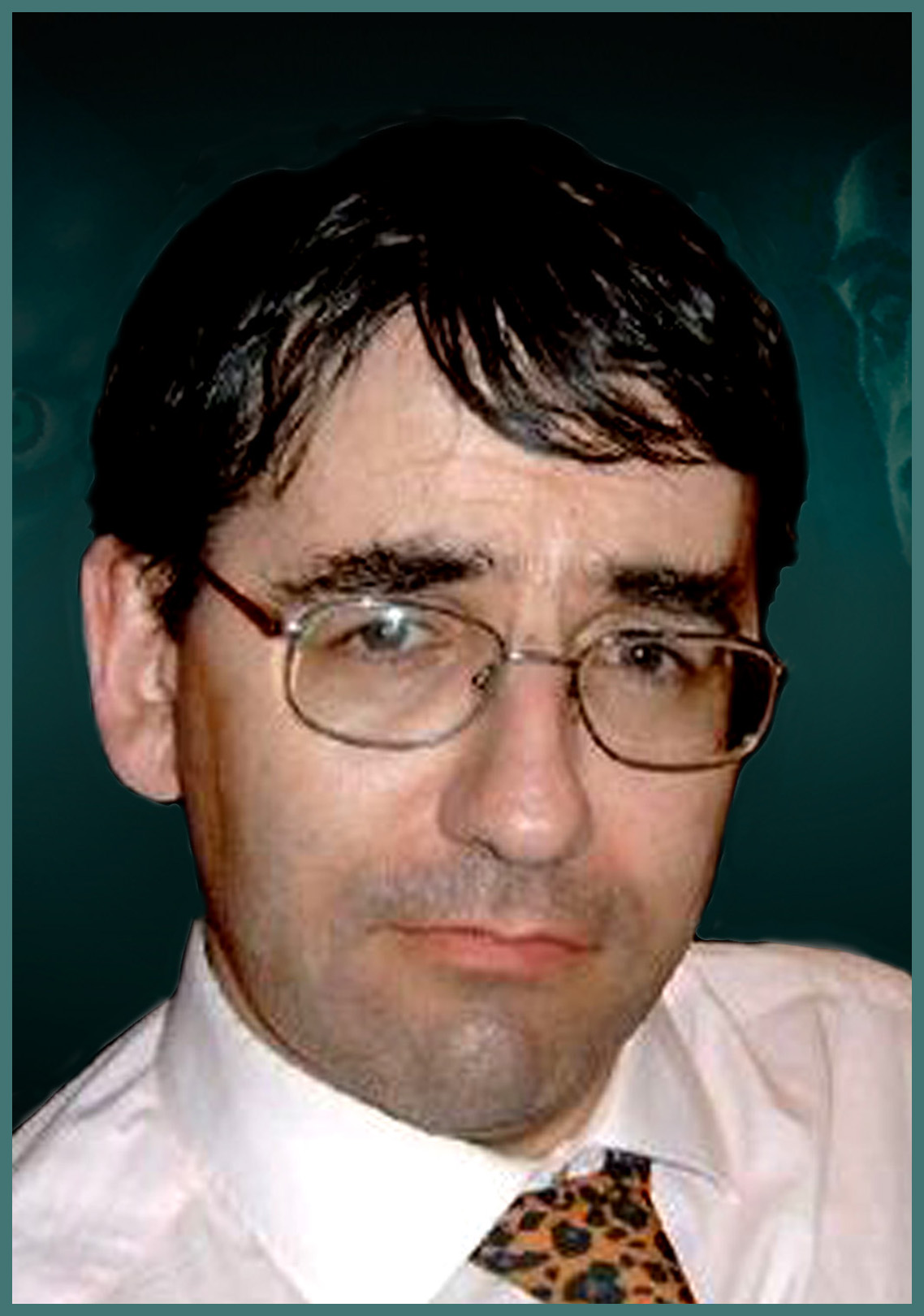 MJ Simpson has been writing since he found out which end of a pencil makes a mark. After editing sci-fan club mags he spent three years on the staff of SFX and helped to launch Total Film before switching to freelance work for Fangoria, Shivers, Video Watchdog, DeathRay and other cult movie magazines. He has a number of scripts in development and has been working on his third book, a biography of 'Bride of Frankenstein' Elsa Lanchester, for a very long time, but he promises to have it finished soon (-ish). Mike lives in Leicester with his wife, Mrs S, and his young son, TF Simpson. By day he edits the university's website and in the evenings he edits MJSimpson.co.uk. He should probably get out more.