Last month saw the release of Richard Driscoll's truly awful '3D horror comedy western musical' Eldorado (aka Eldorado in 3D) which gives us an embarrassment of riches in picking a topic for the March column. I could talk about 3D films, but like everyone else I'm thoroughly bored with them and there's really nothing to say except "Make it stop!" In any case, the released version of Eldorado isn't in 3D (although, in true Richard Driscoll fashion, it still says 'in 3D' in big letters in the opening titles) so the topic is moot for now.
Of course I've got to look at Driscoll's overall awful oeuvre at some point, but not today, not right now. Interestingly, after years of solo graft on my part, other people are starting to write about his films (and, as above, the recurring phrase is "Make it stop!"). Even Video Watchdog is getting in on the game with Ramsey Campbell reviewing Evil Calls in his 'Ramsey's Rambles' column. But my Driscoll column is for another day - when I've recovered my strength from sitting through Eldorado in 3D (not in 3D).
Horror comedies? Yes, there's a topic to deal with one day. FromAbbott and Costello
meet Frankenstein to Shaun of the Dead and beyond. But that's a big field and needs a lot of sitting down and thinking about. Suffice to say for now that this month sees the DVD release of the very funny horror comedyKill Keith with a quote from me on the front of the sleeve. Always a thrill to see my name on the shelves of HMV.
What about westerns? Actually there's been a mini-run of horror westerns recently, courtesy of DVD label Left Films which released two terrific American ten-gallon terrors: Cowboys vs Zombies (a retitling of The Dead and the Damned) and Devil's Crossing. Very different but both very enjoyable. Left Films also released Umbrage: The First Vampire, which has western flashbacks and a cowboy vampire but also has some nonsense about Lilith and the Garden of Eden plus a narrative full of plot-holes you could get your arm through. Which really leaves me no choice but to consider musicals, and how they relate to the horror/fantasy/sci-fi genre.
Now, you can't write about musical horror without writing about Rocky Horror. It's rather alarming to consider that when I first saw that film, in my school days - and indeed my first experience of watching the show on stage - it was less than ten years old. It was a real cult thing back then; a lot of people had no real idea what it was or had never heard of it at all. I had the soundtrack album on picture disc LP, a photo of Tim Curry as Frank N Furter strategically positioned on each side of the record so that the spindle always appeared very rude indeed. In fact, my party piece at the time was miming in full get-up to 'Sweet Transvestite', something that few of my contemporaries dared to do. Nowadays that sort of thing is old hat.
A perfect demonstration of how mainstream Rocky Horror has become was a few weeks back on the 60th anniversary of the Queen's accession to the throne. On that particular day, the news cameras showed us HM the Q visiting a primary school, unveiling a plaque, accepting some flowers and then having to sit through a performance by the little kids. And what song/dance routine did these seven-year-olds perform in front of the octogenarian Monarch? That's right - 'The Timewarp'. I'm sure I wasn't the only person agog at the screen, wondering not only what had happened to the cultest of cults, but also how on Earth the Queen would react when three dozen Year 2 kids all did the pelvic thrust at her.
It turned out this was a bowdlerised version of the routine where the pelvic thrust had
been replaced with a jump in the air. Lucky escape for Her Maj there. But in amongst all the malarkey that inevitably now surrounds it, it's easy to lose sight of what Rocky Horror actually is, which is a riff on the Frankenstein story. Frank N Furter is Dr Frankenstein (hence the name) and, like creators before him, he is building a man. Just for more, ah, physical reasons than normal. The first half of the film/play, which has most of the best songs in it, lampoons old B-movies and then towards the end it all goes bonkers as it turns out Furter and his servants are aliens and the spooky old house is a spaceship.
There is a little-seen semi-sequel to Rocky Horror, calledShock Treatment, with a cast that includes Barry Humphries, Rik Mayall and Jessica Harper from Suspiria as well as some of the RHPS cast playing different characters. It's a sort of plastic-reality, near-future satire without the overt horror/sci-fi stuff but it does have several extremely catchy songs. Actually: let's consider Rik Mayall. There's a man who has made some truly bizarre and often very, very, very bad films indeed. He's in Eldorado (and Evil Calls too). Weird to think that his best genre role is his non-speaking background appearance playing chess in An American Werewolf in London. And even weirder to realise that Drop Dead Fred is not his worst film.
After Rocky Horror, the next best known example of the musical/horror hybrid is probably Little Shop of Horrors, one of a select group of movies which started out as non-musical films, then got adapted as stage musicals, then got filmed in their musical versions. Hairspray and The Producers are two others. (A former colleague once rented the original John Waters version of Hairspray and couldn't understand why there were no songs in it!) Little Shop of course started life as a Roger Corman cheapie which was somehow just weird enough - helped by Jack Nicolson's extraordinary performance as a sadistic dentist - to rise above his normal fare and become a cult classic in its own right.
Much later, someone had the bright idea that the story could be done on stage, with a big, animated plant - and as a musical to boot. And that then got filmed as a big budget movie, with Steve Martin taking over the dentist role and Frank Oz directing. (Dentists in horror movies - there's another topic for a future column. Actually, there's a dentist in Eldorado, played by Jeff Fahey with a bizarre Jamaican accent.) When I interviewed Corman in he 1990s he was adamant that everybody had forgotten the multi-million dollar remake of Little Shop but his five-bucks-and-change B-movie was still making money, I didn't want to disabuse him of the notion but he was of course wildly wrong.
The film certainly hasn't been forgotten, and the stage musical also continues to pop
up, in fact it's something of an amdram staple. There's a brilliant episode of Family Guy in which aged pederast Herbert dreams of a perfect life with Chris Griffin and sings 'Somewhere That's Green', with Chris as Seymour and Herbert in the white Marilyn-style dress as Audrey. Also worth noting is that the original ending, in which Seymour dreams that Audrey II has grown to Godzilla size, was briefly, accidentally released on an early DVD and was really hot property for many years (I expect it's on YouTube now). I used to have a picture of that ending on a Little Shop of Horrors sticker (one of a set of 50) which was almost as valuable to me as my Dr Strangelove custard pie fight photo (see last month's column). Finally, I can recall some years ago sitting through an amateur production called Frankenstein: The Panto - no, honestly - in which one of theLittle Shop songs was performed as 'Suddenly Igor'!
There are a whole bunch of other, more obscure stage musicals. In the mid-1990s there was a musical version of The Fly, believe it or not. And I don't mean the opera version by Howard Shore; this came much earlier. It was a little show that ran for a week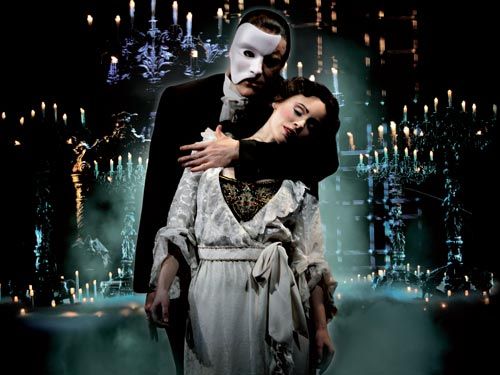 or two in London, with a cast that included the bloke out of Butterflies. Somewhere I've still got an audio cassette that I was given with a couple of the songs on. Or what about another story that passed across my desk in the early days of SFX: a time-travel comedy based on the songs of Cliff Richard, called Harry's Webb! I swear to you I am not making this stuff up. Then there was Plan Nine: The Musical starring Luke Goss after Bros split up but before he became Guillermo del Toro's go-to villain. I later got to ask Goss about this and it transpired he'd never seen the original film. And Return to the Forbidden Planet of course but that always struck me as trying too hard to be 'cult'. The same goes for something calledCaptain Jack and the Space Invaders.
Back up on screen, there's a particularly awful thing calledThe Jekyll and Hyde Rock'n'Roll Musical which I had the misfortune of sitting through once. Written by and starring a man with no significant musical or acting ability, this seemed unclear whether it was set in Victorian London or modern day California. While all the songs have thankfully faded from memory (some of them started to fade while I was actually watching the film) I can never forget the hilarious sight of a crew member unsuccessfully trying to hide in the corner of a room as the main characters walked past. Calling this rubbish 'inept' would be charitable.
I suppose a very obvious one that I've omitted so far is The Phantom of the Opera. That's kind of weird, isn't it, if you think about it. On the one hand, Gaston Leroux's tale is considered a classic horror story and there have been numerous film versions, from Lon Chaney through Hammer to Robert Englund and Dario Argento. Yet, at the same time, the very same story is this romantic, tragic love story that forms the basis for a smash hit West End musical that mums and aunties love. Yet it's the same story. How does that work? I wonder if anyone ever rented the Lon Chaney version assuming it was the Lloyd Webber thing, only to find that there's no songs in it?
Then of course Joel Schumacher made a film of the musical and we just didn't know
what to do, did we? Was it a horror film? All the other things called Phantom of the Opera are horror films, so it must be a horror film. But it just doesn't seem like one. A bit like when Disney did The Hunchback of Notre Dame. Another horror classic (in the sense that both the Chaney version and the Laughton version are considered horror movies) but now it was a Disney cartoon. What was going on? At least when they filmed the Sondheim version of Sweeney Todd they gave the gig to Tim Burton, a man so spooky and weird that Helena Bonham Carter can stand next to him and look relatively normal.
Ooh ooh, there's another one I should mention. The Nightmare Before Christmas. Not actually directed by Burton, despite what many people think, but produced by him and packed with great Danny Elfman songs. And there's a whole bunch more stage and screen musicals in the horror/sci-fi/fantasy genre, when you start to think about them. One that's often overlooked isRodgers and Hammerstein's Carousel, which technically is a ghost story. And now there's the latest effort, Eldorado in 2D, in which an extraordinary cast of doing-it-for-the-paycheque names, including Brigitte Nielsen, Steve Guttenberg and Sylvester McCoy mime to songs from the Blues Brothers soundtrack, performed by Cornish club singers, while one of the regular extras from Ashes to Ashesinexplicably chops up and eats people in the background. You have never seen - or heard - anything like it.
MJ Simpson has been writing since he found out which end of a pencil makes a mark. After editing sci-fan club mags he spent three years on the staff of SFX and helped to launch Total Film before switching to freelance work for Fangoria, Shivers, Video Watchdog, DeathRay and other cult movie magazines. He has a number of scripts in development and has been working on his third book, a biography of 'Bride of Frankenstein' Elsa Lanchester, for a very long time, but he promises to have it finished soon (-ish). Mike lives in Leicester with his wife, Mrs S, and his young son, TF Simpson. By day he edits the university's website and in the evenings he edits MJSimpson.co.uk. He should probably get out more.