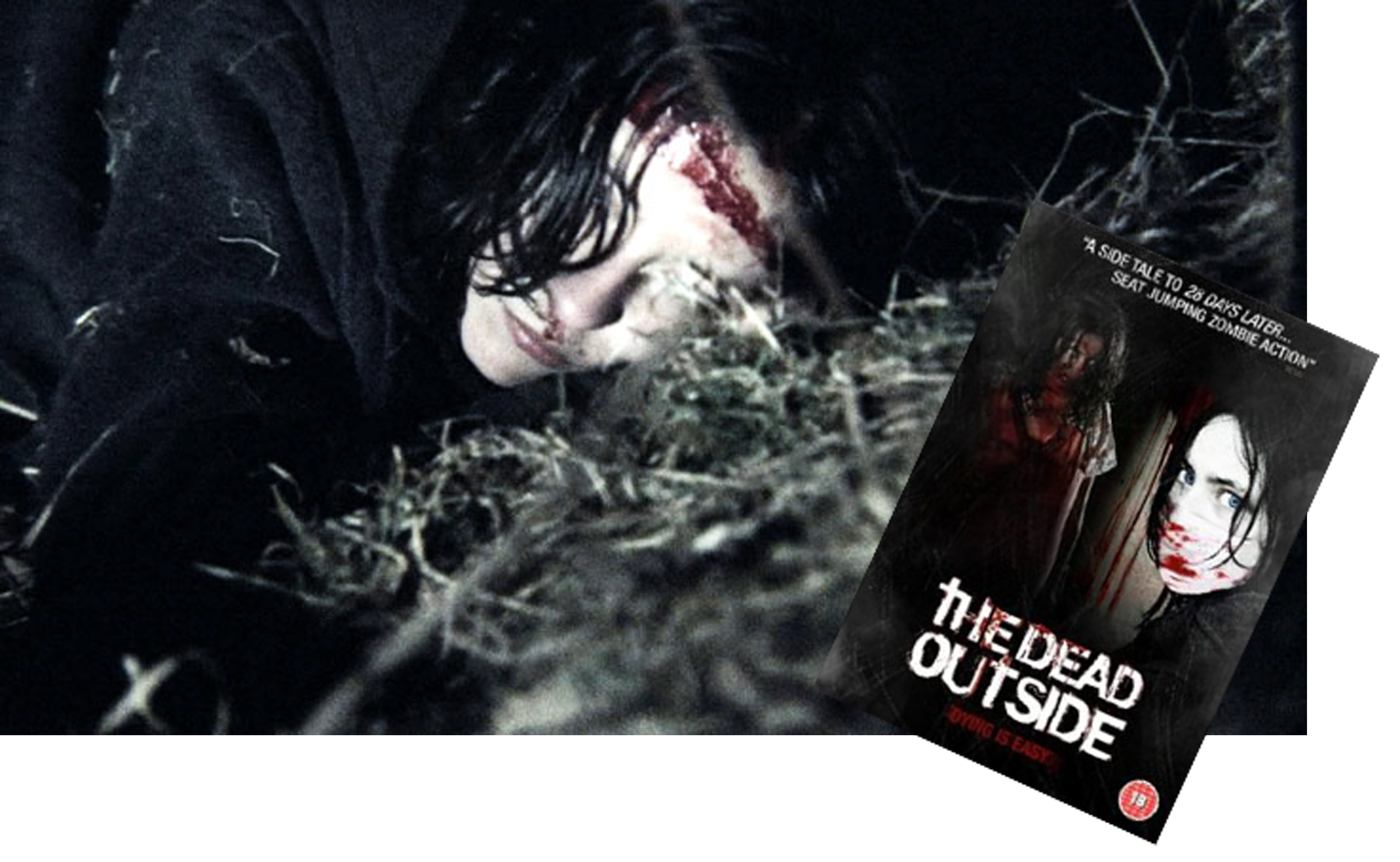 Twelve months ago I documented the 32 British horror films commercially released in calendar year 2010, making it the busiest year ever in this sub-genre. Before I round up the 2011 releases, I have an apology to make. Over the course of the past twelve months I have identified no fewer than 16 additional British fright-flicks which received their first commercial release in 2010. You don't need me to tell you that this 50 per cent increase brings us perilously close to averaging a film a week. Now, no-one is saying that those 48 films are all classics, but equally they're not all rubbish either. Like anything, there's a wide range in quality. The sheer numbers and variety mean there's something for everyone.
So without further ado, a quick run through the missing baker's dozen plus three from 2010. In order, there was Stuart Hazeldine's corporate nerve-shredder
Exam
, Lee Akehurst's serial-killer/landlord tale
Dark Rage
, Kerry Anne Mullaney's post-apocalyptic plague movie
The Dead Outside
, George Clarke's reality TV/martial arts/zombie mash-up
The Knackery
(which had a theatrical release in Belfast!), Gurinda Chadha's British-Asian serial-killer/ghost comedy (dear Lord, not another one...)
It's a Wonderful Afterlife
, Marc de Launay's highland horror
Dark Nature
, Andrew Cull's 'supernatural shockumentary'
The Possession of David O'Reilly
aka
The Torment
, Matt Stone's formulaic but fun
Ouija Board
, Dom Rotheroe's found footage picture
Exhibit A
, Trevor Fleming and Lee Isserow's fast'n'cheap
Stitches
aka
The Killer Gloves
, Paul Andrew Williams' home invasion horror
Cherry Tree Lane
, Joe Wheeler's duel-identity demon cheapie
The Evil Outside Your Window
, Faye Jackson's Romanian-shot chiller
Strigoi
and Ian Powell's hallucinatory gay psycho-thriller
Seeing Heaven
. In lieu of a commercial release, Adrian Pinsent's superbly serious zombie feature
The Invisible Atomic Monsters from Mars
(which belies its cheesy title) was released to the web for free as was Andrew Spencer's supernatural thriller about a drug-crazed artist,
Dark Eyes
, which had been sitting on the shelf for nine years.
And so to 2011 which kicked off with Andy Thompson's
The Scar Crow
(sic), in which three lads in the middle of nowhere meet three comely sisters who have been hanging around since the 17th century and need body parts to reanimate a scarecrow. Or something. One of the sisters is Marysia Kay who popped up again in Simon Aitken's vampire feature
Blood + Roses
which had a US release in February, the same month that Bob Carruthers'
Zombie Driftwood
sneaked out on DVD – the first horror film ever shot in the Cayman Islands apparently.

The current availability of low-cost production facilities and low-risk distribution models means that some surprisingly prolific British film-makers operate entirely under the radar. Someone named Philip Gardiner, for example, had no fewer than four feature films released in the US this year! Gardiner is evidently a big name among conspiracy theorists and other wackos and has produced a slew of 'documentary' DVDs about bigfoot, ghosts, psychic powers and lots of other looney tunes nonsense. Now, he has turned his hand to features and established a relationship with Chemical Burn Entertainment who released
Cam Girl: The Movie
in February,
House of Sin
in March,
The Stone: No Soul Unturned
in August and
Paranormal Haunting: The Curse of the Blue Moon Inn
in September. Gardiner's film factory has plenty more titles in the works!
March was Hammer month with
Wake Wood
and
The Resident
both released briefly to cinemas before hitting DVD. Ben Simpson and David Campion's
Patrol Men
was set on an allegorical island where old-fashioned values are instilled by masked enforcers. Andrew Hull's supernatural shocker Siren, also released in March, concerned three lads on a boating holiday, but former art director Hull wasn't around to promote the disc – he died in an accident in May 2010. March also saw the online distribution of Mark McDermott's artist-as-psycho feature
Harmony's Requiem
.
Then there's Robbie Moffat, a man who has up to now operated well below the radar of most horror fans. Over the years he has made a staggering 23 feature films – horror, sci-fi, comedy, thriller, historical – without anyone ever having heard of him! But he can now make these things available, using online US distribution to circumvent the cost of a BBFC certificate. Moffat released something called
Sisters Grimm
to DVD and VOD in March and another horror feature called
Cycle
the following month.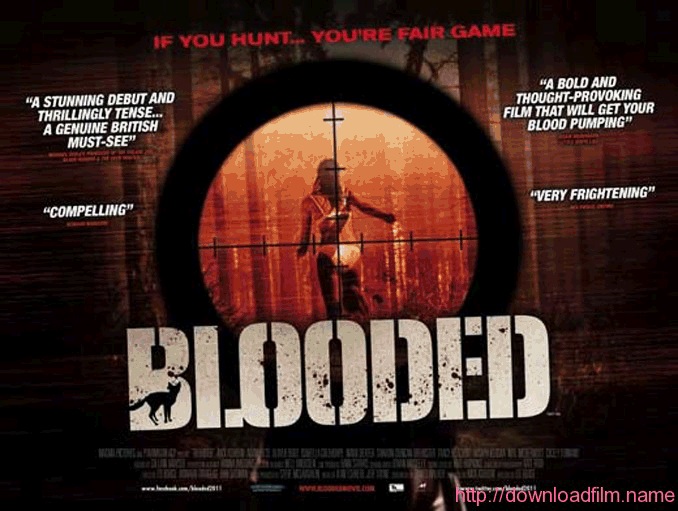 Ed Boase's
Blooded
, released in April by Revolver, was a 'found footage' style film about animal rights activists hunting deer hunters in the wilds of Scotland. That same month saw a US release for Kevin McDonagh's

Idol of Evil

, the latest feature from Birmingham-based Rotunda Films who previously made pseudo-werewolf picture
Lycanthropy
(which was only ever released in Australia). That is also the third Marysia Kay title in this list. Nick Cohen's tropical island terror
Voodoo Lagoon
was released on British DVD in April by Metrodome, followed one month later by Rhys Davies' tautologically titled
Zombie Undead
, the first horror feature ever made in Leicester.
'Adam and' Joe Cornish stepped up from his old
Stars Wars
figure spoofs to direct sci-fi/horror-comedy
Attack the Block,
which was strong on action, scares and laughs but light on morality, its teenage mugger protagonists learning only that hoarding illegal firearms is a good idea. Michael Bartlett and Kevin Gates followed up their successful 2006 'found footage' debut with
The Zombie Diaries 2
in June, which was called
World of the Dead
for its UK release.
Alex Murray's woodland horror
The Last Man
, released in July, was definitely not based on Mary Shelley's second best-known novel. One month later Kelly Smith's holiday-with-a-serial-killer movie
Don't Let Him In
(not to be confused with Hammer remake
Let Me In
) made its debut on disc in the Netherlands, followed by a French release cover-mounted on a magazine. September brought a bundle of releases including urban found footage chiller
The Tapes
, directed by Lee Alliston and Scott Bates, and two horror films set in the wilds of Britain: Steven Nesbitt's Yorkshire Moors-based supernatural thriller
Curio
and Julian Gilbey's psycho thriller
A Lonely Place to Die
in which a group of climbers in the Scottish Highlands accidentally discover a kidnap victim.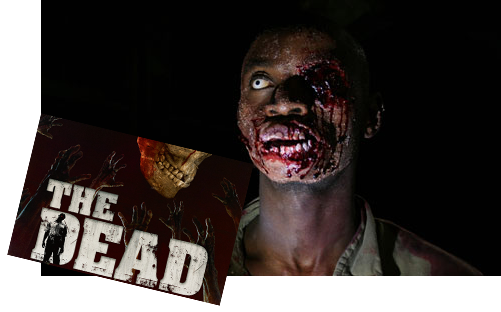 A lot of people raved about Ben Wheatley's
Kill List
and it is indeed a very good film, until it suddenly stops with no sort of resolution or pay-off, revealing that what looked like intricate plotting was just random weirdness. Overhyped and over-rated, a definite backlash has now set in. No such disappointment however with
The Dead
from brothers Howard and Jon Ford, which pretty much defines the term 'must-see'. Setting a zombie movie in Africa not only provides amazing visuals but also a whole new level of social realism, not to mention unavoidable political and racial angles.
October is always the busiest month for horror releases as Halloween approaches, led this year by
Stalker
, a loose remake of
Exposé
directed by Martin Kemp and produced by Jonathan Sothcott. Surprisingly this was the only horror release from Sothcott's Black and Blue Films this year (alongside some non-genre pics) but he has some goodies lined up for 2012 including
Strippers vs Werewolves
and
Elfie Hopkins
. The presence of X-Factor judge Tulisa whatsername guaranteed some publicity for Arjun Rose's
Demons Never Die
; certainly better publicity than it would have had if the film had retained its shooting title of
Suicide Kids
.
Rupert Bryan's
The Hike
was yet another countryside horror, with a cast that included
The Descent's
Shauna MacDonald and martial arts minx Zara Phythian.
Umbrage: The First Vampire
was probably the first horror western to feature a flashback to the garden of Eden; Doug Bradley struggled manfully in this one against a confused script full of plot conveniences and weak characters. Steve Looker's
Desperate Measures
was a dark, violent thriller about a kidnapped drug addict being forced to go cold turkey, while Mark Harriott and Mike Matthews'
Unhappy Birthday
was much more than its high concept pitch as a 'gay
Wicker Man
' would suggest. Finally in October, Carl Ribbets' Retreat was a terrific taut three-hander: a couple's holiday on an island is interrupted by a stranger who claims that a terrible plague is sweeping through Europe. But is he telling the truth?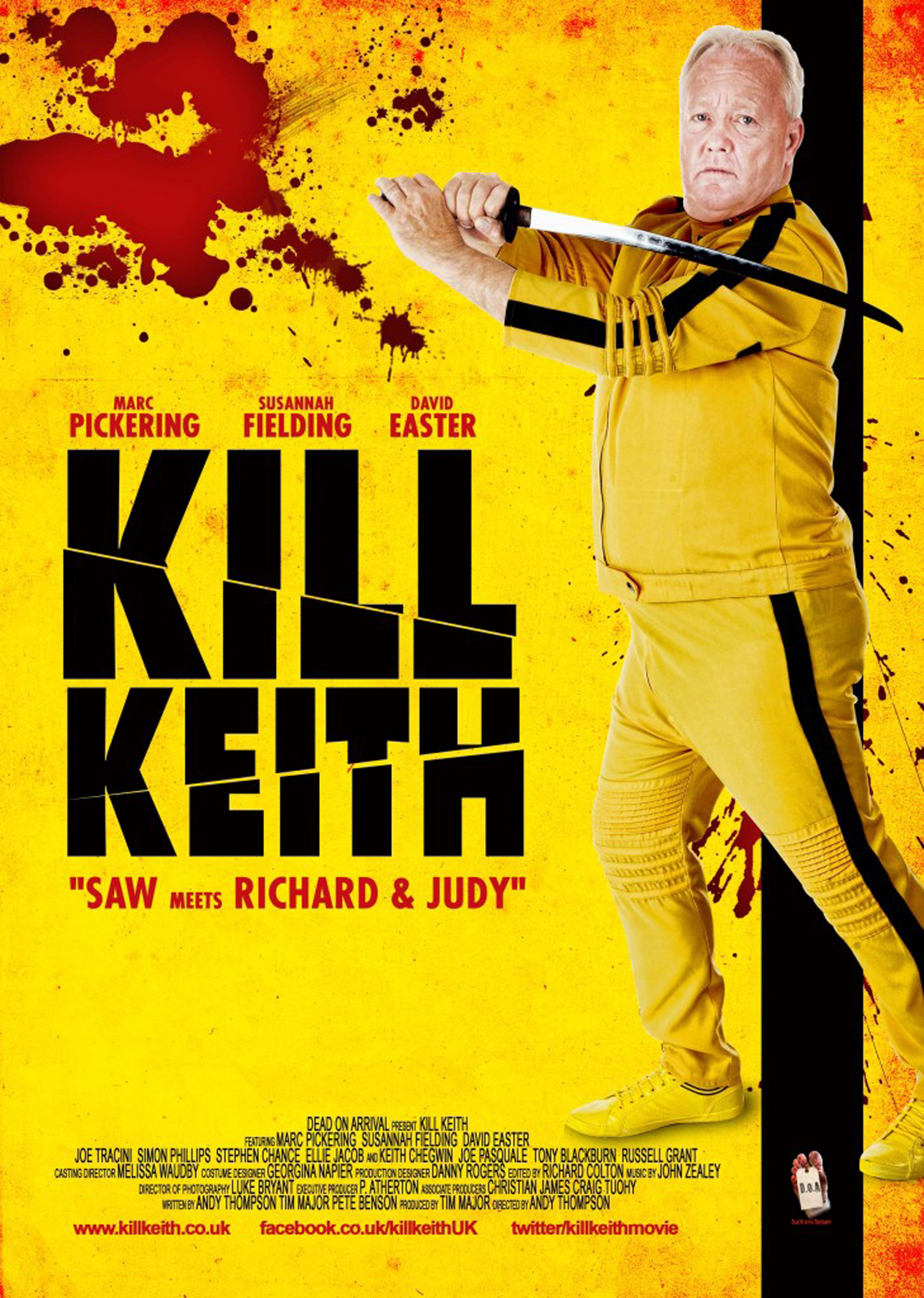 Years ago, Frazer Lee was the great white hope of British horror on the basis of two magnificent shorts so it's a pleasure to find him scripting Panic Button for director Chris Crow. It's another of those films about a small group of strangers thrown together in confinement and set against each other by some unseen manipulator. But this time, they're on a plane! Martin Rutley's
Where the Dogs Divide Her
was described as an 'abstract ghost story' while
The Awakening
, directed by Nick Murphy, was a very traditional ghost story. Set in the 1920s, this perhaps signals a revival of gothic horror after a decade of social realism. Stephen Volk's script had clearly been tinkered with (in fact, I know it had because he told me so) but there was still much to enjoy.
Also very enjoyable, but otherwise about as different as humanly possible, was
Kill Keith
, the second film released this year directed by Andy (Scar Crow) Thompson. A genuinely funny and gloriously silly tale of a serial killer stalking D-list celebs - starring Cheggers himself, as himself! - this had 'guilty pleasure' written all the way through it like a stick of rock. And finally December rounded out the year with disturbing anthology
Little Deaths
- segments directed by Simon (
The Living and the Dead
) Rumley, Andy (
I, Zombie
) Parkinson and Sean Hogan - plus Joe Wheeler's self-released
The Rise of Jengo
(which seems to be a remake of his 2010 film which I listed at the start) and a US disc, through
Chemical Burn, for Tied in Blood
, the third feature from the Rotunda team.
That was 2011 that was. Although I expect to find a few more titles over the next 12 months, I've been more diligent than last time so I don't expect another 50 per cent increase. I certainly can't claim to have seen all these films - who has the time? - but of those I caught, my favourites were definitely
The Dead
(magnificent),
Unhappy Birthday
(marvellous) and
Kill Keith
(extraordinary). I heartily recommend all three.

It should be obvious by now that a combination of factors have combined in recent years to utterly change the market for British independent horror films (and indeed thrillers and action pics too). The bottleneck was always distribution: people made movies but no-one got to see them. Changes in available distribution models, combined with easy access to pro-level production and post-production equipment plus a generation of young wannabe film-makers raised on a totally immersive media environment, has created a perfect storm of indie cinema that shows no sign of stopping. Of course, you still need skill and talent to make a film, not to mention a good script (I can probably help you there - call me) but if you have the skills, the talent and the material, there is no longer anything stopping you making your film and, crucially, getting it in front of people.
Having said that, there are still logistical and financial problems that film-makers have to overcome. Remember, the films listed above are those which have actually had some sort of commercial release. I know of at least 65 - 65! - other British horror features filmed in 2011 which are currently either in post or doing the festival rounds. I don't expect to see all of them in this list next year but at least a dozen films already have release dates including
Bordello Death Tales, The Wicker Tree
and
Passengers in January; The Woman in Black, The Reverend, The Porcelain Man
(which was shot in December 2002!),
Deviation
and
Stormhouse
in February;
Devil's Bridge
in March;
Vampires: Brighter in Darkness
in April;
The Harsh Light of Day
in May; and
Storage 24
in June. It's going to be another busy year!

MJ Simpson has been writing since he found out which end of a pencil makes a mark. After editing sci-fan club mags he spent three years on the staff of SFX and helped to launch Total Film before switching to freelance work for Fangoria, Shivers, Video Watchdog, DeathRay and other cult movie magazines. He has a number of scripts in development and has been working on his third book, a biography of 'Bride of Frankenstein' Elsa Lanchester, for a very long time, but he promises to have it finished soon (-ish). Mike lives in Leicester with his wife, Mrs S, and his young son, TF Simpson. By day he edits the university's website and in the evenings he edits MJSimpson.co.uk. He should probably get out more.