I spent all month thinking, 'What shall I write about this month?' and then on the last day of the month, I saw this amazing advert for
Pumpkinhead
in an old issue of
Dark Side
and I realised: 'Hey! I should write about
Pumpkinhead
! Or old issues of
Dark Side
. Maybe both...'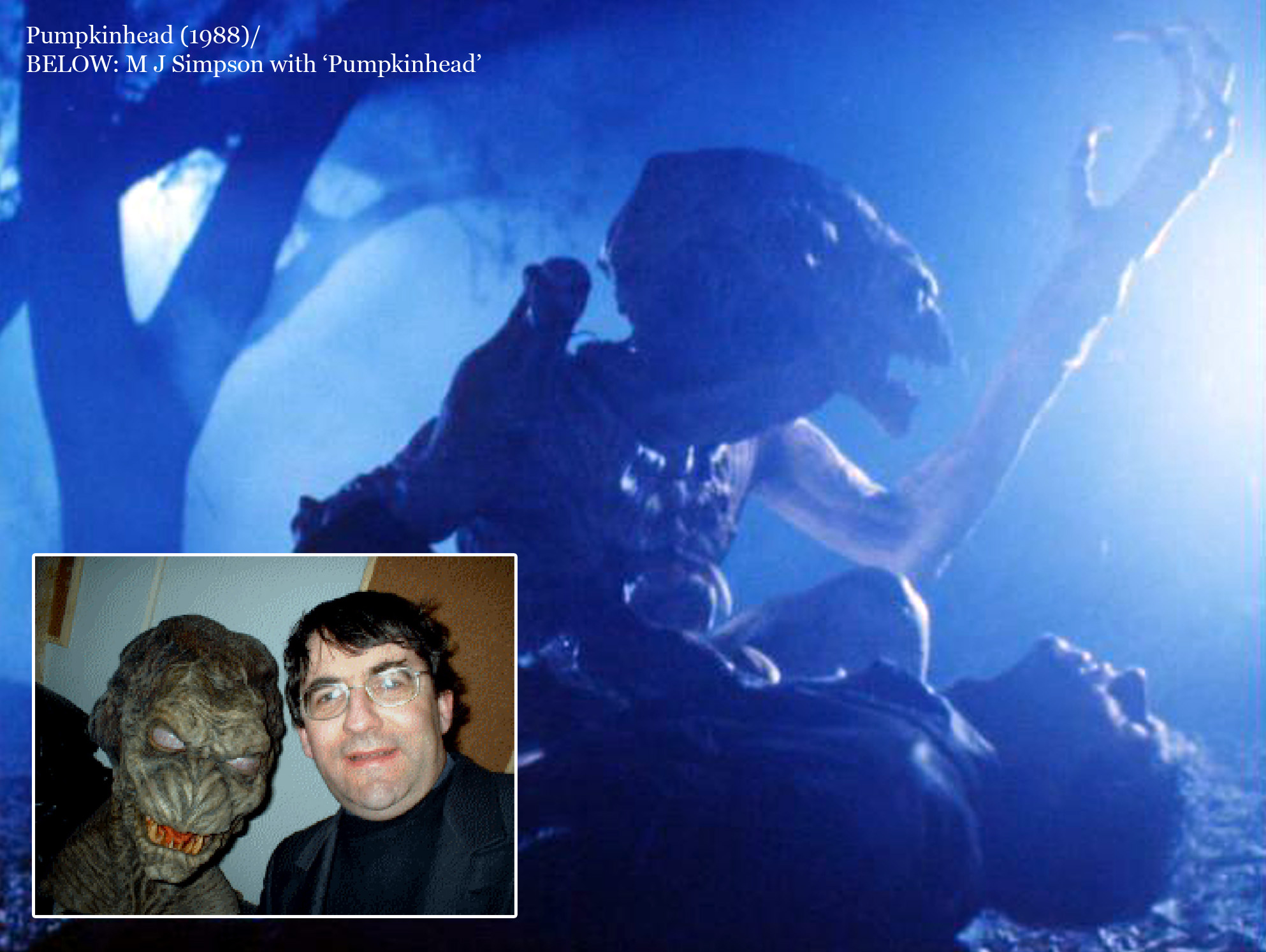 I've been on a bit of an eBay spree recently, adding in some early issues of
Dark Side
and other mags that are missing from my collection. I couldn't do this in the old house because the mags were stored totally chaotically. When we moved a couple of years ago, one of the things I knew I wanted to do with my bigger office was have all my cult movie mags, in alphabetical order, in sequential order within each title, on the wall behind me.
I spotted an early
Dark Side
going cheap on eBay the other week, bid and bought it, and discovered to my joy that it was the issue which announced the winners of the 'Opportunity Shocks' competition. This was a contest for aspiring indie filmmakers, organised by the magazine in its first year of existence. The January, February and March 1991 issues introduced the contest with a three-part 'how-to' feature for kids with camcorders written by 'filmmaker Steve Shields'. I'm not sure how many films Shields had actually made - he was really the editor of
What Video
magazine.
All I knew about 'Opportunity Shocks' was that Alex Chandon had won it with his insane 'Hare-Krishna horror' short
Bad Karma
, which I might even still have on VHS somewhere. Alex went on to make the extraordinary steampunk fantasy
Pervirella
(Emily Booth's first film) and the superior, low-budget anthology
Cradle of Fear
. After far too long in the wilderness, Alex returned to feature directing last year with
Inbred,
a sort of
Straw Dogs
in Yorkshire which is currently in post. Anyway, there he is in the September 1991
Dark Side,
looking about ten years old, with his mates and various gory props from
Bad Karma
.
The three short-listed films were screened in a Wardour Street preview theatre for the competition's judges and there were two surprises when I settled down to read the feature. The runner-up film was
Within the Woods
, a Sam Raimi-influenced short by Mike and Andy Hurst and friends. I actually know the Hurst brothers slightly but had no idea they had been involved with 'Opportunity Shocks'. A few years later, they made a micro-budget feature called
Project Assassin
which you've never heard of because the only press coverage it generated, outside of the Brighton Argus, was a piece I wrote for
SFX
.
Mike and Andy were very grateful for the coverage, which I was happy to provide.
Project Assassin
is a cracking little film and I always maintained that we should support up and coming filmmakers because they'll remember, when they're successful, who gave them an early break. I've swapped occasional e-mails with Mike and Andy since then.
Project Assassin
was, bizarrely, released to cinemas in Germany and the brothers both subsequently moved to LA.
The second big surprise was the judging panel. There was Alan Jones, who was a veteran horror film journo even 20 years ago, and Stefan Jaworzyn, editor of the old
Shock Express
fanzine. There was porn actress/model Linzi Drew whose horror credentials were small roles in
Lair of the White Worm
and
An American Werewolf in London
. There was Fhiona-Louise, a young lady who had just made a rather dull biopic of Dennis Nilsen called
Cold Light of Day
. And there was the producer of
Cold Light of Day
... Richard Driscoll! There he is in the photos, looking younger than he does now but no more talented; the infamous Richard Driscoll - the British Ed Wood, six years after
The Comic
and a decade before he inflicted
Kannibal
on us. I don't know precisely what he was doing in 1991, but then probably neither did he.
And this is why I like looking through old film mags. Partly it's the actual content: reviews of thoroughly forgotten films and features on movies which were briefly interesting but which no-one will ever write about in detail again. But also it's the ambience, the sense of what filmmaking and fandom and journalism and production and distribution was like in those days. Twenty years ago I was more of a sci-fi and comedy buff so, despite my advanced age, reading these mags is like an archaeological excavation for me.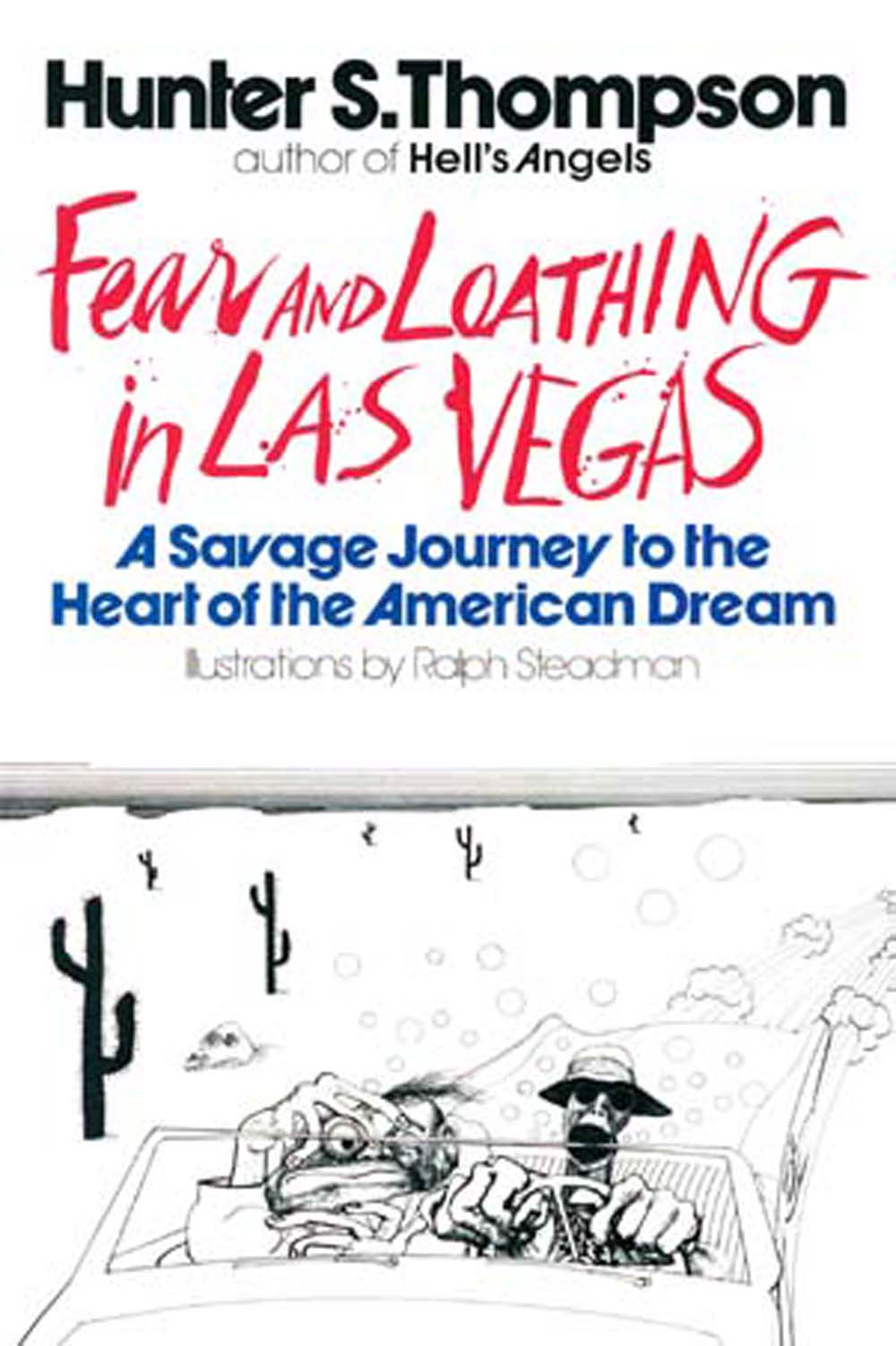 And sometimes you find the most amazing gems, like when I opened up the December 1991 issue and saw this
Pumpkinhead
ad on the inside front cover. Isn't it just amazing? If you can't quite make out the text it says 'Fear and Loathing in The Deep South' and it is of course an homage to the cover of Hunter S Thompson's legendary gonzo book
Fear and Loathing in Las Vegas
(which was eventually filmed by Terry Gilliam in 1998). The illustrations in Thompson's book, which were intrinsic to its appeal, were by British caricaturist Ralph Steadman. I can't tell whether this
Pumpkinhead
ad is actually by Steadman or by someone else doing a very good impression of Steadman's style. Truth be told, it doesn't really matter. It's ace.
Adverts from the great VHS days of the 1980s and 1990s were often endearingly poor: a few badly design VHS sleeves unimaginatively arranged on the page with some ludicrously overhyped copy around them. But occasionally someone did something a bit special like this. As you can see, it's Fox Video so they've got some money behind the campaign (plus, even on a small mag like
Dark Side
, the inside front cover is a much more expensive place to advertise than most of the other pages).
This ad is for the sell-through release of the film, a couple of years after its 1989 big-box rental release when the distributor decided for some reason that
Pumpkinhead
wasn't a good title - in a sense, they were right: it's a great title! - and released the film as
Vengeance: The Demon
(an early, rejected title in the States). Filmed in 1987, the film got caught up in the demise of Dino De Laurentiis's DEG company and ended up with United Artists, who shuffled it into cinemas. In the UK, it went straight to video; in fact,
Pumpkinhead
is one of the strongest arguments around against the lie which maintains that a video premiere automatically means a poor film.
By 1991 Fox Video had, unusually for a distributor, spotted that this little B-movie had developed quite a following under its original title. Hence the sell-through tape has both titles on its sleeve and someone at Fox decided it was worth paying rate-card-plus for a full-page inside front cover to advertise this one tape with a specially commissioned illustration. Some of you may, I fear, never have seen this film. One of only two features directed by effects maestro Stan Winston (the other was the bizarre cop-buddy movie
Upworld
aka
A Gnome Named Gnorm), Pumpkinhead
is a powerful, sincere, serious film which manages to be both shocking and creepy. The great Lance Henriksen (whose autobiography is out this month) stars as Ed Harley, a single father in the Deep South who sees his son killed in an accident caused by visiting city kids. Heartbroken, Harley takes the unwise step of consulting Haggis, an old woman reputed to be a witch. She raises the titular demon as an instrument of vengeance but a demon, once raised, must continue until its function is fulfilled. Like Frankenstein, like Faust, Ed Harley comes to regret his hubristic belief that he could control the uncontrollable.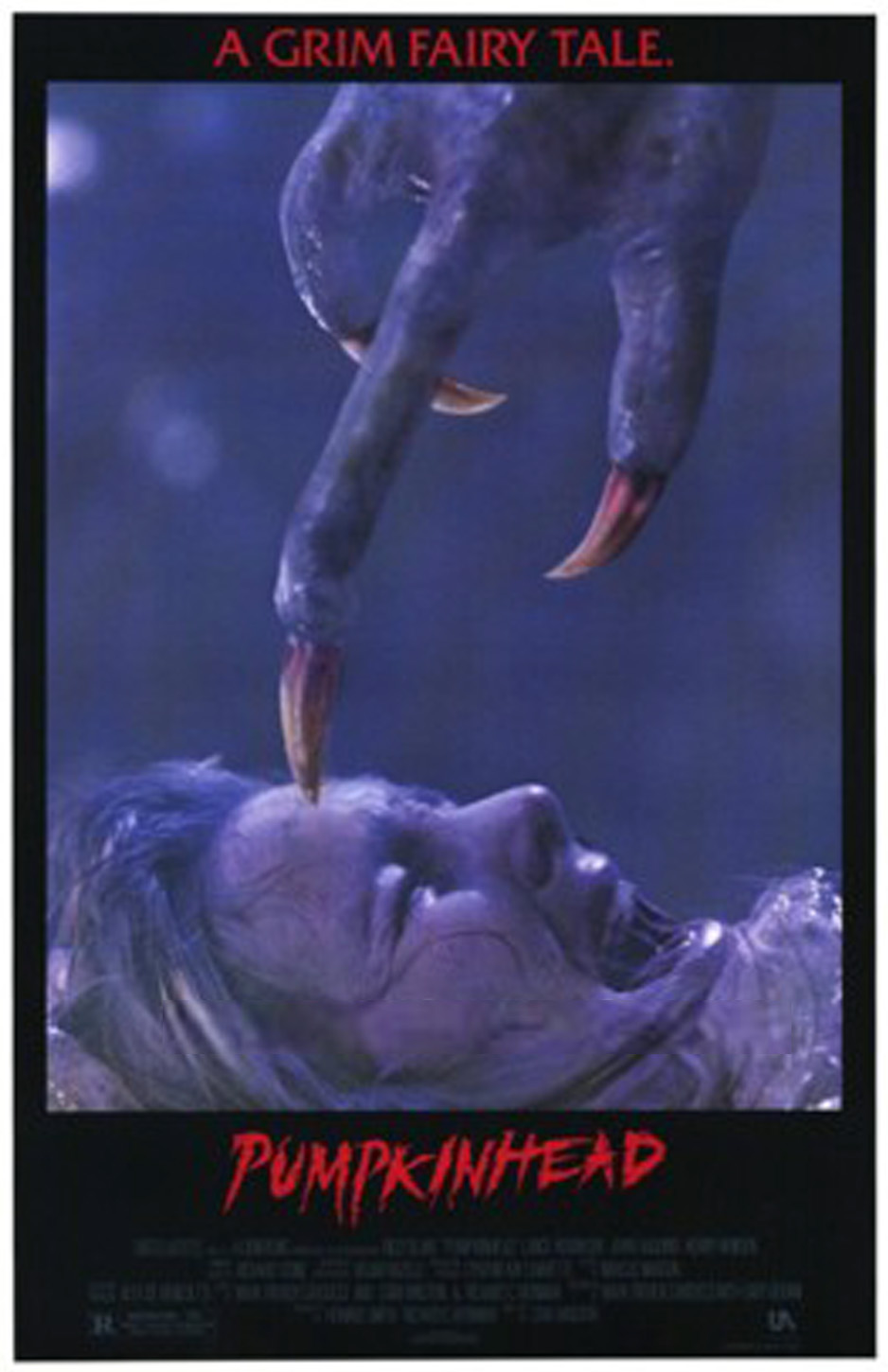 Then they made a crappy sequel. Well no, let's be fair.
Pumpkinhead 2: Bloodwings
is an okay mid-'90s monster-on-the-loose B-movie. Nothing to write home about but not terrible. Just a terrible waste because, apart from the monster costume, it has no connection with the first film. The producers presumably thought that they could just take Pumpkinhead himself and use him as an off-the-peg monster. And you can sort of follow their reasoning because, damn it all,
Pumpkinhead
is one of the best designed movie monsters of all time. Throughout the last two decades, virtually all movie monsters have sat somewhere on the APSX graph, a four-way balance between
Alien
,
Pumpkinhead
,
Syngenor
and
Xtro
. Go on, I challenge you to think of a modern movie monster that doesn't have significant elements from one or more of that quartet.
The point is that the cool creature design was only one aspect of
Pumpkinhead's
appeal. It only worked when combined with that overbearing sense of Southern Gothic. So
Pumpkinhead
became a series of two films, the fans of which pretended that one of the movies didn't exist, brushing it from the series like
Halloween III
. It was a canon where 50% of the work was non-canonical. Until 2006 when producer Mike Krevoy, who had been a producer on
Pumpkinhead 2
and still owned the rights, set out to make two new
Pumpkinhead
sequels, back to back, in Romania, for the Sci-Fi Channel.
The gig fell to British director Jake West, fresh from the festival success of his gloriously splattery second feature
Evil Aliens
who came up with a story that was a direct sequel to Part 1 and completely ignored Part 2. Henriksen returned as Ed Harley and the witch Haggis was back too (albeit with a new actor). And the story centred around Bunt Wallace, a kid in the first film who manages to survive an encounter with Pumpkinhead. The creature suit itself had of course long since rotted away but the popularity of the design meant that many model kits - licensed and unlicensed - had been produced over the years which top FX bloke Gary Tunnicliffe was able to use as reference in creating a new suit.
The story of
Pumpkinhead: Ashes to Ashes
- which is pretty cool at first glance but doesn't stand up to any sort of detailed scrutiny - concerns an illegal organ-bootlegging operation by the town doctor, played by the legend that is Doug Bradley, in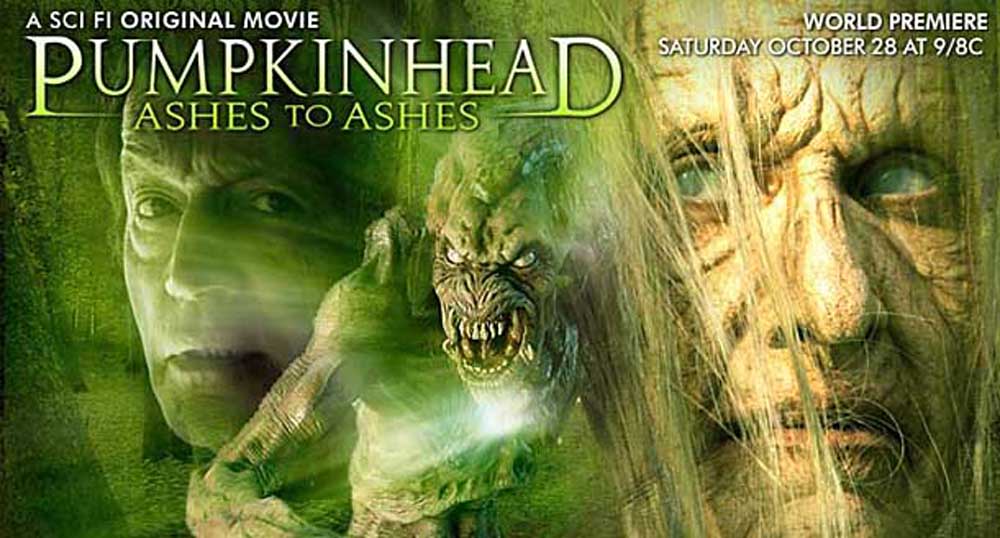 conjunction with Bunt's surprisingly large and busy crematorium. Lisa McAllister, who has subsequently become something of a horror regular in such films as
Devil's Playground
and
Dead Cert
, plays Bunt's sister. Jake's idea for Part IV -
Pumpkinhead: Dark Hell
- was to take the story in a completely new direction, away from the Southern Gothic and into the realms of sci-fi with Government intervention and genetic engineering and all sorts of malarkey. It could have been great but the Sci-Fi Channel said they'd rather have something a bit more like Part III, if it was all the same. By that stage, Jake was well-advance on pre-production of
Ashes to Ashes
and it really wasn't going to be practical for him to come up with another entire script from scratch.
Which left Krevoy and the Sci-Fi Channel needing to find a new writer-director who could bang out a workable B-movie script in seven days. For financial purposes, it needed to be somebody British; the latter-day
Pumpkinhead
sequels are nominally 'A UK-Romanian co-production' in order to get certain EU tax breaks. But there wasn't time to head over to England and scout talent, it needed to be somebody who was already in LA. As it happened there was an English director based in LA who was pitching to the Sci-Fi Channel to direct the
Pumpkinhead
sequels even though he had already heard on the grapevine that Jake West had the gig. In a moment of serendipity this director was sitting in the office of the Sci-Fi Channel's Head of Development, playing his showreel, when Brad Krevoy walked in.
What followed was possibly the shortest and most impromptu job interview in Hollywood history. 'Did you direct this?' 'Yes.' 'Are you from England?' 'Yes.' 'Do you want to do
Pumpkinhead IV
?' And the name of that lucky director? Fifteen years after coming second in 'Opportunity Shocks', it was Mike Hurst.
MJ Simpson has been writing since he found out which end of a pencil makes a mark. After editing sci-fan club mags he spent three years on the staff of SFX and helped to launch Total Film before switching to freelance work for Fangoria, Shivers, Video Watchdog, DeathRay and other cult movie magazines. He has a number of scripts in development and has been working on his third book, a biography of 'Bride of Frankenstein' Elsa Lanchester, for a very long time, but he promises to have it finished soon (-ish). Mike lives in Leicester with his wife, Mrs S, and his young son, TF Simpson. By day he edits the university's website and in the evenings he edits MJSimpson.co.uk. He should probably get out more.