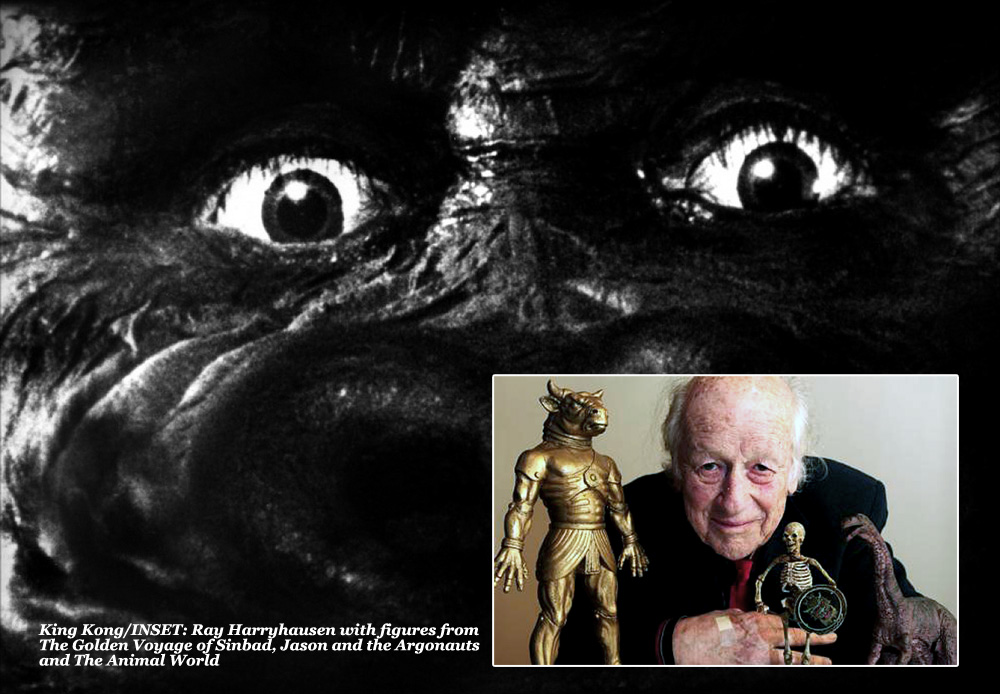 In the summer of 1996, the biggest film around was
Independence Day
, or
ID4
as it was known. Producer Dean Devlin (who was 33 but looked about 12) and director Roland Emmerich were a hot ticket in Hollywood, after the success of
Stargate
. We would have called them the new kids on the blockbuster if it hadn't taken me 15 years to come up with that tag.
ID4
was released in the USA on 3rd July (naturally) and made it to the UK about a month later. In the meantime, there were a lot of previews. Sometimes film publicists are really snooty about who gets to see their movie ahead of time but with
Independence Day
, it seemed like the distributors wanted everybody involved in the media in any way to watch it for free in advance. So, although some of my colleagues had already seen it, we had a call to the office asking if a couple of us would like to attend a preview at the Odeon Marble Arch and then go to a swanky press conference with the film-makers and stars afterwards. I got one ticket and the other was given to Adrian, our Advertising Sales Manager.
In those days, the Odeon Marble Arch was a single, vast, jaw-dropping auditorium with 1,360 seats facing the largest screen in the country. In the days when Britain only had one IMAX screen (in Bradford), this was the perfect way to see a blockbuster like
Independence Day
. Especially when 20th Century Fox were paying for the cinema and Future Publishing were paying for your train ticket. Man, those were the days. So Adrian and I were settled in our seats, waiting for the lights to go out, when he tapped me on the shoulder and whispered, 'Who's that bloke behind us? Old geezer, nearly bald. I recognise him from somewhere.' I subtly glanced behind then whispered back, with a fanboy tremor in my voice: '
That
.. is Ray Harryhausen.' And the reason Ade recognised him was because Dave the Editor had interviewed Ray a few months earlier.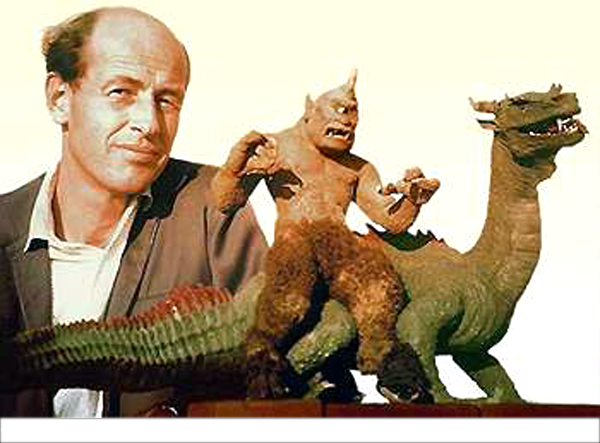 So, because this was an amazing opportunity and because we were brashly confident young men, and because Ray Harryhausen is the nicest, friendliest human being on the planet, we twisted round in our seats, introduced ourselves and Adrian got an autograph (I didn't because I reckoned I might meet Ray again some day when I actually had something relevant for him to sign). After the screening, while we waited in the foyer for the air-conditioned luxury coach which was going to carry a few dozen selected journalists about 50 yards to the Dorchester - I'm telling you, those were totally the days! - we waylaid Ray as he left the cinema and asked him what he thought of
Independence Day
. 'Oh, it's amazing,' he enthused. 'We never had special effects like that back in my day!'
Nor did they. What they had instead - was Ray Harryhausen. Instead of millions of dollars and hundreds of CGI artists, they had one bloke and some puppets made of wire and clay. Oh, but look what he did with them! Everyone loves Ray Harryhausen movies. And, ahem, everyone loves Raymond. He is an absolutely genuine person who somehow bathes in the adulation he receives without a trace of immodesty but without false modesty either. There is a new exhibition of Harryhausen models and drawings up at the National Media Museum in Bradford, so what better time to pay tribute to the man?
I was right in my judgement that hot summer day in London: mine and Ray's paths did cross again several times. In August 2001, Ray was a guest at the annual Festival of Fantastic Films in Manchester, along with his old friend Forrest J Ackerman. The highlight that year was a trip to the Plaza Super Cinema in Stockport to see a brand new 35mm print of
King Kong
. The Plaza was another single-screen, giant auditorium, but dating from 1932. So what we experienced that afternoon was a classic 1933 film, as audiences would have seen it in 1933, in the ambience of a cinema that showed it in 1933, introduced by two very knowledgeable men who remembered watching it in 1933. Does it get any better than that? I should have been prepared but I wasn't, so just before we all set out I nipped into Manchester city centre and found a
King Kong
postcard, and both Forry and Ray very kindly signed it for me as a memento of a unique occasion. (I'll do a whole column on
King Kong
sometime. It is the greatest fantasy film ever made by a considerable margin.)
A couple of years later, I was helping my mate Alan who was the Programmer at Phoenix Arts, Leicester's independent cinema. Each October we organised the Far Out Festival of Fantastic Film but for logistical reasons we decided that we would move the 2003 Far Out to March 2004. Nevertheless it would be nice to still have a couple of days of fantasy stuff so the first Saturday in October was designated Giant Gorilla Day, featuring screenings of
King Kong
(probably that same print I had seen in Stockport),
Mighty Joe Young
and - for the first and only time in a British cinema - the Anglo-Italian insanity that is
Queen Kong
. Amazingly, people paid to see that. Sunday was Harryhausen Day, with an on-stage interview bookended by two of his movies. One was automatically going to be Ray's masterpiece,
Jason and the Argonauts
. I took TF to see a matinee of
Jason
a few years later when he was about four and he sat through it in mesmerised silence - as did every other child in the cinema. But what should the other film be?
One Million Years BC
?
20 Million Miles to Earth
? One of the Sinbad pictures? I suggested something less obvious.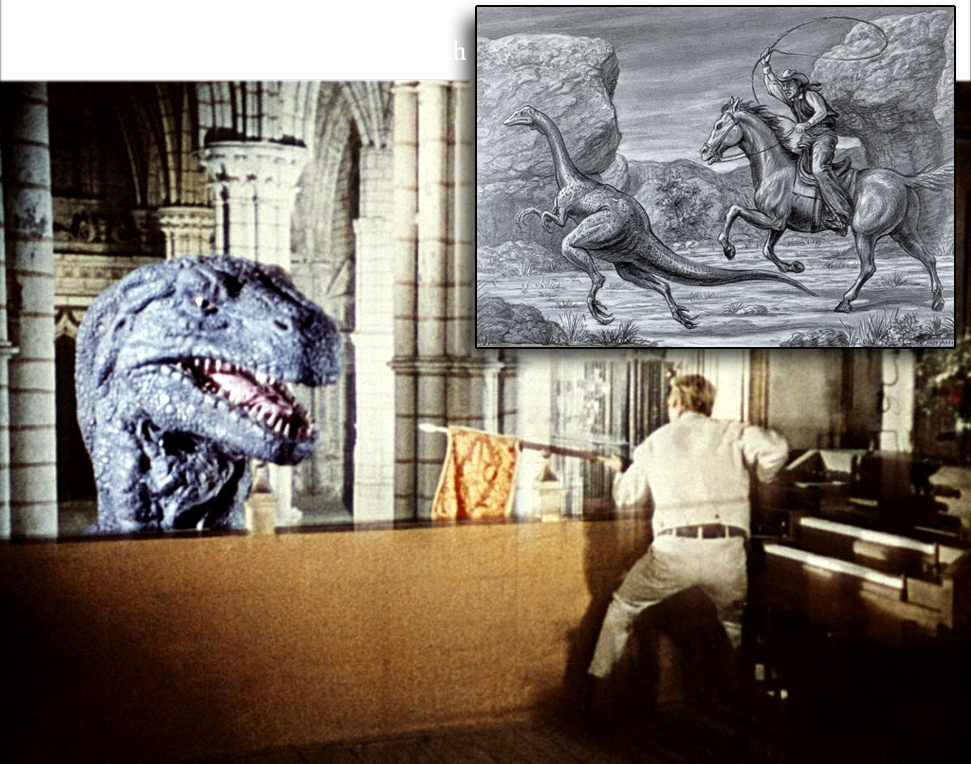 The Valley of Gwangi
has been one of my favourite films ever since, as a child, I read a synopsis of it in the TV listings of my parents' newspaper. Cowboys and dinosaurs - together at last! I got more and more excited as the time approached, switched on the TV five minutes early to 'warm up', and found myself watching... I don't know. Snooker or something. Whatever it was, there were clearly neither dinosaurs nor cowboys in it. It turned out that the
Daily Telegraph
TV listings were all for London, wherever you bought it in the country. Gwangi was showing in London, but not the East Midlands. I was more upset than I had ever been in my young life.
Eventually I did get to watch
The Valley of Gwangi
and it was everything I had hoped for. So when the possibility of choosing a Harryhausen film for Phoenix came up, I suggested
Gwangi
. Alan checked with the BFI and they confirmed that they had a 35mm print - which hadn't been out of its can since the original release, more than 30 years previously. This wonderful news finally cancelled out the trauma I had felt as a small child when the
Daily Telegraph
lied to me and ever since October 2003, I have been a well-balanced human being and a useful, productive member of society. All thanks to Ray Harryhausen.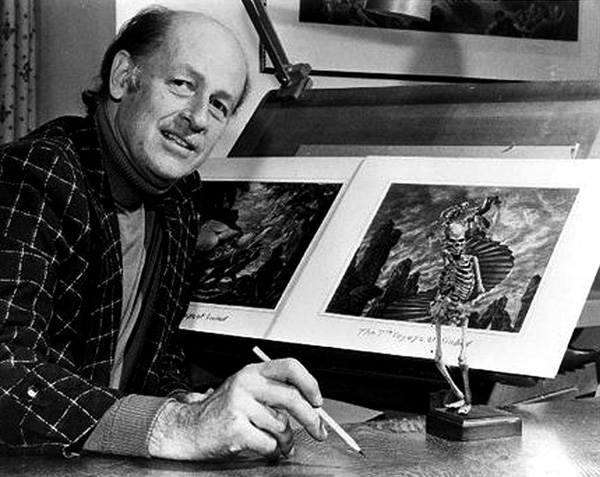 But wait, there was more. Alan asked me to do the on-stage interview with Ray. I had done plenty of interviews for print and a few on-stage ones, sometimes at Phoenix, sometimes up in Manchester. An hour of talking with Ray Harryhausen, asking my questions and soliciting questions from an audience: who could refuse? But wait again, because it gets even better. Better than you could possibly imagine. Better than your already overloaded fanboy brain can comprehend. Ray has been interviewed many, many times. Quite possibly more often than anyone else of a comparable vintage. On TV, on radio, on stage and in the pages of just about every fantasy, horror and sci-fi magazine and fanzine on the planet. He loves to talk about his work, not because he's boastful or big-headed but because he genuinely loves giving people pleasure by talking about his work. He's very proud of what he did from the mid-fifties to the early eighties - as well he darn well should be - but he is especially proud of the very obvious joy which it has brought to generations of audiences. So he's no stranger to being interviewed. But he also likes to do it properly. Which means that rather than travel up to Leicester unprepared, he asked if Alan and I could meet with him to discuss our plans. Could we meet him - at his home? Er, yes. Yes, we could manage that. I recalled Dave at
SFX
telling me about Ray Harryhausen's home from the time he had interviewed him for the mag. About the wonders he saw. Now I was following in his footsteps. Let me tell you, Mr Harryhausen has a wonderful house: old-fashioned but utterly stylish and tasteful. There are original Gustave Dor
é
prints on the wall - and if you've seen any of Ray's concept art, you will instantly see the influence.
Alan and I chatted with Ray, trying to deal with the practicalities we were there to discuss, like times and transport and so on, while desperately trying not to be distracted by all the wonderful things we saw around us: prints and awards and such like.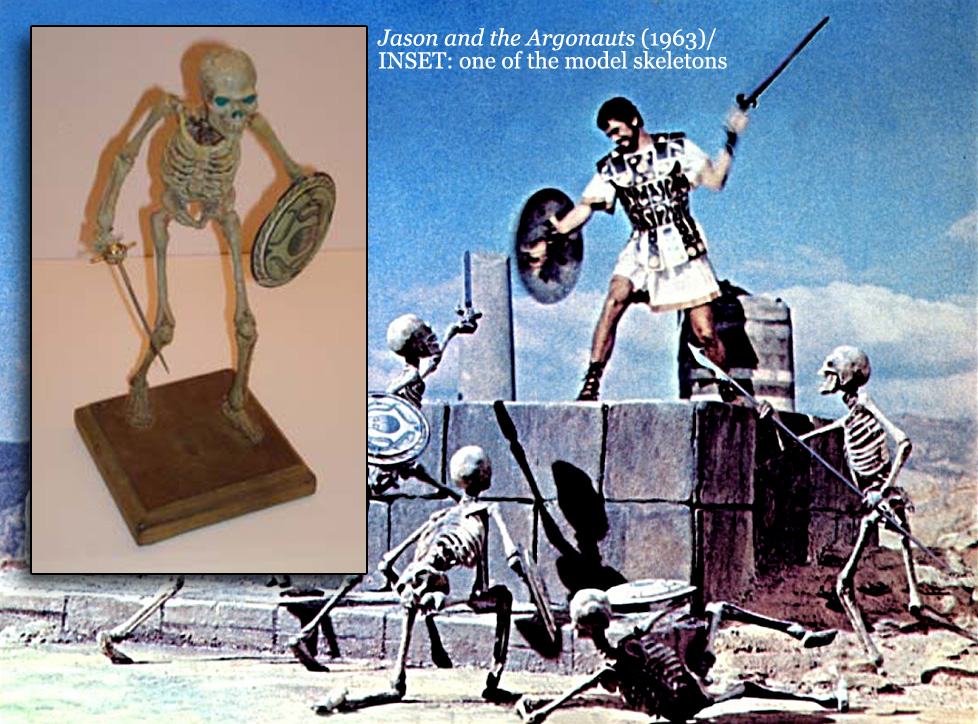 But Ray is such a genuinely warm and friendly man that we felt completely at ease, until he said, as he had said to so many visitors: 'Would you like to come upstairs and see some of the original models?' Just think: he asked us. Not he asked US. But he ASKED us. As if anyone would ever reply to such an invitation in the negative.
Up we went, a couple of flights, nice bannisters, more Dor
é
prints, desperately trying not to grin from ear to ear at the wonderful, fanboy-dream-come-true we were living. And there on the top floor was Ray's study. Or it would have been a study if it hadn't been packed with artwork and maquettes. There were drawers full of these amazing, detailed monochrome sketches of all the effects sequences which Ray had envisaged. And we knew that, in defiance of cinematic convention, the finished sequences actually did look like that. Many of these images have subsequently been published in books and folios, but eight years ago we were seeing something amazing, a treasure trove to which very few had ever been privy.
And the maquettes (articulated models). An original
Jason and the Argonauts
skeleton warrior, perfectly preserved in a small, card box. It looked like an action figure, but it wasn't. It was a stop-motion maquette constructed by this man 40 years earlier and he was showing it to us because he knew how much joy that would bring us. I have no idea what we said. Words fail you in a situation like that.
A few weeks later Ray came up to Leicester and we did the interview which went brilliantly and I remember Ray's laughter when I suggested that, because it contains both dinosaurs AND cowboys,
The Valley of Gwangi
is theoretically the greatest film ever made. I was prepared this time, too, with a couple of back issues of
Cinefantastique
featuring Ray on the cover and he was happy to sign both. Good job I did too because the only subsequent meeting I have had with Ray was over the phone when I interviewed him for
Fangoria
. And you can't sign an autograph over the phone.
Ray Harryhausen is approaching his 91st birthday and he doesn't do quite so many conventions nowadays, and it probably takes him longer to get up those two flights of stairs to his study. But he still retains that gleam in his eye, that warmth in his heart.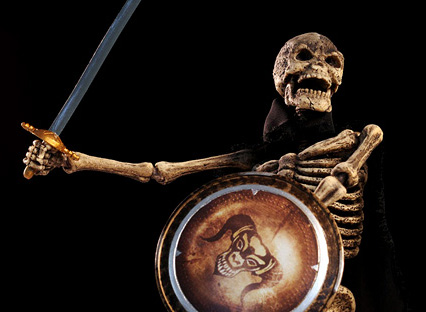 He was 13 when he first saw
King Kong
and I believe his secret is that he hasn't aged a day since then.
MJ Simpson has been writing since he found out which end of a pencil makes a mark. After editing sci-fan club mags he spent three years on the staff of SFX and helped to launch Total Film before switching to freelance work for Fangoria, Shivers, Video Watchdog, DeathRay and other cult movie magazines. He has a number of scripts in development and has been working on his third book, a biography of 'Bride of Frankenstein' Elsa Lanchester, for a very long time, but he promises to have it finished soon (-ish). Mike lives in Leicester with his wife, Mrs S, and his young son, TF Simpson. By day he edits the university's website and in the evenings he edits MJSimpson.co.uk. He should probably get out more.