This month I was going to write about Charles Band, the Full Moon head honcho who brought us such classics as
Puppet Master
,
Dollman
,
Subspecies
and
Trancers
, but I'm holding that column off until later in the year to coincide with with a new Hemlock book on the man and his movies. I'd like instead to pay tribute to the writer of most of Band's recent films, August White, who passed away recently.
When I started this blog one thing I swore to myself was that I would not write anything about people who had just died. The world of film-making, even if we narrow it to 'cult' or horror film-making, is a large one and the great horror boom of the late 1950s is now more than half a century away. So it should come as no surprise that people involved with genre movies die all the time. I get bored and slightly annoyed with the gushing outpourings of grief and shock that follow every obituary announcement, and I don't think it's disrespectful to find it silly when someone describes as 'a tragedy' the peaceful death of someone who has had a long life, surrounded by success and happiness. People die, get over it.
But I'm breaking my rule for August White, partly because he was only in his forties, partly because we corresponded and never got round to the interview we'd discussed, but mostly because - unlike the majority of genre names - if I don't commemorate August's life here, no-one else will.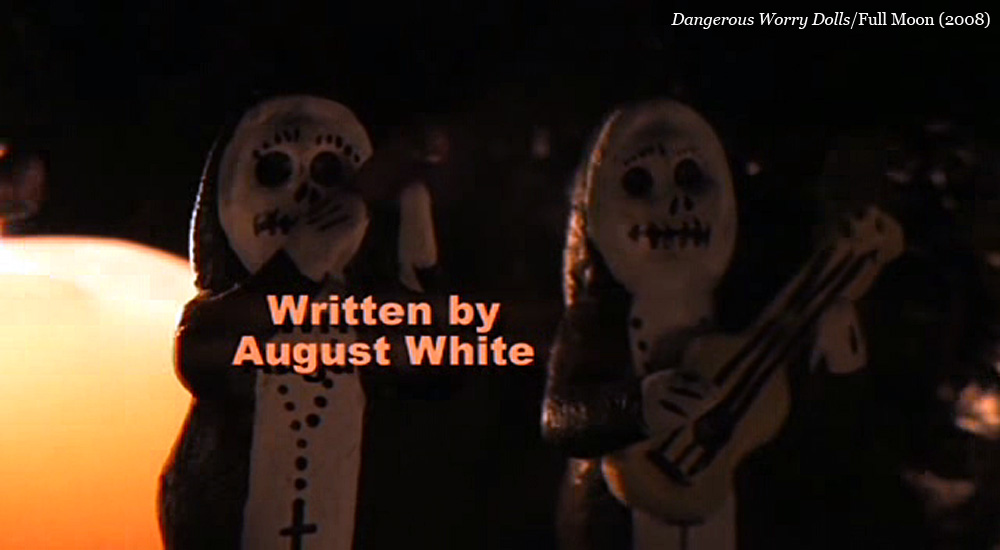 Augustus Farrell White was born in March 1966 in New York. He was a successful student who won a music scholarship to Yale but dropped out to form the first of numerous rock bands. He worked for a while in comics, inking and lettering for various publishers, and claimed to have briefly been the editor of a series of softcore porn magazines before joining a small-time Hollywood casting agency, representing up-and-coming starlets. In 2004 Charles Band needed someone to write the script for
Decadent Evil
, the launch title for his new company, Wizard Video (which was swiftly renamed Full Moon Features after a few titles). Wizard was Band's return to directing after he had (once again!) found himself spending his whole time executive producing other people's films rather than making his own movies.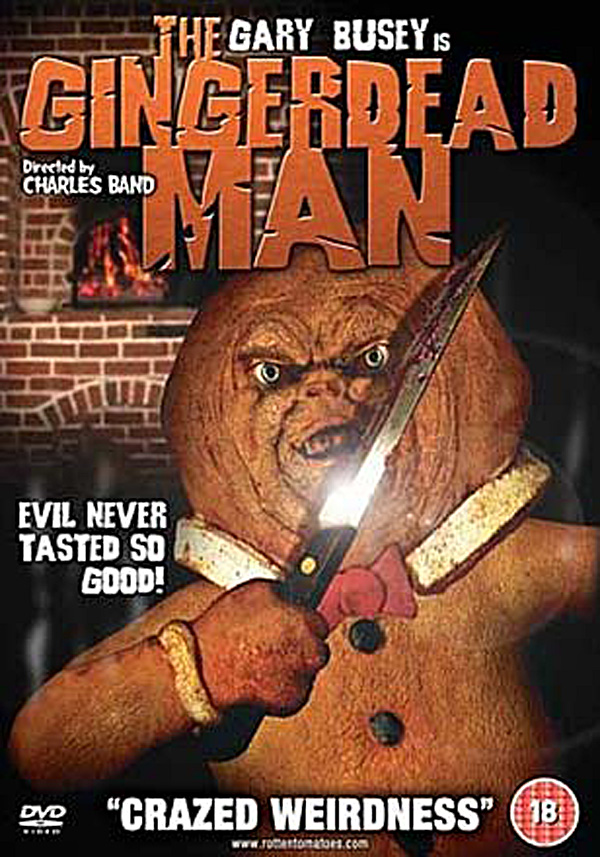 Since 2005, the company has produced 14 films of which 11 had screenplays by August White. As well as
Decadent Evil
and its sequel, White wrote Band's alien mummy movie
Petrified
, haunted casino film
Dead Man's Hand
,
Doll Graveyard
,
Skull Heads
,
Dangerous Worry Dolls
and
Evil Bong I
and
II
. For
The Gingerdead Man
- in which Hollywood lunatic Gary Busey plays a murderer reincarnated as a biscuit - White was credited alongside Sylvia St Croix, a pseudonym for actor William Butler. Finally, he was given the responsibility for reanimating Band's signature franchise in the long-awaited
Puppet Master: Axis of Evil
, just out last month in the UK from Revolver.
And now he's gone.
Except, not really. You see, August White was never really here and everything I have just told you - except for the Band writing credits - is complete baloney which I made up as I was typing. August White never existed, except as a pseudonym for a man named Brian Domonic Muir. And he did die recently. And hardly anyone noticed. And that makes me sad because, as Willy Loman said, attention must be paid.
I'm not sure how I got in contact with Brian back in the summer of 2009. I had reviewed several of the Band/White films which Charlie had kindly sent me and I had also sat down and written a review of one of my all-time favourite films,
Critters
. I'm also not sure how I knew that August and Brian were one and the same person. It's something I mentioned in my reviews but it's clearly not common knowledge because the IMDb, with its usual knack for accuracy, believes them to be different people. Which suited Brian fine; he was very keen to keep his two writing careers separate, though he never went into any detail in the all-too-few, all-too-brief e-mails which I received from him.
What we talked about doing was a brace of interviews, one with Brian talking about
Critters
and his other work, one with 'August' talking in character about writing for Charles Band, spiced up with some entirely fictitious background details. Which is what I tried to do just now, a few months too late. Brian liked the idea of perpetuating the fiction but he was always either too busy or too ill, or both. When I received a screener of
Axis of Evil
, I also dug out my disc of
Dead Man's Hand
and reviewed both on my site, then fired off an e-mail to Brian with the links, saying here's two more August White reviews, how about doing that fake interview we've talked about?
I never heard back. Now I just heard that Brian died last year. The IMDb lists the cause as pneumonia although it was actually cancer which Brian had been fighting for a while. Hardly anyone seems to have noticed Brian's passing. There's one post on one cult film forum (from the guy who just told me this evening), another mention on a
Critters
message board and a page about a tribute screening of
Critters
in LA in November. I want to talk about
Critters
because, for all his recent pseudonymous work for Charlie, it is this film by which Brian Muir will be remembered. And if you haven't seen it recently, dig out your copy and watch it. If you don't own
Critters
, get yourself the
Critters I-IV
box set - it's only a fiver on Amazon.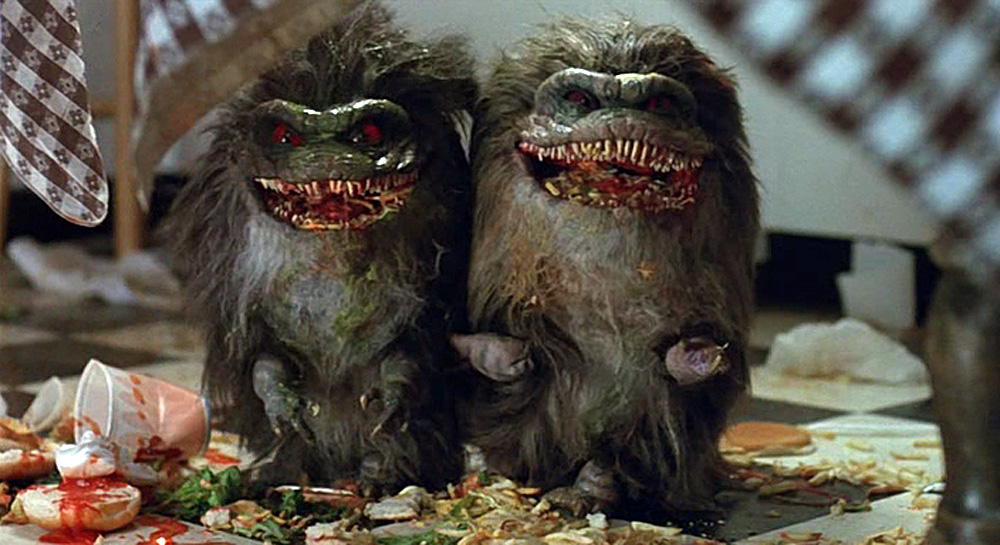 Critters
is a terrific mixture of science fiction, horror and comedy in which a bunch of alien furballs escape from a space prison and end up on Earth. These 'Krites' are a little like Warner Brothers' Taz in that they are basically a mouth on legs with a voracious appetite. Covered in shaggy hair, they have ejectable spines which can cause unconsciousness. Occasionally subtitles show that they are sentient creatures, just not very bright. Tracking them down are a pair of alien bounty hunters, faceless humanoids who can adopt the features of anyone they meet. The lead bounty hunter, Ug, looks like a pretty-boy rock star throughout the film but his colleague remains undecided and changes face occasionally, which results in the unusual situation a character played by three different actors (each of whom also plays another role).
The action centres around a family in a farmhouse on the edge of a small town. The mother is played by Dee Wallace Stone, as was almost mandatory in those days, and the daughter's boyfriend is an early role for Billy Zane. And there's a great turn by the ever-dependable M Emmet Walsh as the local sheriff. Brian Muir wrote the original draft of
Critters
when he was still a teenager in high school, then put it in a drawer for several years until a chance meeting with Stephen Herek, an aspiring director who was working his way through the Roger Corman School of Film-making, editing things like
Saturday the 14th
and
Slumber Party Massacre
. Reworking the script to distance it from recent hit
Gremlins
- to which it would nevertheless be compared - the duo took the project to New Line and the film was shot for a touch under $2 million in late 1985.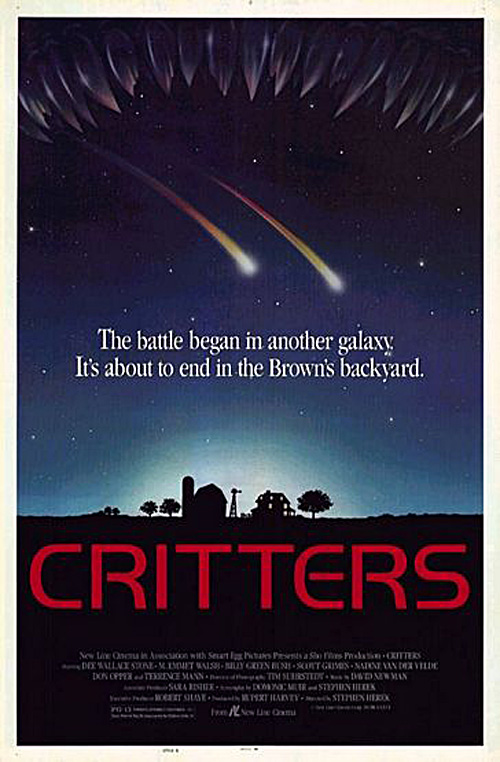 Critters
is very much of its time. No computers here: the alien Krites are puppets designed and manipulated by the Chiodo Brothers. New Line's producers insisted on the inclusion of a giant Krite and the Chiodos built a suit but they had no budget and it looked awful so is barely seen in the film. When Ug decides to mould his featureless green face into the one he sees on TV there's no morphing but rather a stop-motion build-up of flesh. It's also worth noting that the script is clever enough to pick up on the side-effect of this, which is that local townsfolk wonder what the pop star at the top of that week's charts is doing running around in their hick town.
There was a vogue in the mid-1980s for films about mischievous gangs of creatures playing havoc with people's domestic lives. Not just
Gremlins
and
Critters
but
Ghoulies
and
Munchies
too. Yet in a way the film that
Critters
most closely resembles was made 16 years later. A voraciously hungry, amoral alien criminal with retractable dorsal spines crashes on Earth and causes havoc for a household in a remote location while two aliens sent to recapture him struggle to blend into human society. Recognise the plot? It's
Lilo and Stitch
!
There were three sequels to
Critters
in the late 1980s and early 1990s.
Critters 2
brought back the son from the original family, played by Scott Grimes (now voicing the son in
American Dad
). The two alien bounty hunters also returned along with Charlie MacFadden, the local eccentric who had helped defeat the previous Krite infestation (played by Don Keith Opper - the only actor in all four movies). For the second sequel, the action moved to a town with Krites threatening a residential building, eventually saved by Charlie, now a fully qualified bounty hunter. This was shot back-to-back with Part 4 which moved the action to a space station (an idea subsequently used in
Leprechaun 4
,
Jason X
and an abandoned early draft of
Pumpkinhead 4
).
But the series originator, Brian Muir, had no involvement with the later three films. The script for
Critters 2
was written by Mick Garris while the subsequent two films were penned by David J Schow. (Part III is nowadays mostly notable for an early appearance by a teenage Leonardo DiCaprio.) So what did happen to Brian Muir after
Critters
and before his reinvention as 'August White'? The IMDb suggests he wrote the dubbing scripts for some Hong Kong actioners which may or may not be true. There are, after all, several Brian Muirs out there (including a British sculptor who designed Darth Vader's helmet) and a number of Dominic Muirs (Brian's named had the unusual spelling Domonic but was often misspelled).
Like many jobbing writers, Brian wrote numerous scripts that never saw the lens of a camera. I've seen mention of one dated 1980, predating
Critters
, with the unmarketable title
Spirogyra Fungi
, and one from ten years later called
Old Soldiers
which was co-written with Robert McDonnell, writer of late 1980s obscurities
Postmortem
and
Twice Dead
. In 2004, it was announced that Muir was working with Jeff Burr on screenplays for two sequels to
Monster Man
. Neither of these appeared but in 2007, Brian was one of several credited writers on
Broke Sky
, a Texas
noir
feature produced by Burr which garnered some critical acclaim. In one of his e-mails, Brian mentioned that he was hard at work on a cartoon, which turned out to be
Garfield's Pet Force
, the third entry in the animated series of feature films that followed the two live-action Garfield pictures. It's a curious credit - utterly different from
Puppet Master
or
Evil Bong
and a long, long way from
Critters
.
A little detective work for this column has turned up the information that for the past few years Brian was a regular contributor to
Ellery Queen's Mystery Magazine
. Ironically his final story in the mag - 'Chemo Boy and the War Kittens' - was inspired by his experience of cancer and saw print last November, a few weeks after Brian's passing. The
Ellery Queen
editorial says that he also w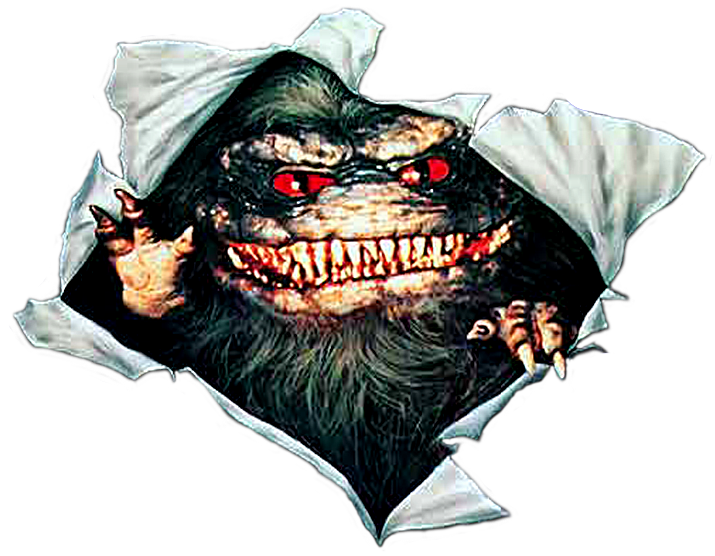 rote two novels but I can find no trace of them on Amazon or elsewhere. I can't claim to have known Brian Muir - or indeed, August White - and in fact I learned more about him writing this column than I did from our e-mail conversations. The simple truth is that
Critters
is one of my all-time favourite films, nor am I alone in that view, and its creator deserves to be remembered.
That's all I have to say here.
RIP Brian Domonic Muir
(20/1/62-19/9/10)



MJ Simpson has been writing since he found out which end of a pencil makes a mark. After editing sci-fi fan club mags he spent three years on the staff of SFX and helped to launch Total Film before switching to freelance work for Fangoria, Shivers, Video Watchdog, DeathRay and numerous other cult movie magazines. He has a number of scripts in development and has been working on his third book, a biography of Elsa Lanchester, for a very long time but promises to have it finished very soon (-ish). Mike lives in Leicester with his wife, Mrs S, and his young son, TF Simpson. By day he edits the university's website and in the evenings he edits MJSimpson.co.uk. He should probably get out more.