The 'cabin in the woods' has become the best known tropes in low-budget horror in recent years due to the increasing availability of HD cameras. In 2012, the apotheosis of the sub-genre, The Cabin in the Woods, reared its self-reflexive head, featuring many well-known actors including Thor's very own Chris Hemsworth. The concept had become so commonplace by then that The Cabin in the Woods was designed as a comedy- horror, pastiching the clichés that go hand-in-hand with the idea that bad things can happen down in the woods at night. The theme of a bunch of teenage friends heading off for a weekend sortie with unintended results has become the easiest and cheapest way to shoot a low-budget horror film since since college buddies Sam Raimi and Bruce Campbell did exactly that in 1981 and ended up with The Evil Dead, one of the most enduring cult movies of all time.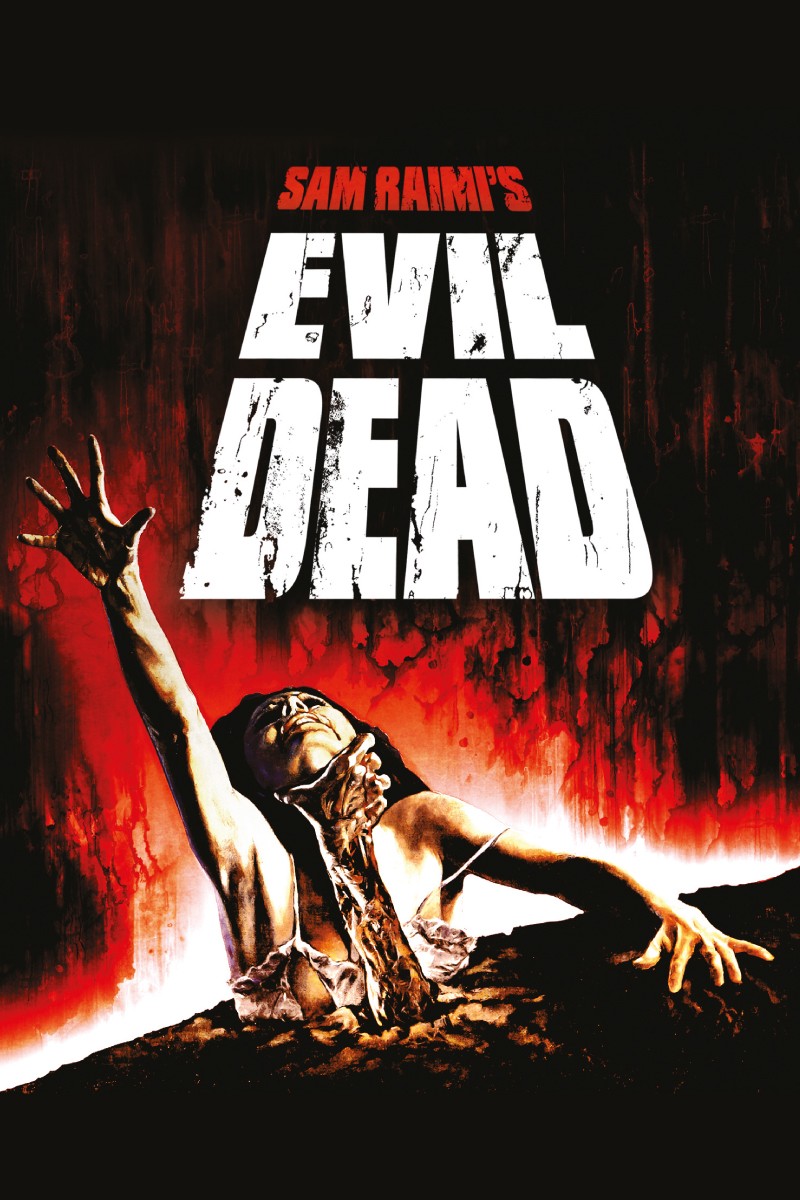 The Evil Dead was hugely successful for a film costing only $300k and, despite being labelled a 'video nasty' and being cut by the censor for its UK release in 1983, it was 'remade' six years later with a higher budget, albeit marketed as a sequel. The Evil Dead franchise proceeded to go down in cinema history as one of the high peaks of comedy-horror, and its possessed cellar-dweller heaving against the trap-door of the cabin will be forever one of the funniest and creepiest scenes in the genre. Evil Dead 3: Army of Darkness followed in the 90s, still with Campbell in his now-iconic role of Ash, but it lacked the ambience and cosy familiarity of the previous two features. Director Raimi had planned on making a fourth Evil Dead movie after Army of Darkness, but that idea was subsequently abandoned. Since the series took off, there has been the predictable glut of Evil Dead merchandise, including an awesomely-difficult PS2 game called A Fist Full of Boomstick and voiced by Bruce Campbell himself. The Evil Dead was then remade (again) in 2013, with Raimi and Campbell as the producers, grossing $54 million against a $17 million budget, compared to the 1981 film's take of a modest $2 million in the US. It seems that Evil Dead fans just can't get enough of the Deadite franchise - a situation confirmed by Raimi when he stated in interview with Indiewire that the main question he is asked is, 'When's the next Evil Dead movie?'
Until recently, the idea that a one-time 'video nasty' should find a new home for itself on television would have been greeted with disbelief, but with the rise of pay-per-view streaming services and the consequent liberalisation of the medium, it comes as less of a surprise that TV is exactly where a new Evil Dead has now wound up.
Airing on Virgin Media, Ash vs Evil Dead again focusses on the much-loved title character as he and his small band of cohorts fight an ongoing battle with the Deadite horde. This dark force has again been brought into the world after Ash accidentally reawakens it by reading from the Book of the Dead one intoxicated night, thirty years after the events of the original film. The new series does not continue on from the third film in the franchise due to ongoing legal issues surrounding that instalment so instead, Raimi and Campbell decided to resurrect their lovable lothario without any acknowledgement of his prior experience with the more medieval Deadites of Evil Dead3: Army of Darkness.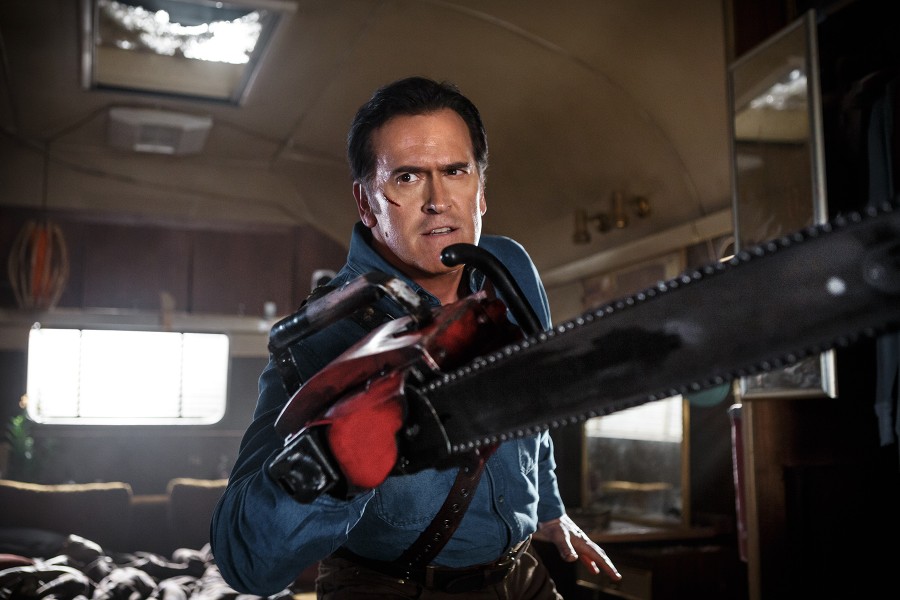 The pilot episode of Ash vs Evil Dead was written and directed by Raimi himself, whereas subsequent episodes were not. As with many pilots, there is quite a difference between it and subsequent episodes, in terms of both quality and scares, and the remainder too often take their cues other recent TV horror shows - most notably, True Blood. Having said that, many of the ideas from the original feature duo are brought affectionately back into play: it wouldn't be The Evil Dead without a shot of Ash catching a chainsaw on his stump-hand, for instance - or a smattering of the expected Ash one-liners, such as 'Gimme some sugar, baby'. But the series also puts a new spin on the Deadites by having them hunt for Ash out of revenge. His severed hand also makes a reappearance, but in the possession of another Deadite hunter!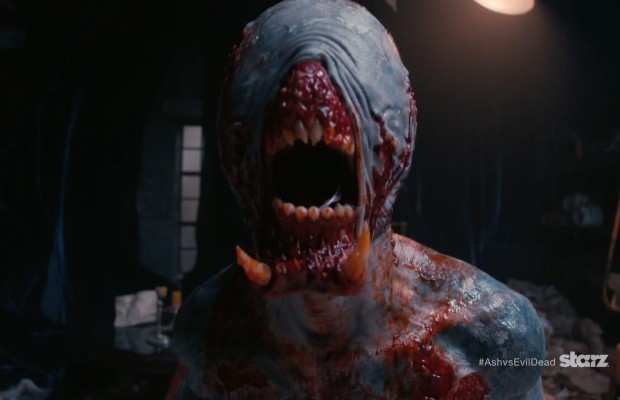 The Evil Dead monsters themselves have improved vastly since 1981. The Deadites are prominent and many have the same dead-eyed zombie appearance that will be recognised from The Evil Dead, but there are also new kinds of demon arising from within the Book of the Dead that are a good deal more frightening. One is summoned in an attempt to find out how to close the 'gate' to the Deadite world and looks distinctly like a Cenobite - in particular the Chatterer from Hellraiser, though in holographic form. Its employment signals Raimi's ambition to expand the mythology surrounding the Necronomicon and its pantheon of demons, so as not to limit himself to Deadites should the series prove successful enough for recommissioning.
Bruce Campbell has built a whole career around his narcissistic Ash persona, starring as a forgotten Elvis impersonator in Bubba Ho-Tep and even as himself in My Name is Bruce! He has an extensive filmography, including many US-TV series: Fargo, as well as Burn Notice. He also does a considerable amount of work as a voice-over artist, due to his distinctive tones. But to his legion of fans, he will forever be Ashley J 'Ash' Williams, and Ash vs Evil Dead will no doubt bring him a whole new band of avid followers. And at only 20 minutes an episode, it is also perfectly pitched to appeal to post-MTV, reduced-attention-span, cell-phone addicts.
Ash vs Evil Dead is showing exclusively on Virgin Media, try to catch it if you can.