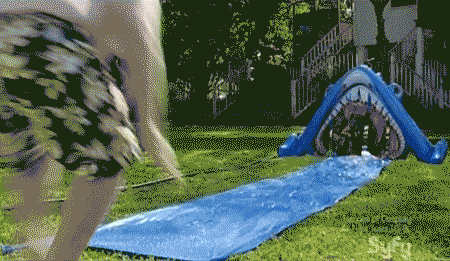 Last month we looked at the history of Dumb Shark Movies from the Jaws rip-offs of the late 1970s though to 2008, and we identified four basic types of DSM. Type 1: sharks which are unnaturally large and/or intelligent, usually because of 'genetic engineering'. Type 2: sharks of regular size and intelligence which pop up in unexpected locations. Type 3: Dumb Megalodon Movies – B-movie makers just can't resist that giant prehistoric fish. And Type 4: something that is half-shark, half-something else. We covered a lot of shark movies of sometimes quite impressive dumbness – but they just weren't dumb enough. Who ya gonna call?
Step forward The Asylum. Notorious for their 'mockbuster' films, The Asylum changed gear in 2009 when they made Mega-Shark vs Giant Octopus, reinvigorating the DSM scene and taking dumbness to a new high. Or low. Former poplet Debbie Gibson stars alongside ponytailed B-movie legend Lorenzo Lamas, who previously tousled with sharks in Dark Waters. Debs is a marine biologist coping with the re-emergence - from thousands of years in ice - of two Godzilla-sized beasts. The shark is supposedly a Megalodon but at 40m, it's way, way bigger than real life. Oil rigs and bridges are destroyed but the money shot is the giant shark leaping out of the ocean to grab an airliner in mid-flight. While it's a long way from good, MSvsGO is massively entertaining and also deserves props for the taboo-busting inter-racial romance between Debs's character and a Japanese scientist.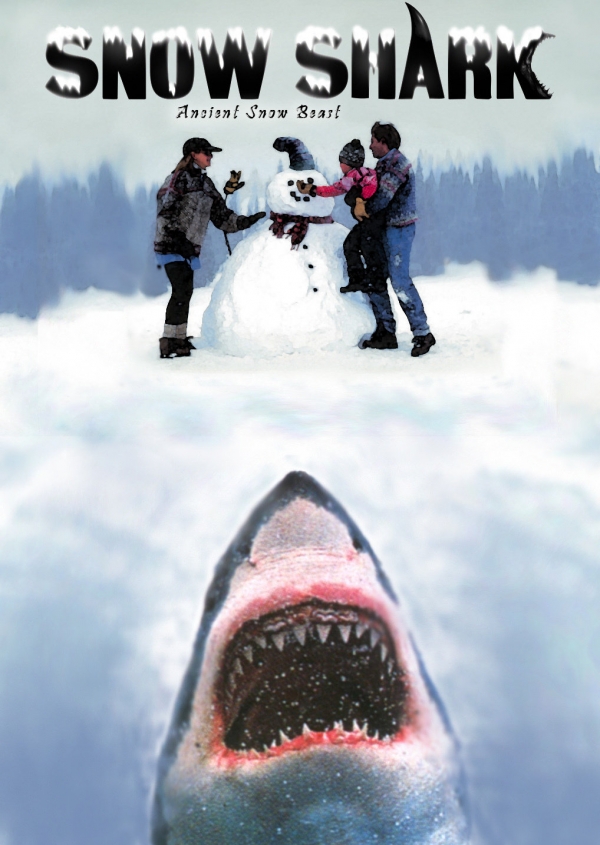 Capitalising on the film's success, The Asylum rushed out Mega-Piranha then Mega Python vs Gatoroid, but what the punters really wanted was more Mega-Shark. In 2010, Fred Olen Ray's son Christopher directed Mega-Shark vs Crocosaurus, starring former Star Trek Voyager doctor Robert Picardo, British boxer/model Gary Stretch and Urkel from Family Matters. The film had the same level of ultra-cheap CGI creatures and badly-matted explosions but lacked both the charm and the novelty of the original. Two more sequels followed (which we will deal with in due course).
A shark even bigger than Mega-Shark appears in the 2009 Japanese oddity Jaws in Japan aka Psycho Shark, but literally only for a few seconds right at the end. Two cute girls in bikinis go to a hotel where they find and watch video footage shot by three other cute girls in bikinis. The hotel guy turns out to be a psycho who murdered the original trio. The giant shark at the end might even be a metaphor. How can a film running only 70 minutes, featuring this many Japanese bikini babes, be this boring?
Malibu Shark Attack was unusual in two ways. It was the first (and last) DSM to feature goblin sharks, an extraordinary species with a weird proboscis sticking out of its head. The goblin shark may be an ugly bugger, but it's a slow-moving deep sea species which feeds on crustaceans. Whatever: scientific inaccuracy is a hallmark of the DSM sub-genre. The really innovative aspect of the film was the use of a tsunami to create a situation where people are trapped in flooded buildings while sharks swim around them. The UK distributor of Malibu Shark Attack (filmed entirely in Australia) used sleeve artwork showing an enormous (non-goblin) shark and sold this Type 2 DSM as a Type 3 under the title Mega Shark in Malibu.
The Portmanteau Monster Movie (PMM) is a sub-genre that intersects with the DSM, distinguished by pithy monster names formed from knocking two words together (or, potentially, compartmentalised suitcases). The finest example is Roger Corman's 2010 classic Sharktopus. Half great white shark, half giant Pacific octopus: the very essence of a Type 4 DSM. Also, it can move around on land, and has big spikes sticking out of its gills. Because, you know, a regular shark-octopus hybrid just wouldn't be scary enough. Sharktopus is a great idea which producer Corman and director Declan O'Brien didn't bother actually doing anything with. There's no real story beyond the creature (developed by scientist Eric Roberts for the US Navy) escaping and killing people down Mexico way, where life is cheap and filming permits are cheaper. But that's Roger Corman for you. The King of Exploitation sells promises and if he fails to deliver, he doesn't care because he's got your money by then.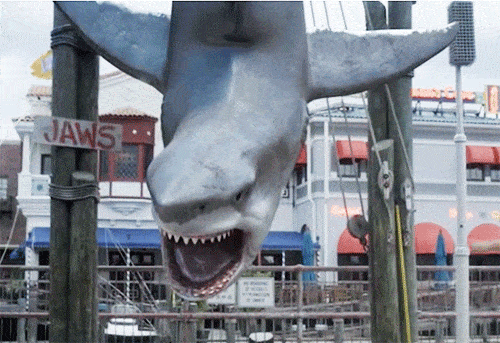 Corman is also, nowadays, the King of the PMMs, having brought us Dinocroc, Supergator, Piranhaconda, Cobragator and Dinoshark. This last is Corman, the great recycler, reusing ideas from his 1979 Jaws rip-off Up from the Depths. The poster for that movie featured a sort of reptilian-shark thing though the actual film mostly featured a rubber fin literally strapped to a diver's back. By 2010, CGI effects had advanced to the point where Corman and director Kevin O'Neill (a busy VFX guy who worked on Hercules and Xena) could give us a realistic reptilian-shark thing. 'Could have' – but they shaved a few bucks off the budget and gave us a cut-price CGI creature so crudely matted into scenes that it might as well be stuck to your TV screen with Sellotape. This particular DSM, somewhere on the border between Type 3 and Type 4, features a memorably stupid scene of the creature attacking a water polo match in a swimming pool.
2011 brought us a flurry of alliterative Type 2 DSMs: Swamp Shark, Snow Shark and Sand Sharks. Original Buffy Kristy Swanson stars in the first, in which an animal smuggler accidentally releases a shark into the Bayou. The deaths are initially blamed on escapees from a gator farm, but eventually the fishy culprit is identified in a film which is surprisingly undumb for most of its running time. The Japanese called it Flying Jaws. Snow Shark: Ancient Snow Beast has a bunch of cypto-zoologists and hunters searching for a prehistoric thing in the mountains. It was made for about 20 bucks and features some of the worst acting you'll ever see, but has a charm missing from many of the more cynical DSMs. Sharks can't swim in snow. They can't swim in sand either. Notwithstanding that, Asylum alumnus Mark Atkins brought us Sand Sharks, filming an idea that had been the original germ of Tremors (and had previously been used in 1995 Charles Band kid-flick Magic Island). Corin Nemec from Raging Sharks starred alongside Hulk Hogan's daughter Brooke.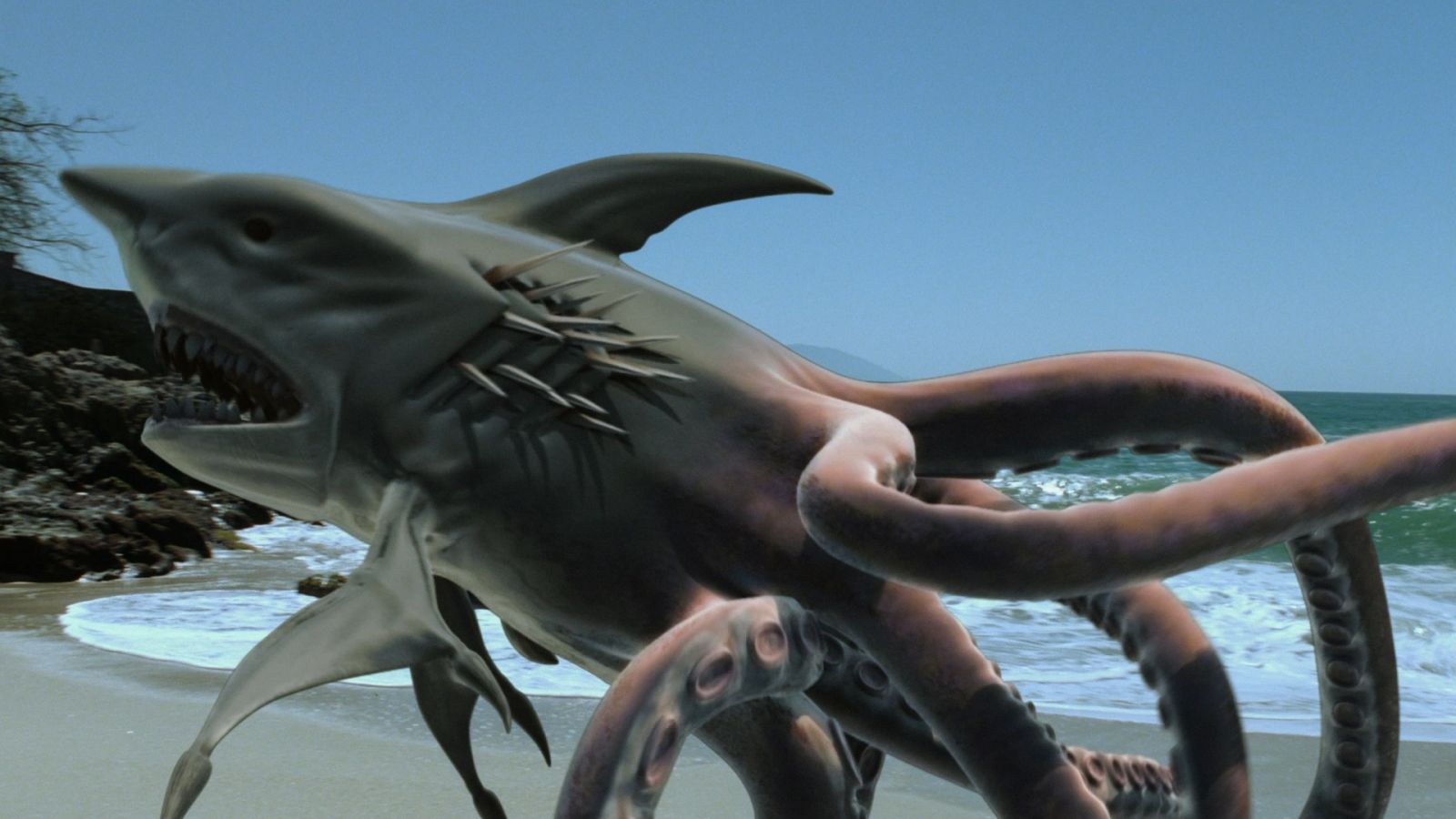 'Bikinis, bullets and big bites' was the strap-line on the sleeve of Super Shark. Which could only mean that Fred Olen Ray had followed offspring Chris into the DSM genre. Originally announced as Super Shark Attack, this features a giant shark which can walk on land and even fly, eventually defeated by a walking tank. Top-billed John Scheider (of Hazard County and Smallville) can just be glimpsed between endless scenes of bikini chicks. A distinctly bigger budget was spent on Shark Night 3D, the last film from Snakes on a Plane helmer David R Ellis who had shot second unit on Deep Blue Sea. A bunch of teens go to a private lake where they are attacked by a range of sharks stocked there by two of the gang for snuff-movie purposes. The film features bull sharks, hammerheads, a great white and, uniquely, cookie-cutter sharks, a type of dogfish that like to take circular bites out of things.
What's better than Shark Night? - Shark Week, hell yeah! The Discovery Channel's annual celebration of all things selachian was first broadcast in 1988. In 2012, The Asylum cheekily pinched that title for another Christopher Smith movie. Patrick Bergin is a wealthy nutter who brings seven strangers to his private island where he pits them against a variety of sharks in a bizarre take on the Saw franchise. What's worse than Shark Night? - How about Jersey Shore, a ghastly American 'reality' series where brain-dead bimbos and jocks with names like 'Snooki' and 'The Situation' party endlessly on the beach. Anyone with taste would like to see these people eaten by a shark - and they got the chance in 2012 with Jersey Shore Shark Attack, a comedy DSM which played on the fact that the area in the TV show is the same place where a series of famous shark attacks took place in 1916. Characters are called 'Nooki' and 'The Complication'; token name value is provided by a guy from The Sopranos and someone from NSync as himself.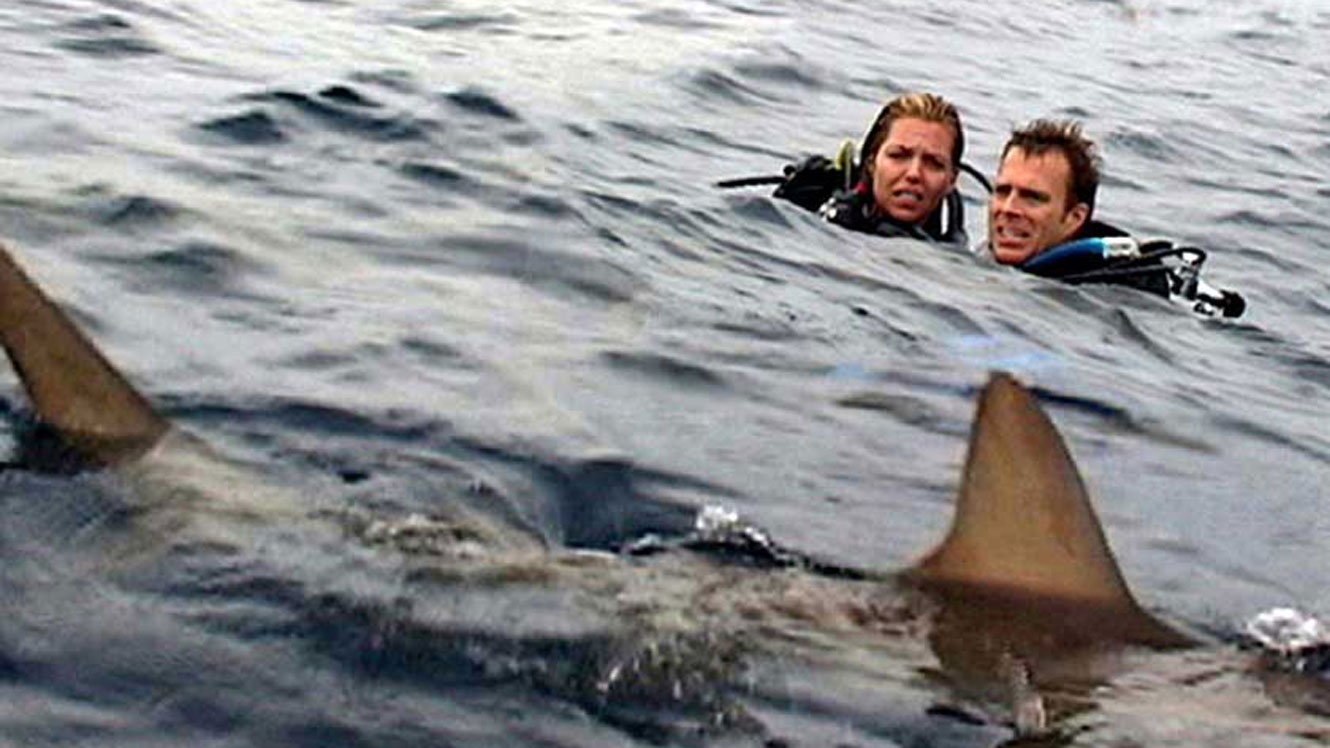 There have of course been a few non-dumb shark movies, like Open Water and The Reef. Dark Tide would have liked to join them and with a cast led by Halle Berry, it certainly had potential. But Berry phones in this dull tale of a 'shark whisperer' who has kept away from the sea since a friend got chomped but is persuaded to return one last time. What few sharks appear are mostly stock footage, some of it instantly recognisable from David Attenborough documentaries! Bait was a 2012 Australian production which couldn't boast an Oscar-winning A-lister but did have decent performances, reasonable effects (both practical and CGI) and a fun script about a group of people trapped in a flooded underground supermarket after a tsunami, with a couple of great whites cruising down the aisles. Talk about an unexpected item in the bagging area! At one stage, Russell Mulcahy was attached to direct and the threat was going to be a pack of tiger sharks.
The second best DSM title ever is officially Jurassic Shark, a 2012 low-budget epic from Brett Kelly, the man who dared to remake Attack of the Giant Leeches. It's a bog-standard Type 3 plot with an awakened Megalodon trapping a group of college girls and a gang of art thieves on an island. The acting is terrible, the effects even worse but like most of Kelly's output, you can file it under 'cheap'n'cheerful'. One of the worst titles ever, not just for a DSM but for any movie, has got to be Two-Headed Shark Attack. Yes, it's a thing. Brooke Hogan (from Sand Sharks) and Carmen Electra (from Baywatch) are among the cast of bimbos and jocks in this Chris Ray/Asylum rubbish which, like Sharktopus, doesn't know what to do beyond its title. There's one good gag (at the end of the trailer) and some surprisingly accurate science (outside of the title creature) including a dead megamouth shark - but otherwise, this is one to miss.
A quick round up of 2013 DSMs before we break for tea. Makua Charley stands out as something different: an ancient Hawaiian legend of a psycho killer who is actually a shark in human form. Cheaply shot but as a horror film, one of the best ones here. Track it down. Avalanche Sharks is basically Snow Shark with a budget, directed by the guy who supervised the VFX on Sand Sharks. The shark attack in a hot tub is something new, at least. Ghost Shark does what it says on the tin: some hunters kill a great white and its spirit comes calling. Richard Moll from Metalstorm: The Destruction of Jared Syn is the only recognisable name in the cast. And a quick shout out to Spreeshark, a German micro-budget short about a shark enhanced as a Nazi weapon which is unleashed in a Berlin river 70 years later. It's online but unsubtitled.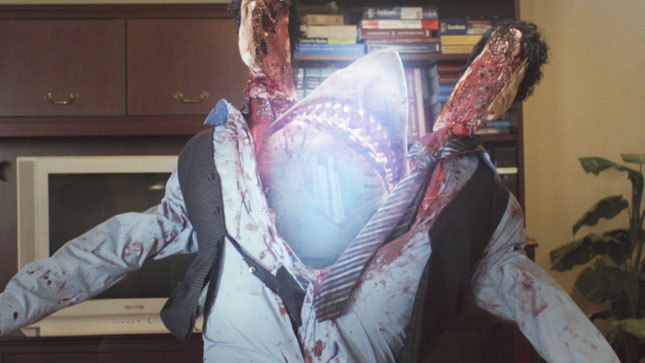 Which just leaves… Sharknado. Surely the sine qua non of Dumb Shark Movies (and a not bad PMM). When it premiered on SyFy in July 2013, the 1.4 million people who saw it were straight onto Twitter, generating a perfect storm of social media interest that saw two swift repeats that same month actually increase the audience. It was classic Asylum nonsense, starring a guy from Beverly Hills 90210 and one of Hollywood's worst actresses, Tara Reid. The trick surely was the combination of Thunder Levin's script and Anthony C Ferrante's direction, neither of which just relied on the title like some previous DSMs. Viewers were given characters they cared about, continuity no-one cared about (characters step through doors from waist-deep water to dry rooms) and a barrage of insane imagery they could tweet as GIFs.
Sharknado took the DSM subgenre to a new level. (Up or down? - That's for you to decide.) In the two years since then, nearly 20 DSMs have premiered, flooding the market like, well, like a water spout full of sharks. Be back here next month for the final part of our epic shark hunt!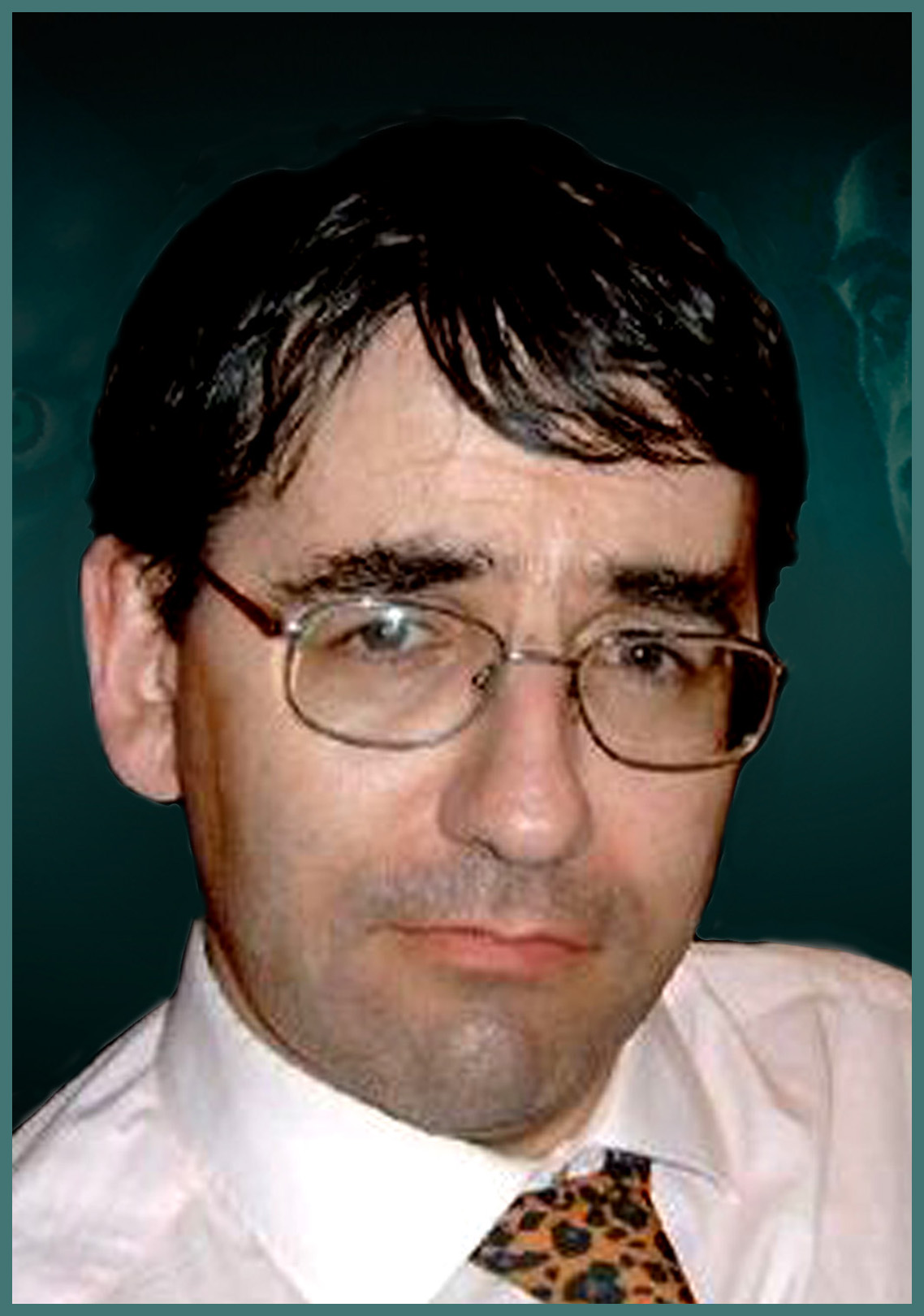 MJ Simpson has been writing since he found out which end of a pencil makes a mark. After editing sci-fan club mags he spent three years on the staff of SFX and helped to launch Total Film before switching to freelance work for Fangoria, Shivers, Video Watchdog, DeathRay and other cult movie magazines. He has a number of scripts in development and has been working on his third book, a biography of 'Bride of Frankenstein' Elsa Lanchester, for a very long time, but he promises to have it finished soon (-ish). Mike lives in Leicester with his wife, Mrs S, and his young son, TF Simpson. By day he edits the university's website and in the evenings he edits MJSimpson.co.uk. He should probably get out more.