Cinema Retro #52
(The Sand Pebbles!)
Coming Soon!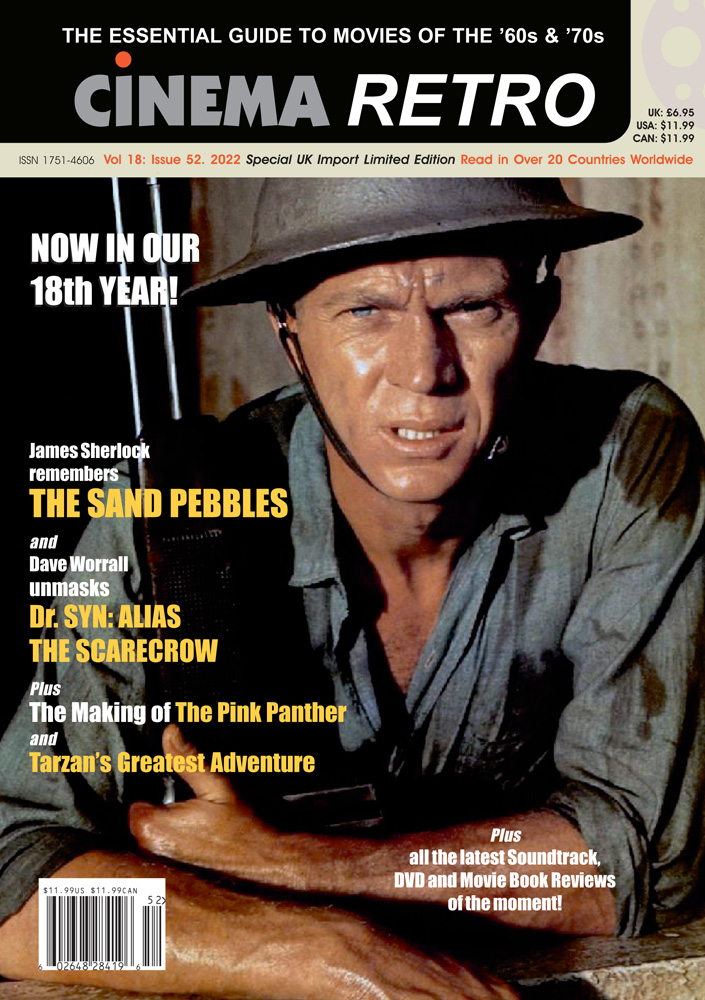 Featuring: The Pink Panther (1964), Steve McQueen's The Sand Pebbles (1966), Dr Syn: Alias the Scarecrow, Disney's forgotten masterpiece, Tarzan's Greatest Adventure (1959), The Crimson Kimono (1959), Walter Matthau's Bad News Bears (1976) and The Golden Lady (1979). All of this, plus the usual round of DVD, Book and CD news and reviews, makes for a great way to enjoy the first issue of 2022!
007 Magazine - Sean Connery Special
Publisher Graham Rye has delved deep into over six decades of the 007 Magazine archive and this very special issue pays fitting tribute to the incredible career of one of Scotland's most famous sons - Thomas Sean Connery. Exploring Sir Sean's entire career in showbusiness from 1957 to 2012 - featuring 64-pages of rare and never-before-seen photographs from all seven of his James Bond films and over 50 pages covering his non-Bond career. Featuring fabulous rarities from Hell Drivers, Darby O'Gill and the Little People, Marnie, The Hill, Shalako, The Molly Maguires, Zardoz, The Offence, The Wind and the Lion, The Man Who Would be King, Robin and Marian - and many more photographic memories from his long career. This Limited Edition De Luxe publication is the definitive record of Sir Sean Connery's career and is a must for genre fans and collectors alike. Contains some previously published material.
152 pages, full colour throughout!
Hemlock Price:
£24.99
Add to Basket
Buyers from outside the UK should first email info@hemlockbooks.com with their purchase requirements to obtain
a PayPal invoice with the correct postage rates.