Cinema Retro #49
(Robert Vaughn!)
In Stock NOW!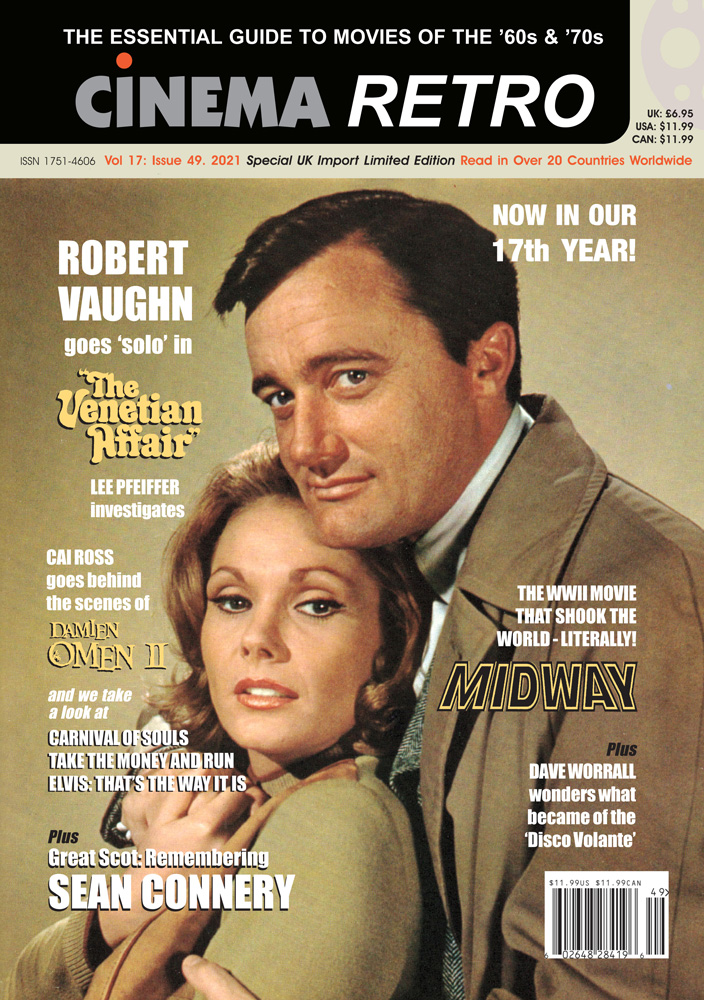 Featuring a tribute to Sean Connery, the Sensurround WWII epic Midway (1976), Carnival of Souls (1962), what happened to the Thunderball yacht The Disco Volante, the making of Damien: Omen 2 (1978), Elvis: That's the Way it Was (1970), On the Beach (1959), The Venetian Affair (1966), Take the Money and Run (1969) and much more besides.
Hemlock Price:
£7.95
Add to Basket
Cinema Retro #48
(Yul Brynner!)


Featuring: Mark Cerruli interviews actor Christopher Matthews about working with Vincent Price on Scream and Scream Again, Clint Eastwood's Magnum Force, Yul Brynner's forgotten Cossack spectacular Taras Bulba, Elvis feature Wild in the Country part 2, American sex comedies, Disney's The Black Hole, actress Marisa Mell and Across 110th Street. All of this, plus the usual round-up of CD, DVD and book news and reviews, provides a jam-packed last issue of 2020!
64 pages.
Hemlock Price:
£7.95
Add to Basket
Buyers from outside the UK should first email info@hemlockbooks.com with their purchase requirements to obtain
a PayPal invoice with the correct postage rates.