007 Magazine - OHMSS
Featuring: the filming of the brutal beach fight, the filming at The College of Arms in London, rare images from cut scenes, exclusive comments from director Peter Hunt, official press releases, call sheets, George Lazenby's Bond screentest photographs, behind the scenes photographs, OHMSS promotions, Mr & Mrs James Bond - the wedding albums, the explosive end to the Piz Gloria model, inside the OHMSS editing suite at Pinewood Studios, the OHMSS sets, Blofeld's 'Angels of Death', Diana Rigg's elegant costumes, interviews with George Lazenby, Diana Rigg and Telly Savalas and much, much more.
126 pages, full colour throughout!
Hemlock Price:
£24.99
Add to Basket
Cinema Retro #49
(Robert Vaughn!)
In Stock NOW!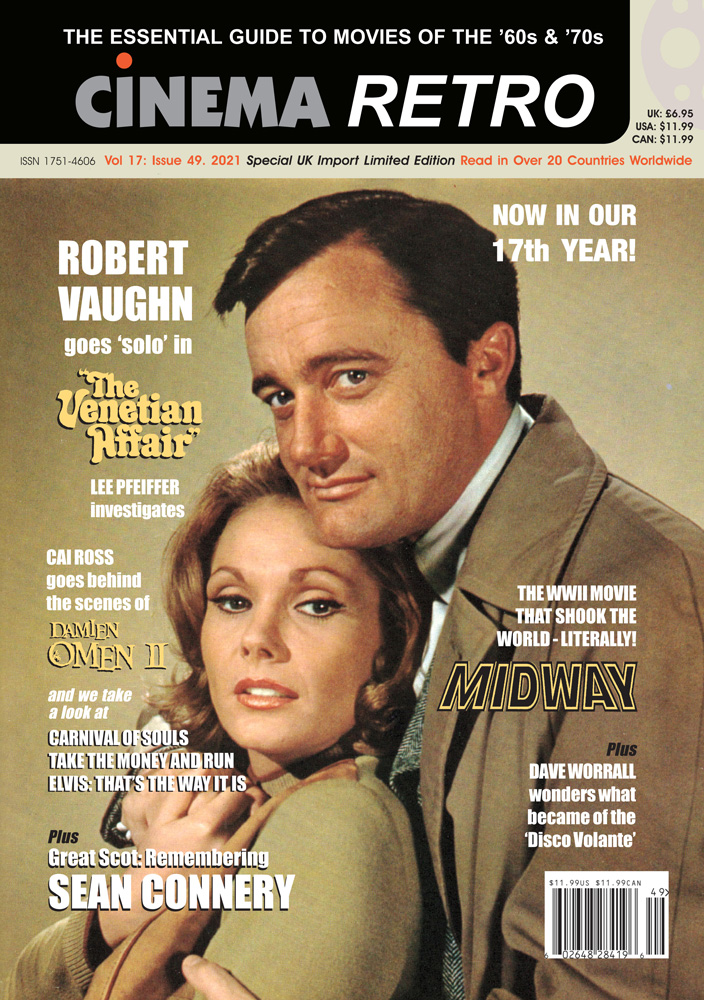 Featuring a tribute to Sean Connery, the Sensurround WWII epic Midway (1976), Carnival of Souls (1962), what happened to the Thunderball yacht The Disco Volante, the making of Damien: Omen 2 (1978), Elvis: That's the Way it Was (1970), On the Beach (1959), The Venetian Affair (1966), Take the Money and Run (1969) and much more besides.
Hemlock Price:
£7.95
Add to Basket
Buyers from outside the UK should first email info@hemlockbooks.com with their purchase requirements to obtain
a PayPal invoice with the correct postage rates.