Reel Mad Doctors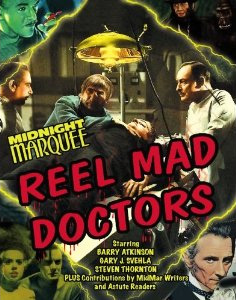 Hemlock Price:
£19.95
Add to Basket
I Lost My Mind in the Movies

Loss of Identity in the Horror Film Ed. Anthony Ambrogio

Fear of the dark, fear of death, fear of the unknown and the unseen. Commentators have analysed at length these terrors of the psyche and how they figure prominently in the horror film. But one particular fear, one particular fate worse than death, which manifests itself time and again, has rarely been discussed in detail or depth. Loss of identity.. You're Next! examines the ways in which this fundamental terror is visited upon characters in films, providing a fresh perspective on why losing the defining aspects of our lives can be so profoundly frightening...

Hemlock Price: £19.95 Add to Basket
Celluloid Adventures 2 - Artistic Triumphs, Box-Office Bombs

Nicholas Anez

In this volume, individual movies are presented from a wide range of genres including westerns, science fiction, film noir, spy films, historical epics, suspense, social message movies and spiritual dramas. All of the titles share the stigma of being disappointments at the box office and, hopefully, this volume will garner them a little of the respect they so richly deserve. Titles include: Pitfall, In a Lonely Place, Try and Get Me! (aka The Sound of Fury), The Egyptian, The Last Hunt, The Singer Not the Song, The Last Sunset, Cape Fear, First Men in the Moon, The Chase and The Quiller Memorandum.

Hemlock Price: £19.95 Add to Basket
Buyers from outside the UK should first email info@hemlockbooks.com with their purchase requirements to obtain
a PayPal invoice with the correct postage rates.