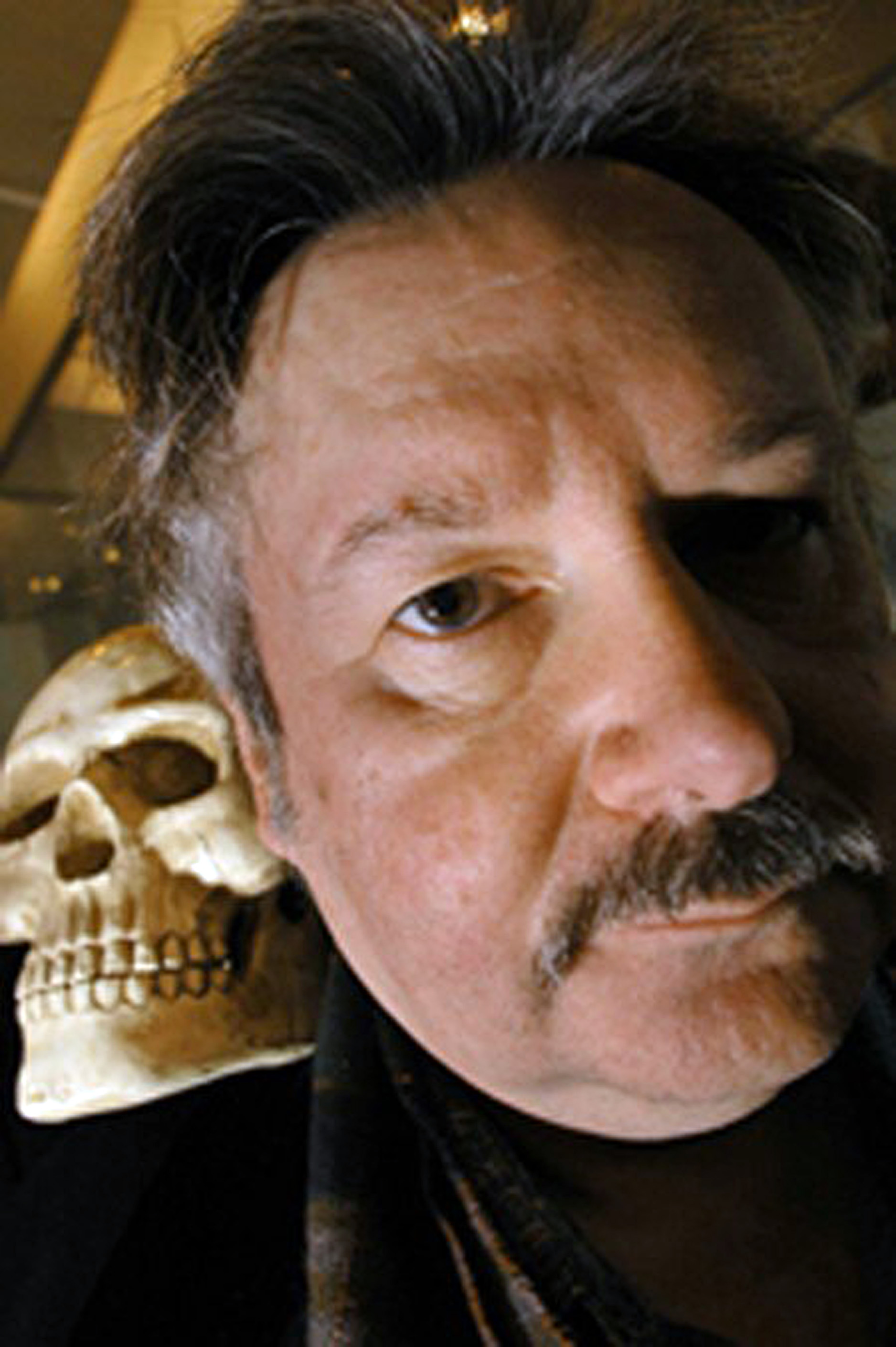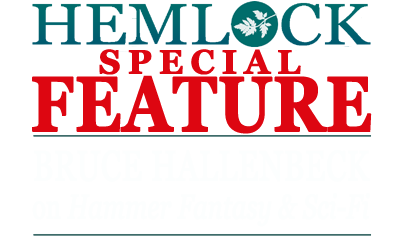 Hammer author
Bruce Hallenbeck reflects on a life devoted to fangs, filmmaking and Sasquatch-spotting!
With the launch of his new book for Hemlock on Hammer's fantasy and science fiction films, we decided to quiz author, filmmaker and

Little Shoppe of Horrors

staff writer Bruce Hallenbeck about his lifelong love of all things horror- (and Hammer-) related. Bruce kindly took time out from his latest projects, which include a third book on Hammer's films for Hemlock, to answer our questions and provide some revealing insights into the working life of an erstwhile fan-turned-professional author.
Hemlock Books: As you revealed in The Hammer Vampire, your love of Hammer's films goes back to childhood. How were you eventually able to turn a fan-fascination into a professional pursuit?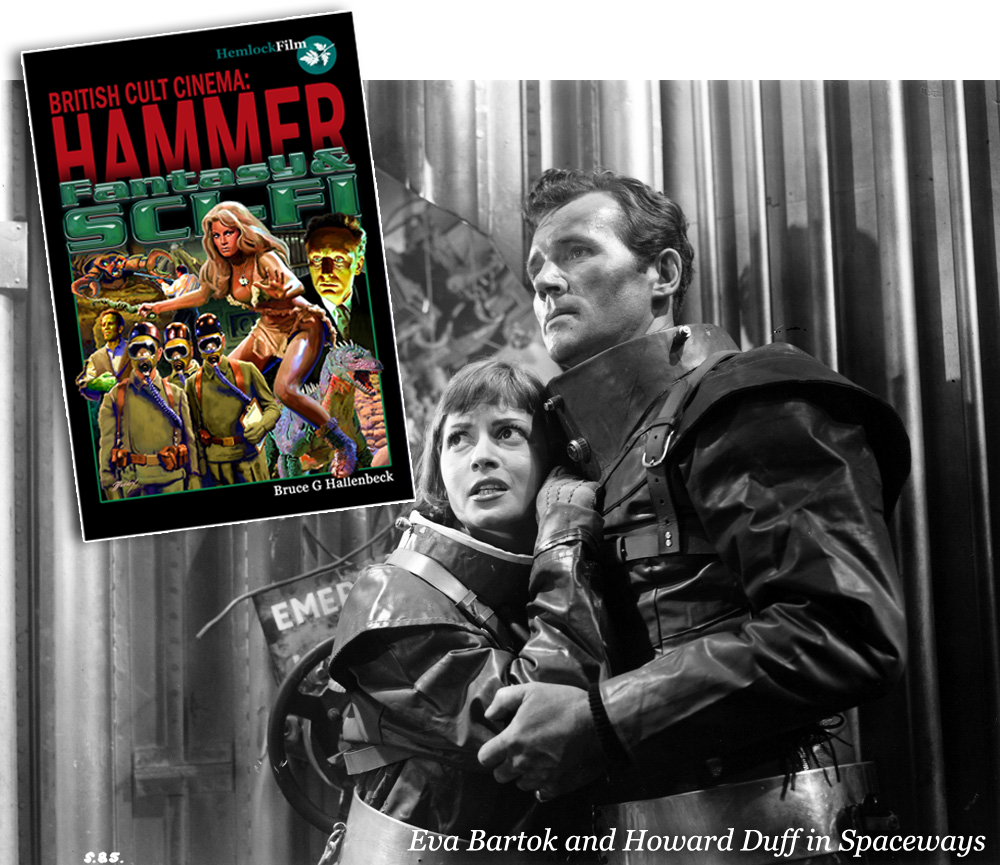 Bruce Hallenbeck:
Yes, shocking, isn't it, that I saw Hammer's first
Dracula
when I was 5? But we had no age restrictions in the States for horror films. Suffice it to say that I was hooked on Hammer from a very tender age, which led me to join The Peter Cushing Fan Club when I was 12 and The Christopher Lee Fan Club the following year! It was in that club, run by a lady from Rhode Island named Gloria Lillibridge, that I was given the opportunity to write feature articles for their journal, usually involving some film criticism. Fast forward to when I graduated from high school and ended up selling some short horror stories to a magazine called 'Moonbroth', and I started writing professionally. And in 1981, I began to pen the cover stories for Dick Klemensen's
Little Shoppe of Horrors
as a labour of love. So I'm proof positive that watching horror films from a very young age has an effect on developing minds: it makes them want to write about horror films for both love and money!
HB: Does Hammer have a big following in the States? How does it express itself and what part do you play in it?
BGH:
When I was growing up, only a couple of my childhood pals knew what Hammer films were. I think more Americans know about Hammer now because the films have played on television so much and have become staples - especially on cable channels around Halloween. I would say, however, that Hammer has what is euphemistically called a 'cult following' in the States, and I am very happy and proud to be a part of that cult. I like to think that along with Dick Klemensen and a few others, I am now one of the go-to guys in this country for all things Hammer. At the very least, I'm consistent - I've been writing for
Little Shoppe of Horrors
for thirty years now!
HB: What is the particular appeal of Hammer - a relatively small,
long-dead British film company - for the American fantasy-film fans of today?
BGH:
Hammer, I believe, was the best of the best in its time. There were other companies that were competitors - AIP, Amicus, Tigon - but Hammer is the name that everyone remembers. In fact, I've met people who thought that every British horror film from the fifties or sixties was a Hammer film! Yet their style was distinctive, especially the films made at Bray. American fantasy fans of today, I believe, are attracted to their well-written scripts - especially those for the Quatermass films - and the quality of the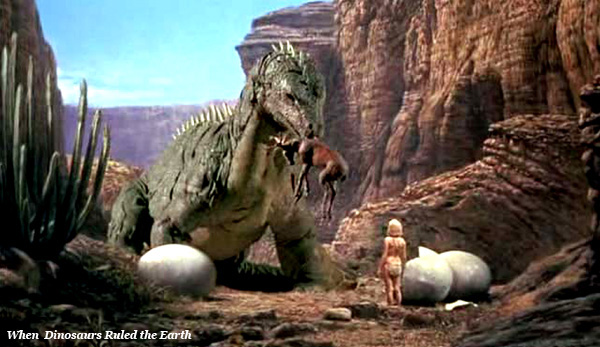 acting, photography and music. There is certainly some 'camp' value, to use a word that I am not very fond of, in their dinosaur epics such as
When Dinosaurs Ruled the Earth
- but at the same time, the animation effects in those films are second to none.
HB: This latest volume on Hammer's films covers sci-fi and fantasy. What was it that differentiated Hammer's science fiction films from those of other producers in the same period?
BGH:
I think that Hammer's sci-fi and fantasy films stood out from the pack in the same way that their Gothic horrors did: they were extremely well-made, extremely British and, at their best, thought-provoking. I am thinking here of the Quatermass films and virtually anything that Nigel Kneale wrote.
The Abominable Snowman
is a beautifully-written film, excellently acted, and, as directed by Val Guest, almost as good as the Christian Nyby-Howard Hawks version of
The Thing From Another World
. Their science fiction films had class and style, none more so than Joseph Losey's
The Damned
, which was in many ways a template for Stanley Kubrick's
A Clockwork Orange
.
HB: What is your own favourite Hammer sci-fi/fantasy movie and why?
BGH:
That is a tough question to answer. I have many favourites, but I would have to say my top three would be
Quatermass 2
,
The Abominable Snowman
and
Quatermass and the Pit
. Each one of those films has a powerful, intelligent screenplay that is entirely believable. An alien takeover of the British government? Not so far off the mark! A yeti in the Himalayas? Many people believe it exists. Life came to Earth from Mars? Top scientists now believe that may actually have occurred. Nigel Kneale's stories always contained fascinating ideas that were metaphors for the way people on our Earth treat each other: if the H-Bomb goes off, we may also end up in the ice like the yeti. Having said all that, I believe that
The Damned
is some kind of cock-eyed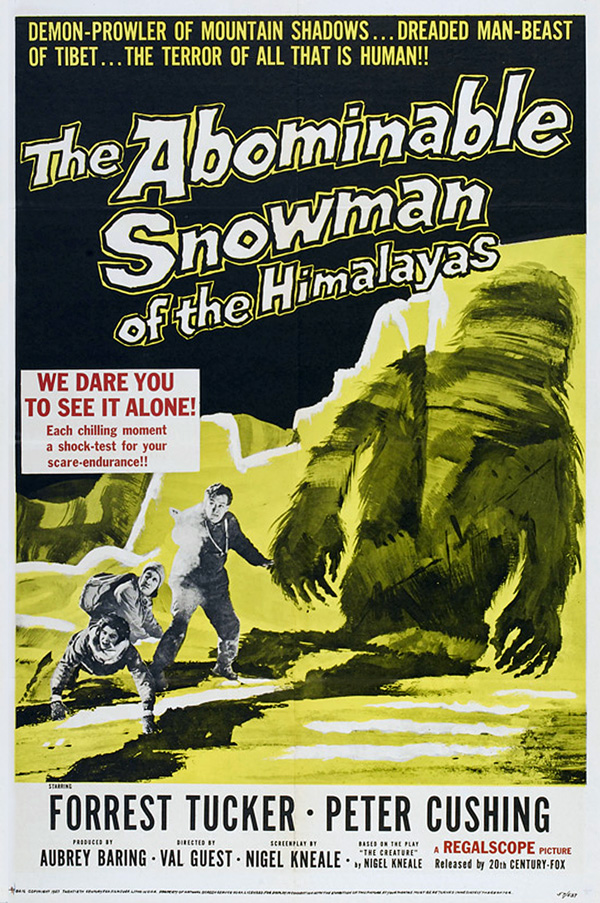 masterpiece; Hammer let Joseph Losey have his head and the result is an extraordinary and compelling time-capsule of sixties Cold War angst. But it is so bleak, so grim, that I cannot quite bring myself to call it a 'favourite.' That in itself, I suppose, is part of the film's strength - and the reason it remains underrated.
HB: How important would you say Hammer's fantasy films were in
relation to the history of the genre as a whole?
BGH:
I would say that Hammer's fantasy films were extremely important. The first two Quatermass films were worldwide successes and really put British sci-fi on the map. I doubt that Val Guest would have made
The Day the Earth Caught Fire
if he had not made the two Quatermass movies. As for the out-and-out fantasy films such as
She
,
One Million Years BC
and
When Dinosaurs Ruled the Earth
, one has only to look at the big-budget fantasy films made today to see how influential Hammer's were. Steven Spielberg himself paid tribute to
When Dinosaurs Ruled the Earth
in his
Jurassic Park
.
Raiders of the Lost Ark
is a 'lost world' adventure in the manner of
She
. Michael Carreras's
The Lost Continent
had everything that movie blockbusters have today: fast action, adventure and sex appeal.
HB: Did you interview anyone involved with these films during your research for the book, or before?
BGH:
I have been interviewing Hammer alumni for most of my adult life. In fact, I corresponded with Peter Cushing from when I was a lad of 14 until just before he died. I also corresponded with James Bernard for many years and visited him at his London flat in 1975, where he allowed me to turn the pages of his
Kiss of the Vampire
composition while he played it on the piano! Later on, writing the main feature articles for
Little Shoppe of Horrors
, I got to meet and/or correspond with everyone who had ever been anyone at Hammer, from Ralph Bates to Val Guest. In preparation for this book, I interviewed Martine Beswick, whose anecdotes were a real hoot.
HB: You are also a cryptozoologist. Can you tell us more about that and
give us your opinion of the real-life bases for Hammer's Abominable
Snowman and its aborted Nessie project?
BGH:
I have always been fascinated by cryptozoology, which is the study of unknown or 'hidden' animals. There have been literally thousands of reports from reliable, honest people over the years regarding such things as Nessie, the yeti and Sasquatch. I have personally investigated the Lake Champlain Monster, aka 'Champ' in the US, and members of my own family experienced sightings of a Sasquatch-like creature in the 1980s, which I wrote about in the book
Monsters of the Northwoods
. Last year, world-famous cryptozoologist Loren Coleman asked me to co-write a book with him called
Monsters of New Jersey
, which was published by Stackpole Books. We hope to do a follow-up later this year called
Monsters of New York
. The Val Guest-directed
The Abominable Snowman
always impressed me as the very finest film ever made about the elusive yeti; Nigel Kneale really did his homework when he wrote that one. It has, in many ways, the ring of truth about it.
HB: And as a man of many talents, you also write, direct and act in your
own movies. Tell us more about some of those?
BGH:
I have been making movies in one format or another since I was 13. My first 'professional' film came many years later in the form of
Vampyre
, which was a remake of Carl Dreyer's
Vampyr
. Our version was filtered through the lens of Hammer, combining the surrealism of Dreyer with the blood, thunder and sex approach of Hammer vampire films. Since then, I've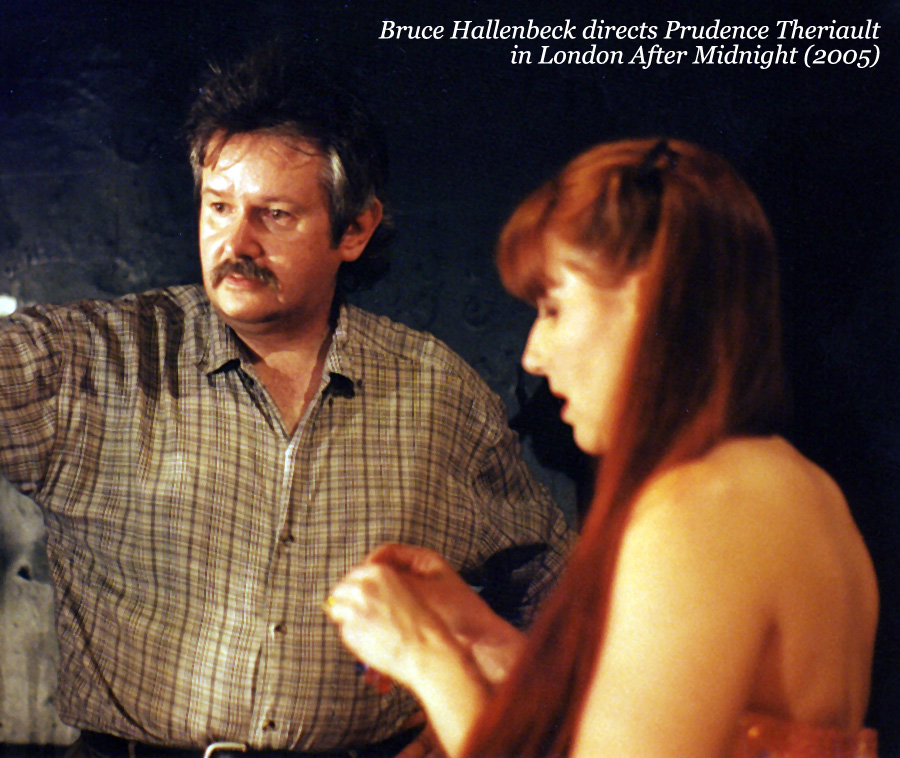 written and directed
London After Midnight
, an action/adventure/horror tale,
Blood of the Werewolf
, an anthology film that I co-directed with Kevin Lindenmuth and Joe Bagnardi, and
The Drowned
, which was a psychological ghost story along the lines of Robert Wise's
The Haunting
. I've also acted in other people's' films, like Bagnardi's
Shadow Tracker: Vampire Hunter
and
The Edge of Reality
. And I am very proud of the fact that I received an Assistant Director credit on
Flesh and Blood
, Ted Newsom's 1994 documentary on the House of Hammer, which turned out to be the final time that Peter Cushing and Christopher Lee appeared together.
HB: What's next on the horizon for BGH, and for the Hammer 'British Cult Cinema' series?
BGH:
With my peerless publisher Denis Meikle at the helm, the future looks bright for the Hammer 'British Cult Cinema' series. Coming right up is
Hammer Gothic
, which will cover all of their Gothic horrors (excluding the vampire films, which I dealt with in
The Hammer Vampire
) from
The Curse of Frankenstein
to
To the Devil a Daughter
and beyond, right up to the upcoming
The Woman in Black
. I hope also to do one on Hammer
Noir
.
HB: As you wrote a book for McFarland on Comedy Horror Films, are we
going to see a book at some point on that most neglected of the Hammer
genres: its comedies?
BGH:
After Hammer Gothic, we might well have a change of pace with Hammer Comedy; that may not be the first thing one thinks of when one thinks of Hammer, but they made a lot of comedies under directors like Val Guest, William Castle and Jimmy Sangster. Hammer may be known chiefly for horror, but they made all kinds of films, even war movies!
HB: You recently won a coveted 'Rondo'. Can you explain the significance
for a British readership? (And blow your own trumpet at the same time,
why not?)
BGH:
The 'Rondo' is short for The Rondo Hatton Classic Horror Awards, which are given out yearly by the Classic Horror Film Board - an American organisation - to writers, artists, actors and directors in celebration of the best in classic horror research, creativity and film preservation. The award is named after Rondo Hatton, an obscure B-movie actor of the 1940s who appeared in such films as
The Pearl of Death
and
House of Horrors
. Previous recipients have included the likes of Ray Harryhausen, George A Romero and John Landis. In 2010, much to my surprise, I was honoured to receive the award for Writer of the Year. I was surprised because I had been nominated every year for the past decade or so but had never won. I was getting quite used to my 'always a bridesmaid, never a bride' status when I got word from Dick Klemensen that I had won! I was recognised for my work for
Little Shoppe of Horrors
as 'Chronicler of the Hammer Heritage.' To me, this was better than receiving an Oscar, and I'm serious when I say that. It is an award given by fans - some 3,000 of them, I believe - and I was very moved by this recognition. I have a theory that, if one is around long enough plugging away at something one loves, then eventually people will either tell you to go away or they will embrace your work. I am very, very happy that people have embraced my work, which I will continue to do for as long as I am able, for both
LSoH
and Hemlock Books.
HB: Aside from the various projects above, any other plans for the future?
BGH:
I'm telling everyone that I am 'semi-retired' from the film business, as producing small, indie films has reached a point of diminishing returns over the years, due to free Internet downloads and all the other distractions that cut into producers' profits these days. Writing was always my first love, and I really only got into filmmaking in the professional sense because I wrote a script called
Grave's End
, which was going to be filmed in 1986 with Ralph Bates, Caroline Munro and Michael Gothard, directed by Jimmy Sangster. The whole project fell apart at the funding stage, but it gave me enough of a taste for the business that I made indie films for about sixteen years. Now that I have a wife, a mortgage and a more 'settled' life, I find that writing books is more profitable - and less stressful - than making films. I have written four books in four years and am working on a fifth, and I'm having a ball. I can see myself doing this until I am so old and feeble my fingers may be too weak to hit the keyboards - but, by then, perhaps computers won't have keyboards and we can write just by thinking about it! And that, in short, is how I keep going: I am an eternal optimist.